TrackFacts – August, 29th 2020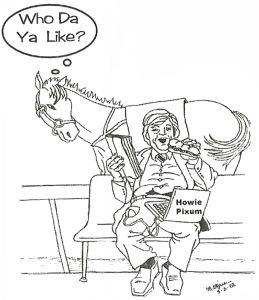 The above caricature of a race tracker has been a representation of my alter ego for many years. A former student drew it for me some twenty-five years or so ago. I love everything about the jacketed DRF-holding, sandwich-eating, computer-checking figure you might have encountered on any bench or picnic table at Saratoga Race Course. He is, of course, Howie Pixum…and everybody, even horses in the paddock, wants to know Howie Pixum.
Enough has been said and written about this uniquely and historical race meeting I will not belabor the point. As we head into it, however, I remain convinced that analysis of a race, any race, must begin with the morning line favorites. Of course, many handicappers start their process in advance of morning line. Others totally dismiss the line, either making their own or preferring to avoid letting the line influence their notion of contention. But…
The morning line begins what evolves into the "live odds" identification of the type of race the betting public faces. Just think of the number of races in any season where a Chad Brown turf runner, regardless of class or distance, was the predicted line favorite in a race at short odds. The line indicated the race might be a one-horse race or, if the 2nd line favorite was also short odds, a two-horse race. The idea of race type should inform one's approach to the race.
"Howda ya pick'em?" and "Who da ya like?" These are the quintessential personal and "mutual" aspects of most discussions of Thoroughbreds about to race. Once we "Pixum", it's off to the pari-mutuel window or on-line device to wager our individual opinions into the betting pools…either with or against the betting crowd.
Luck always. Be well. Stay safe and most informed about our game with CapitalOTB.com.
Race 9 Lake George - G3 $100k
August 27, 2020
(8-5) Sweet Melania has done little wrong in her 7-race career. She has been a gem of consistency since switched to turf. She crushed rivals in the G2 Jenny Wiley and then set a strong pace after breaking from post -12 when finishing 3rd in the G1 Breeders Cup Juvenile Filly Turf. Sweet Melania was impressive winning the G3 Wonder Again at Belmont Park off a layoff since her Breeders Cup effort. She brings speed and tactical speed to the race. Breaking from the rail and with no speed to her immediate outside, regular rider Jose Ortiz will read the break and, if permitted, attempt a gate-to-wire run. Should (4) Velvet Crush (10) Sugar Fix or (11) American Giant rush to challenge, Ortiz has the option to rate inside off and behind these outsiders. Her final quarter in the Wonder Again was quicker than any rivals most recent finish time. Two runners she defeated have since returned to win stake races: Speaktomeoofsummer took the G2 Lake Placid, and Antoinette finished 3rd in the CCA Oaks on dirt before returning to take the Saratoga Oaks on turf. Sweet Melania looks formidable with improvement in this second race of a new form cycle for hot trainer Todd Pletcher.
(9-2) Micheline is a rear-half stalker switching to top turf rider Joel Rosario for trainer Mike Stidham with Jersey Joe Bravo unable to ship in for the ride under Covid-19 protocols. Micheline showed enough on debut as a juvenile to be entered in the overnight Sorority stake at Monmouth Park. She handled that modest group easily and then was thrown to the wolves in the G1 Alcibiades on dirt. That experiment behind them, trainer Stidham has kept her on turf where she has earned two wins in overnight stake heats and a strong 2nd in the G3 Sweet Chant in February at Gulfstream Park. A good field, gate-to-wire winner Cheermeister returned to repeat in another G3. Micheline was then impressive winning the Honey Rider with a strong late run, defeating another strong closer in Highland Glory, who finished 2nd to rival (1) Sweet Melania in the G3 Wonder Again. An honest and contested pace will help Micheline, but she will have to run down (1) Sweet Melania.
(5-1) Cat's Pajamas showed marked improvement after the trainer switch from Bill Mott to Graham Motion, upsetting a field of Maiden Special Weights at 27-1 following a layoff from September to May. She was able to repeat that effort and take a first level allowance heat at Belmont Park. Last out she went to post as the soft 5-2 favorite trying 9-furlongs in the G2 Lake Placid won by Speaktomeofsummer. Off a beat slowly, Cat's Pajamas stalked the pace but had nothing for the final furlong. She will benefit from the cut back to today's mile distance. She is tractable and could get first run in the lane on either tiring pace setters or (1) Sweet Melania.
(6-1) Selflessly is a lightly raced 3-year old from trainer Chad Brown. She looks very much like favored (1) Sweet Melania but offered at a much bigger price: Selflessly broke her maiden in her first turf route. She stepped up from that effort to take the G2 Miss Grillo at Belmont Park. She finished 5th but only a half=length behind Sweet Melania in the G1 Breeders Cup Juvenile Filly Turf. Second choice to (1) Sweet Melania in the G3 Wonder Again, Selflessly stumbled badly at the start from where jockey Javier Castellano rode her carefully to the wire. Note that Castellano is off, replaced by leading rider Irad Ortiz, Jr., a 34% winning switch for Brown in graded stake races.
(8-1) Witez owns a placing behind (1) Sweet Melania in the G2 Jessamine over "good" turf at Keeneland at 45-1. Unsuccessful in three efforts versus graded stakes rivals, Witez too a first level allowance over this track and distance on July 26. She raced from the rear and closed to pass tired horses in the Jessamine. Riders have had her stalking among the front half group since. Horses which race well at big odds are capable when the situation fits. Rain in the forecast and a reversion to rating tactics might give Witez a chance for a share at odds.
Race 3 Saranac – G3 $100k
August 29, 2020
As I pen this preview the weather forecast for Saturday calls for persistent rain throughout the day. With races taken off the turf following a mini-monsoon Thursday morning, the inner turf course will probably have some give to it. 'Tis a shame no one from NYRA walks the course to share useful nuances.
(7-2) Vanzzy rates favoritism on the good company he has kept since winning the G3 Rushaway over synthetics at Turfway Park in March. Rested after, trainer Michael Pino switched him to turf for the G2 Penine Ridge where he showed speed tracking a soft pace before fading to a well-beaten 4th behind the very good Decorated Invader. With that race behind him, Vanzzy carried his speed further before being inhaled by another good 3-year old in Gufo. Last out Vanzzy changed tactics for a cutback from 9-8.5 furlongs, stalking comfortably and running on well to take the Jersey Derby at Monmouth Park. Vanzzy is the only stakes quality runner Pino has trained over the last five years. Vanzzy might be good or a tad dressed up. The Jersey Derby field was soft, and the presence of Decorated Invader and Gufo in company lines from races where she did not threaten can be misleading. Note also that Vanzzy has never set hoof on ground which was not firm or fast.
(4-1) Don Juan Kitten won a first level allowance race last out, essentially wiring that group stalking the strong pace of a rank outsider. This colt did not handle turf labeled "good" following an October to May layoff in the English Channel stake at Gulfstream Park. She had trouble at the gate, made it to 3rd down the backstretch then folded. Was it the layoff or the surface? Don Juan Kitten is a mile specialist (4-2-1-1) with tactical speed. He should gain good tactical position and looms a contender with any improvement.
(9-2) Bodecream moves into the Mike Maker barn for this event. Maker is enjoying a banner meet (75-17-11-7 & 41-12-5-4 over turf and 10-3-2-0 in Allowance & stakes company). Bodecream finished behind Pixelate in both the Texas Turf Mile and Black Gold at Fair Grounds. Last out at Churchill Downs, Bodecream encountered trouble at the start and did little running in a non-effort where rival Pixelate finished 2nd. Pixelate might be a good barometer horse as he finished ahead of Vanzzy in the G3 Kent. Additionally, Bodecream owns a win and pla-cing over turf that is less than firm.
(5-1) L'Imperator switches into the Chad Brown barn for his U.S. racing debut following a 168-day vacation. Brown's record with this type of runner is and impressive 37-8-5-7. However, digging deeper show him 5-0-1-2 at today's mile distance. Additionally, he has not received a horse from this trainer which has finished in-the-money. L'Imperator brings a 4-3-0-1 record, including a maiden win at today's distance. The colts worked 27 furlongs over turf since July 10 and appeared to be asked for more in his last two.
(6-1) Three Technique will make his turf debut if the race goes on turf. Dam Nite in Rome won over turf and sibling Enchanted Sunrise broke his maiden for $12,500 at a turf route. Sire Mr. Speaker was all turf (14-5-1-2 for over $1millon in earnings. Trainer Jeremiah Englehart has made this dirt-to-turf move before and is 48% finishing 2nd or 3rd. Three Technique owns two wins from off the pace at 7-furlongs. If he takes to the surface look for him to be rallying from mid-pack under a good turf jock in Junior Alvarado.
(8-1) Embolden returned from a December rest to finish 2nd in an overnight stake at Colonial Downs at today's distance. That was a field of 4; the winner was a multiple winner while the other two were weak. This Virginia bred appears to have tactical speed, good finishing kick and the will to compete illustrated by his 7-2-3-2 record. Trainer Michael Stidhan has lured Jose Ortiz to pilot.
(12-1) Irish Mias was bet to favoritism in the Jersey Derby but was compromised by the slow race dynamics. That was his second start after a layoff, and he should be tighter and better suited to the cut back to 8-furlongs. Note he broke his maiden in his 3rd start in the $200k Laurel Futurity. Motion trainer the half-brother, a stakes winner sprinting over turf and synthetics and 2nd in an 8-furlong stake. The normally conservative Motion entered and won that juvenile stake on his high regard for this colt. Today he hires Manny Franco, aboard for that stake victory.
Race 7 Amsterdam – G2 150k
(8-5) Yaupon crushed an allowance field July 18 earning a huge speed figure and, perhaps, signaling he might be a special runner with Breeders Cup Sprint on his dance card. That was in no way a stellar field, but the performance was impressive. There is not shortage of front speed and runners preferring to be position among the front herd. This is a class test for Yaupon.
(9-5) Long Weekend is the high weight in the field for owning wins in two overnight stake races at Oaklawn Park. The field for his most recent win, the Bachelor, was solid. Place horse Echo Town finished 2nd in the Woody Stephens at Belmont, then took the H. Allen Jerkens here at Saratoga. Last out in the Gold Fever, Long Weekend dueled in a fast pace while battling from between horses the length of the stretch and repeatedly bumped by the tiring pace duelist. Winner Liam's Pride was all out chasing that pace, which took a toll as he failed as the favorite in the H. Allen Jerkens. Long Weekend has had 7-weeks to recover and will be formidable if able to repeat that effort.
(7-2 ) Basin is a 6-furlong maiden sprint winner and winner of the G1 Hopeful at 7-furlongs over this track. Trainer Todd Pletcher has been racing him at longer route distance since, including the G2 Rebel, G1 Arkansas Derby and G2 Blue Grass. He has competed with the best, including Nadal, Charlatan, Art Collector and Swiss Skydiver. There are no such rivals here, but today he meets sprinters in sharp sprint form. Basin was ratable as a sprinter and looms the best, if not the lone, closer in this short field. If (2) & (3) battle they will set the table for Basin. Pletcher is 7-1-1-1 making this distance move with 3-year olds into graded stake races.
Race 8 Forego – G1 $300k
(7-2) I wrote this about Whitmore in previewing the A. G. Vanderbilt: Whitmore is a 7-year old gladiator who was given time to recover following two wins at Oaklawn Park, including a G3 at today's distance. Whitmore is a front-half of the herd sustained stalker with good finishing kick. Trainer Ron Moquett has good stats with last out winners returning off layoffs. That was a short field of 5 scratched to 4 when Lexitonian freaked in the gate. Whitmore did his thing, running his race while compromised by extremely slow race dynamics. He will do his thing, compete, run his race. But 7-furlongs is not his best distance and several in here are proven at the distance.
(4-1) Complexity returned from a December 2019 layoff to win an Optional Claiming heat at a mile at Belmont Park. There is no question trainer Chad Brown immediately had this spot penciled in. Complexity really had no shot in the G1 Malibu when facing fitter and classier rivals Omaha Beach and Roadster. This is a competitive field but lacks stars such as they. Complexity has tactical speed and sustained finishing power. Brown does not make this route-sprint in a graded stake move often, but he has won and hit-the-board the few times he has tried.
(9-2) Funny Guy arrives sharp following back-to-back stake wins versus NYBreds. This is a tactical, sustained runner capable of winning from 6.5 furlongs to 9-furlongs…in state bred company. Sharp horses do not always win but are almost certainly contenders. Trainer Terranova and these owners have sprung upsets in Saratoga graded stakes in the past.
(6-1) I wrote this about Mind Control in previewing the A. G. Vanderbilt: Mind Control is 2-2 sprinting today's 6-furlong distance capable of carrying his speed to 7 & 8-furlongs. He has been on the lead at the eighth pole three times when winning at 7-furlongs. Some might posit that's a good sign for today. But the pace dynamics are quite different from 7f to 6f. In this short field, If (1) Lexitonian opts to challenge (4) Volatile for the lead, Mind Control will get his best chance to run'em down. In that race, Mind Control tracked the soft pace set by Volatile, exactly what he did not want. But that stalking effort could set him up for the return to what is his best distance. There will be an honest, if not hotly, contested pace.
(6-1) Fortin Hill is the "other" Chad Brown entrant. This runner, however, steps way up in class from Optional Claiming rivals to this G1 stake. He is tactical, which should help when breaking from the far outside. His speed figures appear competitive, but they have been earned versus lesser.
(8-1) I wrote of Firenze Fire: Firenze Fire was the easiest winner of a soft renewal of the G2 True North at 6 ½ furlongs last out. This is one of many suspended trainer John Servis' runners switched to other trainers. Trainer Breen wins 23% with last out winners in Graded stakes. Firenze Fire, like (2) Whitmore, is a sustained sprinter comfortably capable of attending or sitting somewhat off the pace and running on powerfully. As a 5-year old, Firenze Fire might have a few more top efforts in him than 7-year old Whitmore. Like the others exiting the Vanderbilt, Firenze Fire was compromised; all three are eligible to improve should the pace be hot and contested.
(10-1) Lexitonian's scratch at the gate of the A. G. Vanderbilt changed the dynamics of that race, leaving Volatile loose on the lead and compromising the running style of others. If he stays in, Lexitonian will surely be forwardly placed and a pace-pressing factor from the bell. He owns two wins at the distance. 10-1 on the morning line, Lexitonian was 28-1 when scratched from the Vanderbilt.
Race 9 Sword Dancer – G1 $500k
Four runners exit the G2 Bowling Green run at 11-furlongs on August 1.
(5-2) I wrote of Sadler's Joy before the G2 Bowling Green that his record of 30-7-4-10 says it all. This deep closer is capable of winning any race where he is clearly faster than rivals, or any race where the pace is honest, contested or hot which favors his running style…or breaking hearts with close but not there placing or showing. Always a threat and clearly the one to deny in the lane. Well, he raced exactly as we described, was powering to the lead in the lane only to drift in and impede rival Cross Border. The disqualification might be argued, stewards rule. Nothing changes. Sadler's Joy can win. He is proven at this distance.
(3-1) I wrote of Cross Border before the Bowling Green that he is a solid and consistent runner, less raced than several rivals, proven capable at similar distances. He has speed to be positioned to track and contest the early fractions. He is proven at 12-furlongs. Jockey Jose Ortiz knows him well and will give him his best chance at winning. Ortiz did that but (8) Sadler's Joy was best that day. Cross Border was game but not winning. The extra furlong should soften the pace some, and Ortiz will attempt the same trip.
(4-1) Aquaphobia, recent upset winner of the G1 United Nations at 11-furlongs is a stranger to this group with several exiting the same race. Aquaphobia represents a trainer Mike Maker impersonation of the legendary Oscar Barrera, claimed for $62K and now a graded stakes winner. Owning two wins at 8 furlongs, two at 1 mile and 70 yards, two at 8.5 furlongs, and one at 9, 10 made the last win the upset it was. Aquaphobia was not a proven marathoner. He did, however, earn a big speed figure for the win at Monmouth suggesting he can be competitive here. Trainer Maker has excellent stats to repeat in this situation (21% win & 40% in-the-money).
(6-1) I wrote of Channel Maker: This horse is a solid and consistent performer with tactical speed to sit a good trip among the front group. He is proven over this course and a G1 winner at this distance. Last year he was a half-length short in this same race. Rested in March, Channel Maker's two previous starts indicate he has been pointed for this race. My trip notes have Channel Maker tracking the leader, moving up, dueling in the vice between rivals before being roughed up and dropping back late. A tough trip in a field of 6 is hard to envision, but Channel Maker, after a perfect stalking trip was herded to the inside and buffeted about as the late runners rallied around him. Channel Maker was not winning but watch the head on replay and see him lose all action inside the final sixteenth.
(6-1) Corelli is another stranger exiting that G1 United Nations. Bet 6-1 against (4) Aquaphobia's 11-1, the Monmouth bettors preferred this runner. Corelli owns a few narrow losses at today's distance in England. His paper suggests his running style was not suited for European racing. He appears to race forwardly then gets caught by late running rivals who quicken in the dash to the wire. Euro speed usually means U. S. mid-to-rear half stalker/finisher. His stateside debut race was lost when he blew the start. Last out top Jersey jockey Daneil Centeno had him out of the gate and into contention earlier. This looks to be a great fit for a jockey with Joel Rosario's skills who will be a fair price.
(15-1) Pedro Cara's lone U. S. effort was a near miss in the Jockey Club Derby Invitational at 38-1. Since that he has only won the G2 Qatar Derby at 10 furlongs defeating 15 and finished 3rd in the G1 Amir Trophy at today's distance. Note also that jockey John Velazquez is 7-3-0-3 riding trainer Graham Motion's foreign shipper over American turf.