1. LIVE OPERATOR ASSISTED WAGERING: – Dial: (518) 381-2450, or 1-800-342-4287 (11am -11pm, Mon. – Sat. / 11am – 9pm, Sun.)
2. TOUCH-TONE WAGERING SYSTEM: (11am – All Tracks are Closed)
1- 800-233-0375
Canada – 800-458-2058
Enter Account Number- enter your nine (9) digit account number followed by the # sign
Verifying your account- Enter 4 digit pin"- followed by the # "Your balance is $$$
Enter Track- listen for Today's tracks or visit website at capitalotb.com, select desire track followed by the # sign
Enter Race- Enter race number followed by # sign
Enter Wager Type- followed by the # sign
Enter Wager Amount, followed by the # sign
Enter Runner (Use the * key to separate runners 2*3*4) followed by the # sign.
Below denotes the correct number for each bet type: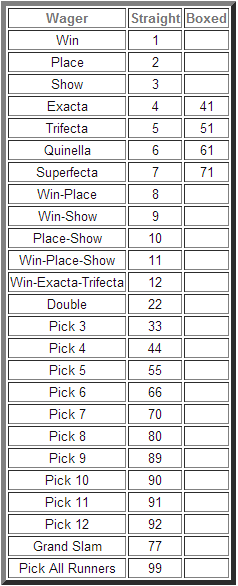 You will receive a VOICE RESPONSE you must clearly confirm your wager by saying "YES" to accept followed by # sign your wager
(or)
"NO" to reject your wager
Listen for confirmation "Your wager has been placed".
To place another Wager Press "1" to continue (or) Hang Up
Thank you for wagering with Capital OTB
CAPITAL OTB OFFERS TWO TYPES OF CAPITAL BETS ACCOUNT OPTIONS
* Capital Bets Account – Allows customers to bet on all available racetracks. Win, place and show bet payoffs are subject to a 5% surcharge. Exotic bets are subject to a 6% surcharge.
* If you have over $300 at the time of wager you will receive track prices on all available racetracks.
Important: Customer Service Hotline: 1-800-292-2387, or 1-800-292-BETS: Mon. – Sat. 9am – 12am, Sun. 10am – 6pm. If you have any problems with you account, our professional, friendly customer service staff will be happy to help you.