Track Facts August 21st 2020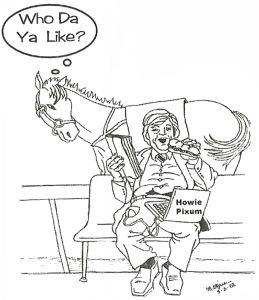 The above caricature of a race tracker has been a representation of my alter ego for many years. A former student drew it for me some twenty-five years or so ago. I love everything about the jacketed DRF-holding, sandwich-eating, computer-checking figure you might have encountered on any bench or picnic table at Saratoga Race Course. He is, of course, Howie Pixum…and everybody, even horses in the paddock, wants to know Howie Pixum.
Enough has been said and written about this uniquely and historical race meeting I will not belabor the point. As we head into it, however, I remain convinced that analysis of a race, any race, must begin with the morning line favorites. Of course, many handicappers start their process in advance of morning line. Others totally dismiss the line, either making their own or preferring to avoid letting the line influence their notion of contention. But…
The morning line begins what evolves into the "live odds" identification of the type of race the betting public faces. Just think of the number of races in any season where a Chad Brown turf runner, regardless of class or distance, was the predicted line favorite in a race at short odds. The line indicated the race might be a one-horse race or, if the 2nd line favorite was also short odds, a two-horse race. The idea of race type should inform one's approach to the race.
"Howda ya pick'em?" and "Who da ya like?" These are the quintessential personal and "mutual" aspects of most discussions of Thoroughbreds about to race. Once we "Pixum", it's off to the pari-mutuel window or on-line device to wager our individual opinions into the betting pools…either with or against the betting crowd.
Luck always. Be well. Stay safe and most informed about our game with CapitalOTB.com.
August 20, 2020
Musings on Saratoga Racing in the Era of Covid-19
• Anyone and everyone who thought NYRA would not or should not stage racing from Saratoga Racecourse in 2020 was dead wrong. It's all about handle… handle generated from Saratoga supports New York racing throughout the year.
• Congrats to NYRA for implementing protocols at Belmont Park which, so far, have kept live racing alive. As we have seen in other venues around the country, a spike in Covid positives is cause for shutdown.
• Another congrats to NYRA for permitting Capital OTB to continue the daily three-hours of fine programming and blanket coverage of the meet. NYRA could have easily and justifiably said not this year. Y'all benefit from the interviews and insights offered each racing day from Capital's stable of on-air talent.
• Capital OTB and NYRA fans have become accustomed to "live" coverage of Saratoga racing, initially produced in-house by NYRA and more recently produced by Fox Sports. During a racing day, viewers switch between Capital OTB TV coverage to NYRA and back.
Fox, with NYRA approval, has opted to import its "Big Race Day" format for everyday racing. That means a larger team of on-air talent sharing shifts, more comprehensive pre-race analyses, taped human interest features, and post-race interviews. While it works well when every race covered is a graded stake on a Triple Crown or Breeders Cup day, applying the same production works significantly "less well" with ordinary race-day cards. The non-Saturday cards at Saratoga are peppered with short fields of $12,500 – $25,000 claiming races of Non-winners of 1 or 2 races lifetime and, too often, short fields scratched to 5 or 6 runners…and they are presented for your viewing pleasure like the Travers.
In the past, NYRA mainstays Serling, Migliore and Wolfendale handled those races while horses were in the paddock before post parades, offered comments and the air went silent. Fox Sports, I expect fearful of dead air, refuses to go silent. Equally concerning, far too often they have held Maggie Wolfendale's interesting and important physical description of horses until the field was approaching the gate. How does one process and factor Maggie's information to make a wager when the field is at the post? What are your thoughts on Fox Sports coverage?
• With both Travers and Alabama behind us (thank you Churchill Downs for staging your Derby over Labor Day weekend) the meet appears to have slipped into "final week" mode. Traditionally, racing after Travers is weak, at best, until Labor Day weekend. That softness in race cards began this week with multiple short fields on the Wednesday, Thursday, and Friday cards. Of course, Covid-19 continues to play its part. Other factors, I'm told, include costs to ship and cover insurance liabilities to run in New York.
Someone said, "The turkey's in the oven and the lights are on the Christmas tree…2020's over." Here's hoping for a return to a normal 2021 Saratoga meeting.
Race 9 Fourstardave G1 $400k
August 22, 2020
The starter will greet a field of 9 before scratches. Trainer Chad Brown enters 4 of varying ability…but the race surely goes through his barn. Two of his runners are multiple G1 winners at today's mile distance. Trainer Bill Mott also has a two-part uncoupled entry, both offered at 20-1 morning line odds. A cold Mark Casse enters multiple G1 winner and Horse-for-the Course and Distance Get Stormy in what might be the most competitive stake race carded this meet.
(5-2) Raging Bull has faced G1 stake rivals in his last eight starts and looms the class of this field. He is a distance specialist, having broken his maiden on debut over turf at this distance and compiling an 8-3-2-2 record at a mile. Raging Bull races from among the rear half of the pack, unleashing a powerful and relentless late run. Raging Bull will race for the third time after a layoff since September 2019. He was sharp winning off the layoff and missing by a neck last out in the G1 Makers Mark at Keeneland. Brown's five-year record in the Fourstardave stands at 5-0-3-1.
(3-1) Uni is the second Brown entrant and 2nd choice on the morning line. Uni raced in France before shipping to Brown's barn in July of 2017. Brown raced him at 9 and 10-furlongs through 2017 before cutting him back and deciding the mile to be his best distance. His 9-7-0-2 record includes the prestigious 2017 Breeders Cup Mile, defeating today's rivals (4) Get Stormy and stable mate (8) Without Parole. Uni returned from a well-deserved vacation since the Cup to finish third in the G3 Just A Game behind another top-quality stablemate, Newspaperofrecord, at Belmont Park on June 27. Brown has worked him 6-times since that race, a total of 26 furlongs over the last 37 days. Like (1) Raging Bull, Uni races nearer the rear and fires late. He has been near but not on the lead at the eighth pole in all his G1 wins. Today he gets a jockey switch to top jockey Jose Ortiz. Brother Irad Ortiz, Jr. rode Uni early on and positioned him closer to mid-pack back then. A change of tactics under a new rider would not be a surprise.
(4-1) Halladay won an overnight stake at Gulfstream Park in May and trainer Todd Pletcher opted to try him in the G2 Bernard Baruch here on July 26. Sent off as the 2nd favorite, Halladay tracked a soft pace set by winner Somelikeitbrown to mid-stretch then came up empty. He stands as 3rd choice on the morning line following limited stakes experience and success, failing in two G3s and the most recent G2. The Beyer Speed Figures he earned in April and May look competitive but were earned against lesser.
(4-1) Without Parole is the third Chad Brown runner, moved to Brown from Brit John Gosden for the 2019 Breeders Cup Mile. At 8-1, Without Parole raced "better than odds" to finish 3rd behind rivals (6) Uni and (4) Get Stormy. A loss going too far in the G1 Pegasus World Cup Invitational led to a rest into May of 2020. He suffered a tough trip breaking from the rail and encountering traffic behind stable mate (1) Raging Bull in the G1 Shoemaker Mile on May 25 and then finished fast under regular rider Irad Ortiz, Jr. in the G1 Makers Mark to finish behind mate (1) Raging Bull. Brown has worked him 18 furlongs over the last 21 days. Again, Without Parole prefers to race from the rear where he will find comfort and company from stable mates.
(8-1) Get Stormy, a mare facing males again, raced once more after her loss to. (6) Uni in the 2019 Breeders Cup Mile, winning the G1 Matriarch at Del Mar. She has not won in 4 starts since, including a narrow neck loss to males in the G1 Kilroe Mile. She, too, races third after a layoff but off two subpar efforts finishing 4th in a field of 5 and 4th in a field of 7. She loves Saratoga (2-2) and is a true distance specialist (16-8-4-2). Get Stormy has tactical speed to gain position and, if fit and ready, class to sustain it. She will need a return to one of her top efforts to compete and contend here for trainer Mark Casse, whose barn has been ice cold (28-0-6-2).