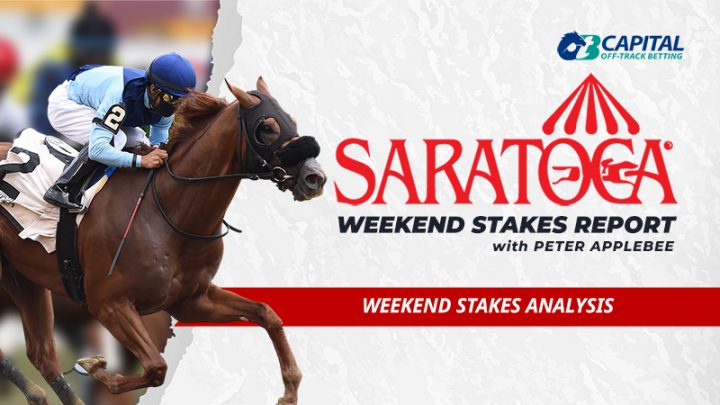 Saratoga Weekend Stakes Report
Happy Alabama Day!
Today we have two Graded Stakes for three year old fillies. Malathaat was the consensus divisional leader of this group before losing last month in the Coaching Club American Oaks to Maracuja. Search Results was another contender, but she didn't fire at seven panels in the Test Stakes, finishing a distant third to Bella Sofia.
Malathaat, Maracuja, and Clairiere all return today from the CCA Oaks. If either Malathaat or Maracuja win the Alabama today – they will be the divisional leader heading into the Fall.
Race 9 – Lake Placid Stakes – Grade II
One Mile and One Sixteenth on the Mellon Turf for Fillies Three Years Old
August 21st, 2021
Chad Brown has the morning line favorite, Technical Analysis, who won the Lake George Stakes last out. The bigger story is that Chad has only one entered – he had four runners in the Lake George. Chad will tie Bill Mott, Christophe Clement, and Jimmy Toner for most wins (3) in this race with a victory.
This is not the strongest Grade II event – the field only has six runners and two of those have yet to win a race on the turf.
The Runners
1. Illiogami: She's had three starts this year – all on dirt. She won the first two breaking her maiden and defeating optional claimers. But she was over her head last out in the Grade II Mother Goose Stakes. Today this Tapit filly tries turf for the first time since OK outings in her first two maiden efforts last year. Only two lifetime wins were with Lasix – no Lasix today. Irish bred dam won three times on the turf including two Group Is and a Group III. So there is legit turf pedigree on the bottom side. Longshot for an underneath piece of it is she gets the right set up.
2. Technical Analysis: This Chad Brown filly sat off the speed in the Lake George and pounced when the early front runner faltered in the stretch, earning a 90 Beyer in the win. Two for three at today's distance and there is early speed here that should give her a target to run at. Made no impact in her prior in the Wonder Again Stakes at Belmont when she was hung wide on both turns. Has a good inside draw and the race flow looks perfect for her. Should sit off the early speed and strike in the lane. A repeat performance of last outing crushes this field. The One.
3. Ego Trip: This maiden enters here off of a second place finish in a one mile MSW on July 24th. She broke poorly and trailed the field early but closed very well for second. That was her first start for Brendan Walsh in the U.S. after shipping over from England after a March race at Newcastle. The sire was a successful turf sprinter, and the dam was unraced but is from New Approach (IRE) who won the Epsom Derby and never finished off the board in eleven starts – winning five Group Is. So there is some serious back class. Lasix comes off today. Trainer Stat: Brenden Walsh is 8/83 in turf stakes races over the past five years. Dangerous at a price.
4. Runaway Rumour: Won her first three starts this year and then finished a good fourth in the Lake George in her only Graded Stakes attempt. In the Lake George she was probably too far off the pace to get the job done. Gets an extra sixteenth today and this Flinstshire sired filly does not look distance limited. She has competitive speed figs – will need to improve to get the prize. Abreu barn has heated up as of late with four winners over the past week. Using.
5. Lovestruck: This lightly raced Mott trained filly has won two of three lifetime starts but was unable to kick on after being up close to a strong pace in her last effort in the Wild Applause. She was pretty much done at the sixteenth pole that day and needs to get an additional sixteenth today. While she's two for two at today's distance she was able to attend slow paces in both of those. She should have company up front. Mott takes the Blinkers off and switches from regular rider Junior Alvarado to Johnny V. Interesting. Needs a significant step forward in her second start of the campaign. Wouldn't be the biggest surprise but lean against.
6. Spanish Loveaffair: Was up close in the Belmont Oaks but flattened out in the stretch and then checked in traffic as several horses passed her. Gets a needed turnback and class relief today. In her prior effort in the nine furlong Regret Stakes she led in the stretch but was passed very late, earning an 83 Beyer. Mark Casse's barn is chilly so far at the Spa. She'll be going from this outside post. Has Santana up – who is not shy. She's in line for a minor award.
Picks 2-4-6-3
Race 10 – Alabama Stakes – Grade I
One Mile And One Quarter On The Dirt For Filles Three Years Old
August 21st, 2021
The Alabama Stakes features a rematch of Maracuja and Malathaat who ding-donged down the stretch in the CCA Oaks. The third place finisher that day, Clairiere, also returns here. Much like the Belmont Stakes for the boys, today's task requires the winning horse to have speed, stamina, and class to claim victory in this historic race.
The Runners
1. Crazy Beautiful: She's been in the exacta in four of five starts this year all of which were Graded Stakes. The Kentucky Oaks was the only off performance where she had traffic issues early on and faltered. Enters this race off a dominating win in the Delaware Oaks at 1/5 where she drew off in the stretch. Career best Beyer of 91 in that one – that was with Lasix on for the first time. Lasix comes off today. Prior to the Delaware start she won the four horse Summertime Oaks at Santa Anita where she bested Soothsay who then came back to win the Indiana Oaks. Possible, but not sure she wants ten furlongs.
2. Will's Secret: The year began in a promising manner for this runner with wins in both the Martha Washington and the Grade III Honeybee Stakes at Oaklawn Park. But that promise has not come to full flower after finishing third in both the Ashland Stakes and Kentucky Oaks (both behind Malathaat), and most recently a distant sixth in the Indiana Oaks. She needs to be up on the pace, but that positioning will be tough to today as she isn't fast enough early. Race flow does not suit her. Don't see a way.
3. Clairiere: She ran well in the CCA Oaks but was repulsed by Malathaat in mid-stretch. She has a grinding style that can work at ten furlongs, and she seemingly was moved too soon in the four horse CCA Oaks when Malathaat got loose. Ended up doing the dirty work that day for the eventual winner. She is a very good stakes level horse who has only been off the board once in seven starts – but needs to improve to turn the tables on the two that finished ahead of her last out. She'll keep running all the way, but she's been a notch below the best in this division. In the mix underneath.
4. Maracuja: Made a big leap forward last out in winning the CCA Oaks and defeating the previous unbeaten Malathaat – earning a 97 Beyer. Santana gave an excellent ride keeping her within striking position without engaging Malathaat until she needed to. That was her first start since the Kentucky Oaks and her first Graded Stakes win. Will need to repeat the CCA Oaks performance to get the top prize today and may need to pass them all. Tough assignment even for a barn that is firing on all cylinders. Maybe, maybe a slice.
5. Played Hard: This longshot runner is the likely pace setter having won her last two starts on the front end. This is her first attempt against Stakes company after breaking her maiden and besting allowance company in her last two. Last work was a five furlong bullet on the main track and leading riding Saez is in the stirrups. But the water is not only deep here – there are sharks in the water. Lone speed is always dangerous if no one presses her. Nonetheless, this would be a huge surprise. Lasix comes off today. Ten furlongs against this group? Hmmm….Nope.
6. Malathaat: She was very game in the CCA Oaks earning a 97 Beyer while losing by a head to Maracuja after having to repeal a game Clairiere. Additional furlong today should be no issue. Her Beyer figure has increased in every one of her six starts. She should benefit from having a target to aim at which appears to be her preferred running style. Like the CCA Oaks – she will be too short a price relative to her speed figs. Not the top pick, but a must use on all tickets.
7. Army Wife: This filly has steadily improved in her four starts this year getting three wins in the process. This Black Eyed Susan winner has never been off the board since she broke her maiden last fall, winning four of six starts in the process. Enters here off of a strong win in the Iowa Oaks with a 90 Beyer. Faces much tougher today than she did at Prairie Meadows or Pimlico. She was competitive in the nine furlong Gazelle Stakes back in April, but was blocked mid-stretch. Wouldn't have beaten Search Results that day but would have finished much closer without the traffic. Trainer Stat: Mike Maker is 7/83 (8%) in dirt Graded Stakes over the past five years. Some horses outrun their breeding … some outrun their trainer stats. The Pick.
Picks 7-6-3-1