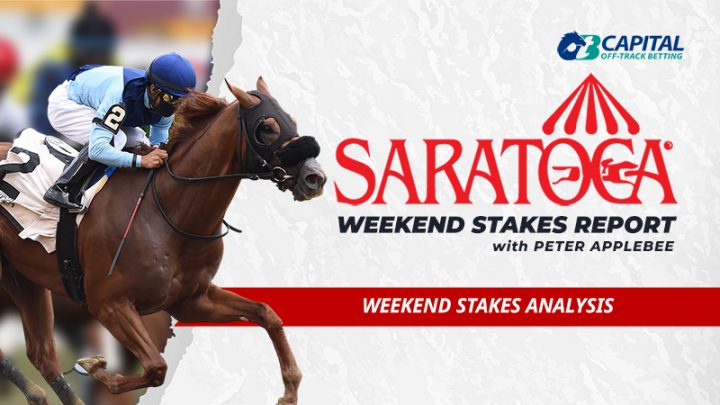 Saratoga Weekend Stakes Report
Happy Fourstardave Day!
If there is any one horse that symbolizes racing at Saratoga, it is Fourstardave. "The Sultan of Saratoga" won a race at the Spa for eight consecutive years from 1987 to 1994. He found the winner's circle in twenty-one of his remarkable one hundred starts, finishing in the money fifty-five times. "Dave" was a winning horse, a blue collar horse, a New York bred – he was one of our own. Appropriately, Fourstardave is forever with us at Saratoga as he is buried on the backside at Clare Court.
Race 9 – Saratoga Special – Grade II
Six and One Half Furlongs on the Dirt for Two Year Olds
August 14th, 2021
Three of the entrants today exit the Bashford Manor Stakes at Churchill Downs, including the winner Double Thunder. Two runners (Dance Code and Ottoman Empire) return here from the Sanford Stakes that was run on opening weekend. Steve Asmussen has two entered here and is attempting to win his record sixth Saratoga Special.
The Runners
1. Nakatomi: Wesley Ward brings this one back off of subpar turf attempt at Royal Ascot in the Group II Norfolk Stakes. Wesley Ward is 15 for 31 (48%) over the past three years with foreign shippers. However, almost all of those were shipping back for the turf. Ward excels with two year olds and this one is likely to show improvement here. Tough inside draw. Possible underneath.
2. Gunite: Broke his maiden last out with a 73 Beyer at Churchill while setting a hot pace and holding off the closers. He may have found his preferred running style in that win by getting up front after trying to close in priors. Blinkers go on today to help with focus and speed. Has been working well on the Oklahoma course for this. Santana stays on for Asmussen. Improving colt. The Pick.
3. Ottoman Empire: Tom Amoss entered this one in the Sanford Stakes off a maiden score at Churchill Downs. Wit proved too much in the Sanford, but he did run on for fourth place. Blinkers go on which should help get him into the race sooner. Trainer Stat: Amoss does well with two year olds, but is only 1 for 17 in two year old dirt stakes races over the past five years. Needs to show improvement.
4. Kitodan: Jorge Delgado ships in from his Gulfstream base where it took four efforts and an off the turf race for this one to break his maiden. He turns back slightly from seven panels for this race. That win was part of a nice hot streak by jockey Chantal Sutherland – she was in the midst of a ten for twenty-four run. Sutherland comes into town for the mount. Beyer in last (69) is competitive. Trainer Stat: Delgado is 1 for 15 in dirt stakes races in the past three years. Has no published works since his win three weeks ago. Interesting outsider at a big price if he does run here.
5. Midnight Worker: This Pletcher trained colt won first out at 10-1 with a nice inside out trip put together by Luis Saez. He showed a lot of poise and there may be something here. Eligible for a needed improvement here in his second time out.
6. Stolen Base: This Mike Maker trained colt won first out with a 71 Beyer in a restricted maiden race. He was second choice that day and ran down the favorite while running a bit greenly. Faces a stronger field today but he is very competitive off that first out win. Sharp last work. Major player.
7. Double Thunder: This Pletcher trained runner is the only two time winner in the field. Last out in the Bashford Manor after hopping at the start, he ran by the whole field, and then drew off. The Beyer needs to improve, but that was a visually impressive win. Did have the benefit of closing into a wild pace – the first quarter was 21 flat. Possible.
8. Doctor Jeff: Won his off the turf debut at Belmont as an MTO by setting the pace on the inside and kicking on, earning a field best 78 Beyer. It was a very professional performance. Had a bullet work on the Saratoga main track at five furlongs in the last prep action for today. Looks live.
9. Dance Code: Last out in the Sanford he stumbled badly at the start but rebounded to run third making a nice run on the turn and staying on in the stretch. Trainer Stat: Juan Vazquez is 0/16 in stakes races over five years. Competitive with a better trip.
10. Glacial: Won first time out and then followed that up with a strong third in the Bashford Manor at Churchill after being up close to a hot pace. Blinkers come off. Connections indicate that this is being used as a prep for the two turn Iroquois Stakes at Churchill. Probably isn't his day.
11. High Oak: Bill Mott was successful first out at Belmont at five and half furlongs with this Gormley sired colt. He sat off the pace and seemed to mature as the race progressed and when he finished – he was all business. Has several good works leading into this event. Needs to be faster second out – the works say he's ready to do so. Contender.
12. Red Run: Won first time out in the slop and then broke poorly in the Bashford Manor finishing fifth. Needs to get much faster to have an impact here. Should be running late.
Picks 2-6-8-11
Race 10 – The Fourstardave Handicap – Grade I
One Mile on the Inner Turf, For Three Year Olds and Upward

August 14th, 2021
This race has a nice competitive field of eight that includes three mares. Hall of Famer Bill Mott, who has been a great Saratoga turf trainer seemingly forever, is looking to extend his record number of wins in this event to five.
The Runners
1. Raging Bull: This Chad Brown runner comes in off a very good second in the Poker Stakes (103 Beyer) after traffic trouble in the stretch. He won the Makers' Mark at Churchill with a 106 Beyer in the first start of the campaign. Finished fifth last year in this contest behind Casa Creed and Got Stormy. He's in very good form based on the two starts this year. Stalk and pounce type and should be running down his stable mate. Good inside draw so Irad can save ground and gain position. Working well on the Oklahoma turf course in advance of this one. The Pick.
2. Whisper Not: Ships in from Del Mar where he has been working most recently since a distant fifth place finish in the Shoemaker Mile at Santa Anita. He was overmatched that day and was done at the quarter pole. Won the San Francisco Mile in the previous start by laying off a fast pace and narrowly prevailing in stretch duel. Gets the class test today. A step below the best here – will need a perfect trip.
3. Daddy Is A Legend: One of three mares in this race, last out she was the best of the rest in the Just A Game Stakes behind top quality Euros, Althiqa and Summer Romance. Tries the boys for the first time here. She hasn't won a graded stakes race in three years and is 1 for 10 at a mile on the turf. Trainer Stat: George Weaver is 2 for 43 in turf graded stakes over the past four years. Doesn't seem fast enough to win here. Looking elsewhere.
4. Casa Creed: Bill Mott scratched this one out of the Troy Stakes last week to due to a poor outside draw. Draws better today. Had been running in top level mile turf races but was successfully shortened to turf sprints in his last two outings winning the Grade I Jaipur Stakes (105 Beyer) and listed Elusive Quality Stakes. Was third in this race last year. Bullet work last week over the Oklahoma training track. Will need to be at her best to win here. Contender.
5. Set Piece: Enters today on a three race win streak with 100 Beyers in both of the last two outings. Set Piece has flourished since joining Cox's barn last year winning six of ten starts. Last out he won a competitive Wise Dan Stakes, coming from last and to first by weaving through the field to best Somelikeithotbrown in the last sixteenth. Dangerous closer for the white hot Brad Cox barn and he will get pace to run at. Tough to mow them all down on the inner turf at a mile. He'll get a slice.
6. Got Stormy: This wonderful five year old mare won this race in 2019 and was second in 2020. A turf mile specialist, with nine of her eleven career wins at today's distance. She's been training well into this one. Her Jaipur performance was a disappointing fifth, but the jock lost the whip and that may have contributed to her flattening out late. Mark Casse's barn has been cold so far this meet. Will need to regain her form from last summer. Looking elsewhere.
7. Field Pass: Mike Maker brings this one in off a win in the Grade III BWI Cup at Pimlico where he beat a four horse field at odds on. Waters are much deeper today. Has finished behind Set Piece and Raging Bull in previous races this year. Maker is dangerous with most everything at this point, but there are better speeds and better closers here today. Passing.
8: Blowout: This Chad Brown trained mare is a speedster and has finished in the exacta in 11 of 12 her starts. She'll be on the engine from the drop with this outside draw. She'll need the lead and the right pace to last all the way against this group. Rosario will try to walk the dog. If you think she is just a rabbit, think again – she can steal it from the boys. Using.
Picks 1-8-4-5