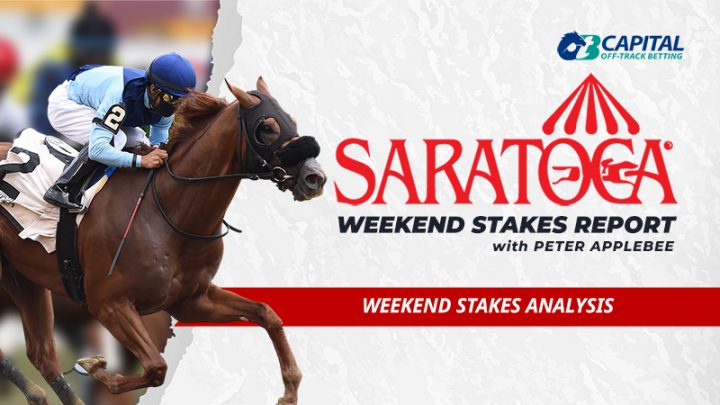 Saratoga Weekend Stakes Report
Happy Vanderbilt Day!
This Saturday we have three graded stakes races for the first time this meet headlined by the Grade I Vanderbilt Handicap along with two Grade IIs – the Bowling Green, the Jim Dandy Stakes.
I'll tackle the Vanderbilt and the Jim Dandy here.
I heard a couple of commentators this week talk about how for a lot of people Saratoga doesn't really "start" until August. I'm not sure how true that it is, but I do know that you missed a couple of really good weeks of racing if you haven't been engaged during the early part of the meet.
Last week we had the previously undefeated leader of the three year old filly division, Malathaat, go down in the CCA Oaks. The three stakes this Saturday each feature reigning Eclipse award winners: Channel Maker, Whitmore, and Essential Quality. Not too shabby!
Race 8 – The Alfred G. Vanderbilt – Grade I
Six Furlongs on the Dirt, Handicap For Three Year Olds and Upward
July 31st, 2021
This renewal of the Vanderbilt features two popular salty sprinters; 2020 Breeders' Cup Sprint winner Whitmore and nine time graded stakes winner Firenze Fire. Steve Asmussen has Strike Power entered here, and he is tied for most wins by a trainer (3) in this race along with D. Wayne Lukas and Allen Jerkens. That's pretty good company. You can throw a blanket over four of these runners today. It's a very competitive race.
The Runners
Lexitonian: He has won only once in his past eleven starts and that was against optional claimers. Last time they stretched him out in the Met Mile where he was eased. The start prior to that he just missed in the Churchill Downs Stakes at seven panels. The reality is that he is hard to trust. At his best he is close, but you don't know what you'll get. Looking elsewhere.
Mischevious Alex: He's significantly improved since entering the barn of Saffie Joseph winning four of five this year. Last out he ran a nice third in the Met Mile pressing and besting Knicks Go before getting caught by the winner. He was impressive winning both the Grade I Carter and the Grade II Gulfstream Park Sprint earlier in the year with triple digit Beyers. He's a pace presser who likes to sit right on the leader until making his move. Two for two at the distance – he is a live one here.
Firenze Fire: Kelly Breen is a top notch conditioner, and he has kept Firenze Fire in good form winning four stakes over the past year. Seven of his fourteen wins are at six furlongs. He is two for three this year, with his sole loss by a head to Mind Control in the John Nerud Stakes where he drew inside that day. Just one for seven at Saratoga. Looks like he can get his preferred pace pressing trip here – he likes a target and should get one. Today's the day.
Strike Power: Steve Asmussen brings this one in from Churchill where he most recently finished third in the ungraded Kelly's Landing Stakes. Zero for two on the Saratoga dirt including a subpar effort in this race in 2019. Has one win from seven starts at six furlongs. He's quick – but has not shown the ability to finish it out. His graded stakes record does not give you confidence. He should give you a thrill on the front end.
Three Technique: He's been going longer and gets a turnback from seven furlongs where he finished an OK third after a pocket trip in the John Nerud Stakes. He should be running late. Trainer Stat: Jeremiah Englehart is 1/18 in dirt sprint grade stakes races over the past five years with a ROI of $0.50. Blinkers go on which might help. Maybe underneath.
Whitmore: The page may be turning a bit on this wonderful eight year old. He hasn't won in three starts this year with narrow losses to CZ Rocket (twice) and Flagstaff. No shame losing to those runners, but a sprinter with his running style has very fine margins and if he is just a half a beat slow, it's tough to win. Speed figs are down a touch too. He finished second in this race last year. He is 22 for 26 in the exacta at six furlongs with thirteen wins. Has a win over the track. He will need the right set up. He should get a piece of it, but the top spot will be tough.
Miles Ahead: Won the Grade III Smile Sprint at Gulfstream earlier this month and is five for seven at six furlongs. But most of those wins were against allowance company types – not grade I level talent. He likes to attend the pace and attack at the eighth pole. It's worked against lesser. I guess they are looking to find out what the ceiling is on this one. They should find out today. Trainer Stat: Rusty Arnold is 1/17 in dirt sprint graded stakes with an ROI of $0.54 over the past five years. Passing.
Montauk Traffic: This late running Linda Rice colt has been a productive runner winning four of nine career starts including the Jimmy Winkfield last year at seven furlongs. The two outings this year have shown a noteworthy jump in speed figs and he drops five pounds from his last start. His speed figs aren't too far behind this group and he turns around in three weeks for this. He should be dropping from the clouds in this one but hard to see him getting there. Seems overmatched here.
Special Reserve: Mike Maker made significant improvements with this colt after he took over training earlier this year winning three of four starts. This one has gone from running Beyers in the 70s in allowance races at Remington to winning the Grade III Maryland Sprint with a 100 Beyer in May. He followed up with a win in the Iowa Sprint as odds on and a 101 Beyer. This speedy one gets a desirable outside draw to face grade I company for the first time. Rosario takes the reins. Come and catch me!
Picks
Race 9 - The Jim Dandy – Grade II
One mile and One Furlong on the Dirt for Three Year Olds
July 31st, 2021
This is a nice renewal of the Jim Dandy with a compact field of six headlined by the leader of the of the three year old division, Essential Quality.
The Runners
Dr. Jack: This one did not make it to the track until April of his three year old year, but he has run well in all three starts. He won his first two starts and then stepped up to stakes company in the Pegasus Stakes at Monmouth where he ran a very competitive third behind Mandaloun and Weyburn. He has tactical speed that should allow him to find a good position from this inside post. Lasix comes off for the first time. Beware a late developing three year old! Especially in Pletcher's Hall of Fame hands. Needs to improve his speed figs and he is a very much a work in process. Interesting underneath play at a price.
Masqueparade: It took four tries to break the maiden, which happened via a DQ. But the light when on after that one. He's won the two efforts since which including a 98 Beyer performance in the Grade III Ohio Derby. Two for two at today's nine furlong distance. Lasix comes off. This one will need to improve again here to get the big prize. He can get a piece.
Weyburn: Upset winner at 47-1 in the Gotham Stakes and followed that win with a good fourth in the Wood Memorial after being five wide in the first turn. But there were issues, and he didn't come back until mid-July in the Pegasus Stakes where he was super game and was just edged out by Mandaloun by a neck. Looks to be the speed of the race and should be out front. Comes in off of two five furlong bullet drills at Saratoga. Irad in the irons. Can he get nine furlongs is the question here. Dangerous, using.
Keepmeinmind: This one has been competing in grade Is and IIs this year including the Kentucky Derby and Preakness – but to little effect. He is zero for five this year. He was decent in the Ohio Derby when he came running late earning a 97 Beyer. That was his only start running on Lasix – which comes off today. He's finished behind Essential Quality three times and was beaten by Masqueparade last out. He has a series of excellent workouts over the Saratoga strip coming into this one. Looks ready to go but will have to run them all down in the lane. Prefer others.
Essential Quality: This one is special. He is six for seven in his career with his only loss coming in a troubled trip in the Kentucky Derby. He's got speed, can sit off the pace, or he can even close if the pace gets hot. So he basically has no flaws from a race flow perspective. He's had a freshening since that Belmont Stakes win where he earned a 109 Beyer. His Beyer figure has improved in every one of his starts. Will he be fully cranked for this one is the only question about this champion. I think he will be ready, but even if he runs his "B" race – he wins. The Pick even at a very short price.
Risk Taking: This Chad Brown runner started the year out strong by winning the Withers at Aqueduct. But he hasn't progressed after failing to make an impact in both the Wood and the Preakness. Speed figs are well below the top of this group. On the upside, Risk Taking is two for two at nine furlongs – so he can get the distance. Outsider.
Picks