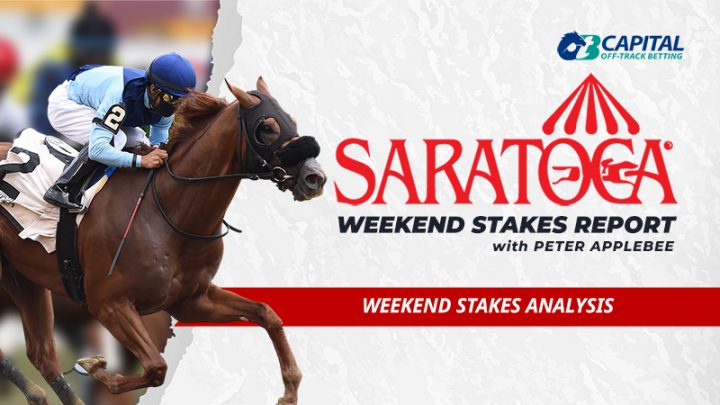 Saratoga Weekend Stakes Report
Happy Coaching Club American Oaks Day!
There are two graded stakes this Saturday at Saratoga. The Grade III Caress Stakes sprinting on the turf for fillies and mares four and up will be run as the "feature" race. The Grade I Coaching Club American Oaks for three year old fillies at nine furlongs on the dirt will be run as Race 5 due to the small field size.
Race 5 – The Coaching Club American Oaks – Grade I
One Mile and One Furlong on the Dirt, For Fillies Three Years Old
July 24, 2021
I'm old enough that it seems like the CCA Oaks was just moved from Belmont Park to Saratoga, but this is the twelfth year that the Spa hosts this top level test for three year old fillies.
It's a small field, but there is more going on here than just play Malathaat and move on. I'm surprised that Clairiere is the only one back from the Mother Goose Stakes. But the equine quarantine issues and the undefeated Oaks winner thinned the field, so we are left with only four entrants.
Todd Pletcher has won a record seven CCA Oaks and goes for his eight win with morning line favorite Malathaat. John Velazquez keeps the mount on the Pletcher filly as he aims to break his tie with Mike Smith for most jockey wins in this race.
Pletcher/Velazquez …hmmm… I recall that combo winning a couple of races at the Spa over the years.
The Runners
1. Malathaat: This Pletcher trained filly is undefeated in her career with narrow wins in the Ashland and the Kentucky Oaks this year. She's been off since the Oaks but has been working steadily since her return to training including a nice 48 flat work over the Saratoga main track last week. She's two for two at today's nine furlong distance and is a versatile type who can run on the front end or stalk the pace. She doesn't win by a lot, but she wins and is super game. Johnny V stays aboard. It's a four horse field, she's 2/5 – she's a cinch, right? Nope. They call it the Graveyard of Champions for a reason. She'll potentially be chasing Rockpaperscissors, who should be aggressively ridden from the get-go, and she'll have to deal with Clairiere hounding her down the stretch. In any horizontal play you have to use her. But as a win proposition – I'll pass. She does not lay over this field based on speed figs etc.…to justify 2/5.
2. Maracuja: Two back she finished second to Search Results in the Gazelle Stakes as the longest shot on the board. That was her first time around two turns and she made a long sustained drive to pass all but the winner. She did not repeat that performance in the Kentucky Oaks when she finished a distant seventh. She's had a freshening since the Oaks but only has three workouts over the past five weeks coming into this. Somewhat puzzling that they would come back in this spot. She should be running late. Hard to back.
3. Rockpaperscissors: Last out she won by almost ten lengths at 3/5 in an off the turf allowance race at Indiana Grand. That race was the first start off a nine month layoff. She's been working well at Keenland in advance of this one. She should be the speed and gets the right pilot for that approach in the form of Luis Saez. Expect her to set the pace. But (and it's a big but), she would need a big jump in speed figures to get the win. It's hard to see how she gets it done at nine furlongs against this seasoned group in only her second start of the season. In fairness, it wouldn't be the first time speed at nine furlongs carried the day. Underneath at best.
4. Clairiere: This Steve Asmussen trained filly made her name earlier this year by winning the Rachel Alexandra at the Fairgrounds. However, she has fallen short of the winner's circle since that race while running decently in her intervening three starts. She ran well last out in the one turn Mother Goose at Belmont after a stumble at the break. Irad stays aboard and she has a grinding style that should suit the nine furlong distance. Her Beyers are improving with each start, and her speed figs are right there with Malathaat who bested her in the Oaks. Can she outrun Malathaat in the last eighth of a mile? That is the question. She only needs modest improvement to win. Asmussen isn't running for second – the Pick.
Picks 4-1
Race 10 - The Caress Stakes - Grade III
Five and Half Furlongs on the Mellon Turf Course For Fillies and Mares Four Years Olds and Upward
July 24, 2021
The Caress Stakes has been run at Saratoga since 2012 and this year it was elevated to Grade III status by the Graded Stakes Committee. Saratoga now features three graded turf sprints: the Caress, the Quick Call for three year olds, and the Troy for older males.
Playing Turf Sprints at Saratoga
How did these turf sprints play last year, and what are good rules of thumb to use when playing turf sprints at Saratoga? In short, it's tough to win from the one post and speed is very dangerous at this distance.
Half of the 2020 Saratoga turf sprint winners were in the lead at the top of the stretch and 85% of winners were in the top three positions as they turned for home.
There just isn't enough time or space to close into a pace that tends to hold together over the short five and a half furlong distance. The turf sprint fields at Saratoga are typically large (average field size of 8.2 in 2020) and the fields tend to be bunched. This adds to the difficulty of making a closing move.
Winning from post one in turf sprints was tough in 2020 with only 3 of 56 winners (5%) winning from that post position. This was the least productive post position until you got out to the ten hole (0-11). However, being on the inside generally was not a disadvantage as post positions two and four produced the highest percentage of winners per start last year.
This is all data from 2020, so we always need to have our eyes open to potential changes as the meet progresses, but these are good general rules of thumb to use.
As complicated as it can be to handicap Saratoga, sometimes it's can be as straight forward as looking for the right type of speed horse in these races. But of course, there is always that Joel Rosario ridden closer to watch out for as well.
Well, maybe it's not so simple after all.
The Runners
1. Caravel: She has won four of her six career turf starts including two overnight stakes in 2021. In her most recent effort in the Goldwood Stakes at Monmouth she sat off a very hot pace and won going away earning a field best 99 Beyer. She can win either by making the lead or rating. The latter option has been the preferred running style this year. That versatility has served her well and makes her a major threat in her first graded stakes attempt. The inside draw probably works against her as she will have the speedy Robin Sparkles just to her outside. Attracts Irad for the mount. Needs to work out a trip. Dangerous.
2. Robin Sparkles: She will be on the engine from the word go and should be the controlling speed here. She is five for six sprinting on the turf and broke her maiden last summer at five and half furlongs on this very same turf course. When she gets to the front she is very tough to catch and pass. In fact, since her first race no one has caught her if she gets to the front end. The slight turnback from six furlongs to five and a half also plays into her speed ball running style. She needs to get the lead is the catch. She can shine here. The One.
3. Tass: This mare is trying a turf sprint for the first time since her initial start over two years ago. Her three lifetime wins have all come on the turf but those were all going over a mile. That's no surprise given that Tass was sired by Temple City and the grand sire is Dynaformer. Tass has shown she needs to be on or near the lead early. Kind of tough to see that scenario happening this time. She has had some nice works in preparation for this one, but it's an odd spot to run in first off a ten month layoff. I wonder what they know. You'll get a big price. Prefer others.
4. In Good Spirits: She was a competitive stakes horse last year going one mile plus on the turf. In her two starts turf sprinting this year, they changed her running style from a speed horse to a stalk and pounce type. It worked two back against claimers at the Fairgrounds last winter where she earned her career best Beyer of 87. But this group just looks too tough. If she could find the speed she once had, well … then maybe. She doesn't seem to possess either the early speed, or the late turn of foot to best this group. Not today.
5. Flower Point: She's been a decent high level optional claimer runner, but she finished behind two of today's runners in her only stakes effort back in April. It's tough to be a deep closer in these turf sprints. But she gets Joel Rosario to ride, and he is the best turf sprint jockey period. Further Rosario's best asset is getting a horse to close with a flourish. Needs to be a bit faster. Rosario goes for his record fourth win in this Stakes race. She'll be flying down the stretch. Using underneath.
6. Jakarta: Last year she was once a consistent stakes level runner, but she has only hit the board once in her five 2021 starts (with zero wins) and ran behind several of today's competitors in her most recent two starts. Last year, she was second in this race by setting the early pace before getting caught late. But this year she hasn't shown the same punch even when she has gotten to the front end. While she has performed well at today's distance, but she appears out of form. Not likely for top honors.
Picks 2-1-5-6