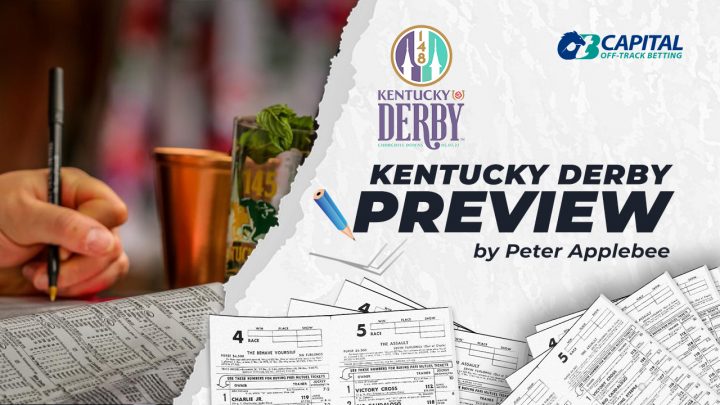 Kentucky Derby Preview and Selections
Happy Derby Day!
The 2022 Derby prep trail began last September in the Iroquois Stakes when the first Derby points were awarded. But now all the preps are done, all the points have been counted, and today the road to the 2022 Kentucky Derby ends. We have a very good betting race in what appears to be a pretty deep group of three year old colts. No matter who wins – let's all hope for a clean race that lacks the DQ drama of Medina Spirit or Maximum Security.
Race 11 - The Turf Classic – Grade I
One Mile and One Furlong on the Turf for Four Year Olds and Up
May 7th, 2022
Like most Grade I turf races Chad Brown has dominated recent renewals of this race. He has won the last three editions of the Turf Classic including a dead heat last year between Domestic Spending and Todd Pletcher's Colonel Liam. Chad has three of the ten colts going today in an evenly matched race. Let's play "Which one is The Chad?"
The Runners
Ivar: Seasonal debut for this five time winner who kept Grade I company while only making three starts last year. Last time we saw him he was a good third in the Breeders' Cup Mile. Seems like a true miler and it is interesting that they try nine furlongs today. Speed figs are right there but I don't know that he wants an additional furlong. I do not like him on top given that he has not won in six starts dating back to October 2020. He was a close up 6th in this race last year. Potential slice of the pie.
Bizzee Channel: Likely to be up front and will try to take them all the way. Bad news is that he isn't fast enough to get to the lead against this group and his speed figs away from Arlington Park just don't match up. He's a Grade 3 type. No shame there, but this group is too tough. Looking elsewhere.
Public Sector: This is the seasonal debut for this Chad Brown trained colt after a 2021 campaign where was in the exacta in six of his seven starts including wins in the Hall of Fame and Saranac at the Spa and the Hill Prince at Belmont. Goes against elders her for the first time. Would need to move forward off last year's efforts – which is certainly possible. Chad is great off the bench when routing on the turf – but I don't think this is "The Chad". Prefer others.
Tribhuvan: This Chad brown trainee should be forwardly placed and is entered in his first race since the Breeders' Cup Turf where he went to the front early but caved in and finished second to last. He did win both the Ft. Marcy (103 Beyer) and the United Nations Stakes (102 Beyer) by leading gate to wire last summer. My concern is that Calvary Charge drawn outside of him will ensure that he does not have an uncontested lead which could cause Tribhuvan an issue. If he runs back to last summer's form they might all be left chasing this one, but I lean against him based on race dynamics. This is also not the Chad you are looking for.
Mira Mission: He's two for three this year with a win in the Canadian Turf (100 Beyer) at Gulfstream. Last time he was well positioned in the Makers Mark Mile but didn't fire when asked in mid-stretch. Looked like he didn't want to go through a hole between horses. Beaten by rival Shirl's Speight that day. This is a better group than he faced at Keeneland in April. Potential to hit the board.
Shirl's Speight: He's three for three this year with wins in the Makers Mark and Tampa Bay Stakes. Looks like a new horse since January when he won an optional claimer at Tampa. Showed a real nice turn of foot last out in the Makers Mark (104 Beyer) to just get his nose down on the wire. Saez retains the mount for a tactical horse who has shown he knows how to win a race. Should be able to work a trip from the second flight of horses and will try to inhale them in the last sixteenth. Potential win candidate.
Cavalry Charge: This Dallas Stewart trained colt prefers to be up front and performs best when he makes the lead early, but he'll have company in the form of Tribhuvan on the front end – and that's an issue. I expect him to be sent regardless and set the pace for as far as he can go. I don't think he can get nine furlongs against this group. His win in the Fairground Stakes was the result of a dream trip where he broke well from the rail and took them all the way with moderate fractions. Maybe fills out a super.
Adhamo: Ran very well in his first stateside start in the Fairground Stakes for Chad Brown (96 Beyer) in February. He sat second to last down the backside and was forced to go seven wide in the stretch to make his run. Even with a bit of a traffic trouble he was flying late and lost by a head to Cavalry Charge who had a perfect inside front end trip from the one hole. Picks up Prat in the irons and eligible for improvement in his second start for Chad. There should be a fair pace on the front end. This IS the Chad you are looking for. The Pick.
Kentucky Ghost: Longshot deep closer is attempting to win his first graded stakes race. Gets the some very deep water today. He's a step or two below these but should be running late. Pass.
Santin: First two starts of his four year old season resulted in decent performances with paired up 96 Beyers. He was in decent position in both attempts, but was out finished by the eventual winner. Needs to step forward again today. He's tactical and can finish – look for him in the second flight. Blinkers go on. Minor award candidate.
Picks – – –
Race 12 - The Kentucky Derby – Grade I
One Mile and a Quarter on the Dirt For Three Year Olds
May 7th, 2022
This is a wide open rendition of the Derby – you can make a decent case for half this field. While the front end has been the place to be in recent years in the Derby – there is a lot of talk about this year reverting back to the old days where off the pace types would get a set up due to sprint speed in the field. To me this race would seem to set up for horses in that second flight that sit behind the early speed. The deep closers tend to have too much to do in a twenty horse field to get the top prize. They either get buried inside or are eight wide as they look for running room. Neither of those positions are generally winning ones.
The Runners
Mo Donegal: Received the ride of the year by Joel Rosario in winning the Wood (96 Beyer) where worked a perfect trip from off the pace and just got to Early Voting in the shadow of the wire. Appears to want the ten furlongs and will be running late. However, that running style is tough in a twenty horse field – the one post doesn't help either in my view. There tends to be just too much traffic to pick through, especially if you are buried on the rail. Of course there is the Calvin Borel approach to just stick to the rail and hope the sea parts – which on occasion it does. Rosario takes off to stick with Epicenter, so Irad gets in the irons here. Can get a slice.
Happy Jack: Two distant third place finishes in the San Felipe and Santa Anita Derby earned him enough points to gain entry into the Derby. He wasn't all that competitive in either of those races as he was beaten by more than ten lengths in both efforts. His Beyer top is 83. Blinkers come off. Too slow.
Epicenter: He dominated the Fairgrounds preps with wins in the Gun Runner, the Risen Star and Louisiana Derby. He has shown to be versatile with a front end score in the Risen Star (98 Beyer) and he stalked Zozos in the Louisiana Derby (102 Beyer). He has shown steady progress throughout his three starts as a three year old and handled the one mile and 3/16th distance with aplomb last out. Beyer figs have increased in each of his six starts. He has had the most consistent and accomplished prep season of any horse in the field. Has a win over the Churchill surface. Should get a decent stalking position on the early speed. 7/2 ML – Yes please. The Pick.
Summer Is Tomorrow: Kentucky bred colt by Summer Front has been racing in Dubai and earned entry here by running second in the UAE Derby to Crown Pride. He was sprinting prior to that effort and is the likley early speed today. But the figs are nowhere near close what is needed to best this field. Demand at least 75-1. Don't see it.
Smile Happy: Last out in the Blue Grass he was a decent second to Zandon (94 Beyer). He stalked the pace setter (Emmanuel) and wrested away the lead at the top of the stretch but couldn't hold off Zandon. Two back he ran a good second to Epicenter in the Risen Star where stalked the pace and ran on well (94 Beyer). Tactical horse who is decent but hasn't shown he can close out a race this year. Won the Kentucky Jockey Club last November at Churchill. He will get overlooked since he didn't win either of his preps. Possible minor award.
Messier: He had company up front in the Santa Anita Derby but powered to the lead at the quarter pole only to be run down by Taiba in the final sixteenth (99 Beyer). He's been highly touted since his win in the Bob Hope last fall and he was beaten in the Santa Anita Derby by an excellent performance. Two back he toyed with an overmatched field in the Robert Lewis winning by fifteen lengths (103 Beyer). When he has it his way he can be very impressive – but when faced with a challenge he has wilted a couple times. Passing.
Crown Pride: This Japanese bred colt was the winner of UAE Derby where he was much the best. He was wide all the way and just kept coming finally getting to the leader in the last sixteenth and won comfortably. Distance should be no issue as the UAE Derby was at a mile and three sixteenths and he was still full of run late on. The Japanese runners have showed they can compete and win in the biggest races over the past year. I'll pass here – he doesn't appear fast enough to compete. But I can't blame someone for taking a shot with him.
Charge It: Last out in the Florida Derby this Pletcher trained colt took on winners for the first time after breaking his maiden going the flat mile at Gulfstream (93 Beyer) in his second career start. He was a very promising second in the Florida Derby (93 Beyer) where he was green in the stretch while lugging in a couple of times. He showed a great amount of talent and was the only horse making up ground on White Abarrio. It was one of those stretch runs that if he keeps straight and true and might get to the winner – but he kept getting in his own way. Horses mature as they run – and that run had the look of a gangly teenager phenom trying to figure it out against polished professionals. He has a move forward in him as he gains experience. Pletcher will have him ready. Potential at a price
Tiz the Bomb: After a disappointing Holy Bull he was rerouted to Turfway Park where he won an overnight stakes and then Jeff Ruby (94 Beyer). Both of those wins were on the all-weather track surface and against subpar competition compared to this field. Best dirt Beyer is 68. Might be a nice grass horse – but no where near these on dirt. Nope.
Zandon: This is the "IT" horse of Derby week and the morning line favorite. Entered here off a nice win the Blue Grass (98 Beyer) where he came flying down the stretch to catch Smile Happy. That was preceded by a good third in the Risen Star behind Epicenter. Looks to be an improving colt. If he tries to lay way off the pace and pass them all, he may have too much to do. Logical choice – but too short a price at 3-1. Prefer other based on race flow and lack of value.
in the Risen Star (93 Beyer) and third in the Louisiana Derby (96 Beyer). In both of his stakes efforts he pressed the pace and loomed a threat but failed to kick on in the last eighth while holding on to pick up third and fourth respectively. Does not appear that ten furlongs would be his preference. Blinkers come off. Toss.
Taiba: Earned a 102 Beyer in winning the Santa Anita Derby in only his second start. That followed a 103 in his maiden breaking first effort. In the Santa Anita Derby sat chilly off the pacesetters tipped into the three path at the quarter pole and ran down Messier to win by two lengths. Does not appear to be distance limited and that is the only one with two triple digit Beyers in the field. If he moves forward off that race – he is the likely winner – but that is an "if". He has to faces a twenty horse field in only his third career start. That's tough to do after running in fields of six and seven. Taiba will try to become the first horse to win the Derby in his third career start that also didn't race as a two year old since Leonatus in 1883. Very talented horse but is this probably too much too fast. Morning line at 12-1 is too high – you might get half that price. Use underneath and defensively in horizontals in case he is the one.
Simplification: In the Florida Derby he pressed the pace and briefly took the lead but was bested by both White Abarrio and Charge It in the stretch. He didn't have an excuse, but he did a fair amount of the dirty work on the front end while earning a 92 Beyer. Two back in the Fountain of Youth (96 Beyer) he sat off the early pace and made a five wide move which saw him sweep past the leaders to draw off in the final sixteenth. Jose Ortiz keeps the mount here. Trainer Stat: Antonio Sano is 1/23 (4%) in dirt route graded stakes over the past five years. Possible for a minor award.
Barber Road: Consistent performer at Oaklawn this winter where he has three seconds and a close up third all coming in graded stakes. Hasn't shown the needed punch at the end of races to get the top prize. Last out in the Arkansas Derby (88 Beyer) he made a decent stretch run but was beaten by Cyberknife. Grinder type who will keep running all the way to the wire. Could fill out a superfecta but seems way too slow to get there.
White Abarrio: The best horse to come out of the Florida prep season with wins in both the Holy Bull and the Florida Derby where he paired up 96 Beyers. He won both of those even though he had minor hiccups in training schedules leading into both races. In both efforts he was strong in the final furlong where he powered passed the leaders and kept on running. Stalk and pounce type who appears to want the ten furlong distance. The question for him is the quality of competition he was facing at Gulfstream Park. Dangerous.
Cyberknife: Stamped his ticket to the Derby with an empathic win in the Arkansas Derby where he made first move on the leaders as the entered the far turn and cruised home to win by two plus lengths with a 92 Beyer. That was probably an easier spot in Hot Springs than if he stayed at Fair Grounds where he had disappointed in the Lecomte Stakes. It's fair to ask what he was beating at Oaklawn, and that 92 Beyer does not stand up well to the speed figs earned by the winners of the final preps in Louisiana, New York, Florida, and California. Nice horse but not today though.
Classic Causeway: Won the Tampa Bay Derby (84 Beyer) and the Sam F. Davis (88 Beyer) by setting the early pace and taking them all the way. When he faced tougher last out in the Florida Derby he wilted under pressure and finished last. That doesn't bode well here. He'll be prominently placed and could give an early thrill – but I don't see him being there in the stretch. Know him early.
Tawny Port: He was much the best in winning the Lexington Stakes (89 Beyer) where he was wide on both turns and then pulled away in the last hundred yards. He obviously wasn't facing the toughest field at Keeneland that day. That Lexington was on a two week turn around from the Jeff Ruby (90 Beyer) on the polytrack where he couldn't make up ground on Tiz The Bomb. Today he gets all the big boys. Not fast enough.
Zozos: Previously undefeated colt was a very good second last out behind Epicenter in the Louisiana Derby (98 Beyer) where he set the pace but couldn't hold off the eventual winner. Very lightly raced colt takes on a Derby field and does he want the ten furlongs? If he can get position and stalk the early leaders he could be dangerous at a big price. Might get cooked if he is too close to a potential hot pace.
Ethereal Road: The Coach got him in the starting gate today by running him back on six days rest in the Lexington Stakes after a rough trip in the Blue Grass, That fourth in the Lexington also saw him find trouble multiple times. He's too slow and is a runner that finds trouble in eleven horse field let alone a twenty horse field. Passing.
Picks – – –