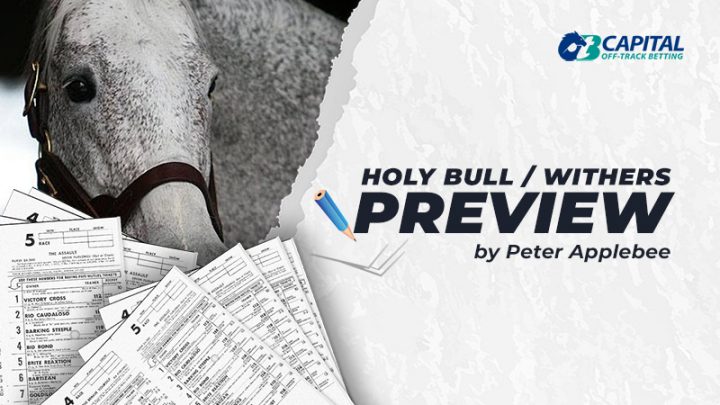 Holy Bull Preview
Happy Withers and Holy Bull Day!
The serious part Kentucky Derp prep season is now underway. The top four finishers in both the Withers and the Holy Bull will receive Kentucky Derby points (10-4-2-1), and they will set themselves up for entry into the next round of preps where the Derby points significantly increase (50-20-10-5).
I also share some 2021 Eclipse Awards thoughts at the end of this piece on several divisions: three year old colt, male sprinter, and trainer of the year.
Aqueduct Race 8 – The Withers – Grade III
One Mile and One Furlong on the Dirt for Three Year Olds
February 5th 2022
At this point in time the Withers is an early Grade 3 Derby Prep. But the Withers Stakes is an important historic stakes race. This stakes race was first run in 1874 and today is the 142nd running. Winners of this prestigious race include Sir Barton, Man O'War, Native Dancer, Jaipur, Ack Ack, and Bernardini. It is named for David Withers, an important early owner/breeder – who won the race in 1890 with his colt King Eric.
We have nice renewal this year with five of the top six finishers from the Jerome entered
The Runners
Constitutionlawyer: Broke his maiden last out in gate to wire fashion with a field high 85 Beyer over a muddy strip at the Big A. He took advantage of the inside draw, broke sharply, and everyone else was left chasing. Two back he was bested by Courvoisier. In that effort he had too much to do late. Liked an off track last time and should be the fastest early which should let him get the jump on the field. Note, the last effort with a big Beyer jump was first time Lasix and the Lasix comes off today. He can regress and still win this race. The Pick.
Grantham: Broke his maiden going two turns on the polytrack at Turfway Park (72 Beyer) last out at 4/5. Prior start was on dirt was a respectable second (62 Beyer). He'll need another improvement today to get top prize. Looks to be left chasing Constitutionlawyer early. That doesn't bode well. Outside shot.
Smarten Up: He was a strong second in the Jerome (72 Beyer) and was the only one who made up significant ground. He was straight and true in the stretch and looks the part to get nine furlongs. He crushed much weaker when breaking his maiden two back. Dangerous entry who could certainly pick up the pieces late on. Use underneath.
Gilded Age: This Mott trained Medaglia d'Oro colt broke his maiden last out in November at Churchill in his fourth career start (70 Beyer) with first time blinkers. That day he broke poorly but made a long sustained run from the half mile pole to get the prize. Ships in from Payson Park in Florida where he has been working. Possible.
Courvoisier: This Kelly Breen trained colt won the one mile Jerome Stakes (74 Beyer) on a sloppy sealed surface by sitting in the pocket and making the first move on the early speed. He has shown he can get over the track, and can get two turns. More of a grinder type – but that might suite him well today. Major jockey downgrade going from Jose Ortiz (who chose to ride the rival Early Voting) to Rubin Silvera. Maybe an underlay off of that last win. Hits the board.
Unbridled Bomber: Broke his maiden at Belmont (70 Beyer) and then came back with a good fourth in the Jerome in December. In the Jerome he had traffic trouble mid-stretch and had to check but he regathered and came on for fourth. Late runner should like the extra eighth of a mile. Underneath possibilities.
Noneedtoworry: Comes back two and half weeks after an optional claiming win at Parx (66 Beyer) where he was last for the first half mile but put it in gear and by the quarter pole he had passed them all. Two back he broke his maiden in similar fashion. Faces much tougher here and will need an improvement. Slight chance for minor piece of the puzzle.
Un Ojo: Was a good second in the New York Stallions Stakes in December (62 Beyer) over this track. In that race he was three wide the whole way and made a sustained run for a half mile and was just edged by Geno who had a ground saving trip. Needs to improve the speed fig a lot in his first two turn race. Up against it.
Early Voting: This Chad/Klaravich starter won in his first effort in a one turn mile race at the Big A in December (76 Beyer). He was very professional that day, establishing position from the outside and still had plenty left in the tank to hold off a late challenger. Jose Ortiz takes off Courvoisier to ride here for Chad Brown. Needs a trip from outside. Get a slice.
Mr Jefferson: Has tried stakes competition in his last two starts to little effect. Last out he was no match for the top runners in the slop in the Jerome (56 Beyer). Two back in the Remsen (75 Beyer) he was wide on both turns and while he loomed boldly at the quarter pole he flattened out. In fairness, the slop last time and the bad trip two back are legit excuses. Not today, especially with a possible wet track again.
Cooke Creek: He ran an OK third last out as the favorite in the Jerome Stakes (71 Beyer), but he ran greenly in the stretch as he bore out several times. In the Nashua Stakes two back he ran a respectable second – but like the Jerome he didn't have that pop in the last eighth needed to finish off a race. His performances don't inspire a lot of confidence that he can get the top spot, unless there is a pace meltdown. Outside post does not help his cause. Passing.
Picks
Gulfstream Park Race 11 – The Holy Bull Stakes – Grade III
One Mile and One Sixteenth on the Dirt for Three Year Olds
February 5th 2022
Gulfstream has a nice card Saturday with five Grade 3 stakes races. Those performing well in today's Holy Bull will be tipped for the Fountain of Youth in a month.
The Runners
Galt: Full sibling to Songbird broke his maiden (67 Beyer) at Gulfstream in December going a route of ground in his third start for Mott. Looks like they weren't sure which was to go with this one. He started sprinting on the dirt, then went to the turf – neither effort was to any effect. Routing on the dirt certainly suited him. Three maintenance works since that maiden score. Will need a very large improvement to be competitive. Looking elsewhere.
Mo Donegal: Won the Remsen last out for Pletcher (90 Beyer) with a patient ride by Irad Ortiz who sat chilly in the pocket and came running in the last eighth of a mile. Broke his maiden (82 Beyer) going eight and half furlongs at Belmont in a visually impressive win. He was a half-step slow out of the gate but recovered as they turned for home and came with a rush to finish very strongly. May have a lot to do late if Simplification gets clear on the front end. Using.
Eloquist: Tried stakes company in the Remsen two back after breaking his maiden at Parx. In the Remsen he passed some tired ones – but he was fourteen lengths behind Mo Donegal who he faces again today. Poor last outing at Gulfstream against Optional claiming company – he broke slowly, was put into the race but was done at the quarter pole. Not sure why this is the plan. Would be a stunner.
Simplification: He won the Mucho Macho Man at a flat mile over this track (90 Beyer). Both of his wins looked the same – get to the lead early and keep on going. Should get that setup again as he is likely to be on the lead. Tries two turns for the first time and goes a bit longer. Castellano stays in the saddle, watch him dole out this one's speed. Come and get me. The Pick.
Cajun Magic: All five starts have been a Gulfstream with four of those in state bred/stallion restricted races. He has done very well with two wins and three seconds as he stretched out steadily from five furlongs to one mile and a sixteenth. Tries open company today – his Beyer in his last race (89) which was in September would make him competitive against this group. Has some quick works in advance of this as he comes off a four plus month layoff. He is up against it here and I will look elsewhere.
Tiz the Bomb: Interesting choice by Ken McPeek to move this one to the dirt. Had a great two year old turf season winning the Bourbon Stakes and finishing second under wire in the Breeders' Cup Juvenile Turf. Is it a case of Derby fever? Well, they wouldn't be the first to suffer that malady. He did break his maiden in an off the turf race where he crushed a field at Ellis Park as the odds on favorite. Today will tell us a lot more about this one's prospects on the dirt. I'll pass, but he could surprise.
Spin Wheel: This Hard Spun colt broke his maiden at nine furlongs at Churchill last out via a nice ride by Leparoux who found a seam along the rail mid-stretch. Should be running late but water appears too deep here given the mid-60's Beyers. Nope.
White Abarrio: Two for two over the Gulfstream dirt for Saffie Joseph. Last out in November he was a good third in the Grade 2 Kentucky Jockey Club (80 Beyer) at Churchill. He was caught in behind a wall of horses but once space opened he got going nicely for third. He can get the distance and likes the track. Outside post will work against him. Minor Award.
Giant Game: This colt was third last out in the Breeders' Cup Juvenile behind Corniche and Pappacap. He got to the throat latch of Corniche as they straightened out for home, but Corniche was too good and repelled him. No shame there. Saez picks up the mount, but I worry about being out in the nine hole. Will need to work a trip.
Picks
Eclipse Awards Thoughts
There are a couple of Eclipse Award categories that I thought deserved a mention given the debate/discussion since the nominations were announced. These will be awarded on February 10th.
Three-Year-Old Male Horse:
Essential Quality, Medina Spirit, and Life Is Good are the finalist. I think Essential Quality is the choice here.
Essential Quality won five races in 2021 all of which were Graded Stakes – the Grade III (Southwest), two Grade IIs (Blue Grass, Jim Dandy), and two Grade Is (Belmont, Travers). The Belmont Stakes win was one for the ages (109 Beyer). He also pulled off the Jim Dandy/Travers double at Saratoga.
Medina Spirit won four races from nine starts in 2021. That included a Grade III (Robert Lewis) and two Grade Is (Awesome Again, Kentucky Derby).
The Derby result is somehow still in doubt but even if you give Medina Spirit credit for the Derby win Essential Quality still did more throughout the year. Both horses won a Triple Crown race (push), and each won one another Grade I (push) but Essential Quality also won two Grade IIs whereas Medina Spirit only mustered a single Grade III win (Edge Essential Quality). I don't give much account to the fact that Medina Spirit finished less than a length ahead of Essential Quality in the Breeders' Cup Classic as they were both helplessly chasing Knicks Go in the Classic. If you don't give Medina Spirit credit for the Derby win the gap is even larger.
Frankly, Life is Good would be second for me in this group. He won four of five starts in 2021 with the only loss coming to Jackie's Warrior by a neck in the Allan Jerkens. Those five wins included a Grade 3 (Sham), two Grade 2s (San Felipe, Kelso), and the Breeders Cup Dirt Mile. He beat older horses in both the Kelso and Dirt Mile.
Male Sprinter:
Aloha West, Flightline and Jackie's Warrior are the finalists. Jackie's Warrior is the clear winner for me based on the overall campaign. After being taken off the Derby trail and redirected back to one-turn races Jackie's Warrior was something special. He won three Grade 2s (Pat Day Mile, Amsterdam, Gallant Bob) and a Grade I (H. Allen Jerkens). Unfortunately he came out of the BC Sprint with a bone chip which most likely explains his failure to fire that day. His four graded stakes wins came at four different distances (six furlongs, six and half furlongs, seven furlongs, and a flat mile). THAT is very hard to do. He speed figs were no joke either with a 107 Beyer in the H. Allen Jerkens and a 110 in the Gallant Bob.
Flightline probably has the biggest upside of the finalists, but he won only a single Graded Stakes race. Granted it was in spectacular fashion with a 118 Beyer in the Malibu, but a single graded stakes win doesn't trump four graded stakes wins. Sorry, it just doesn't.
Aloha West won just a single Graded Stakes race – sure it was the BC Sprint. But like Flightline – you have to have a campaign across the year, not just have one big win to get the Eclipse. It shouldn't work like that.
Trainer:
Steve Asmussen, Chad Brown and Brad Cox are the finalists. I think Brad Cox will probably win given his work with Knicks Go and Essential Quality and setting the yearly earnings record for a trainer. I don't have an issue with Cox winning – but I need to make an argument for a fourth trainer who should at least have been a finalist.
In 2021, Bob Baffert won the most Grade 1s at eleven. Steve Asmussen and Brad Cox each had ten Grade I wins.
Charlie Appleby won eight Grade 1s in North America in 2021 – and that included winning three Breeders' Cup races. THREE!
What's really impressive is that those eight Grade 1s wins came from only ten Grade I races. Appleby won eight of the ten Grade 1s that he entered a horse! That's an unbelievable record.
That's the most impressive training feat that anyone had in 2021. It is very hard to win a single Grade I – even for the best barns. To win eight Grade Is and to have $5.8 million in purses from only eighteen North American starters is off the charts. That's over $300,000 in earnings per starter. Simply amazing. Unfortunately, Appleby wasn't even a finalist for this award. Hard to fathom.