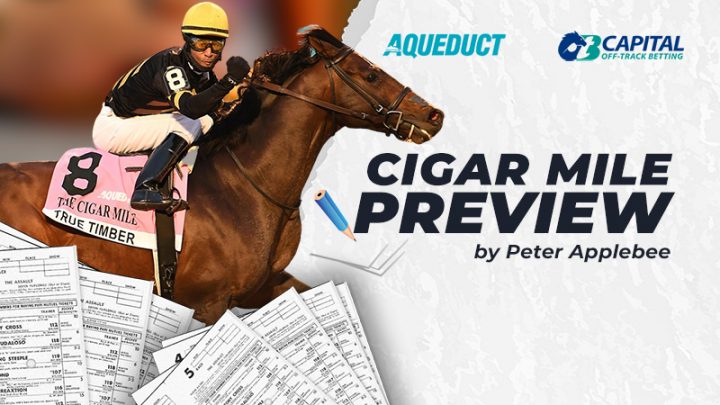 Cigar Mile Day Preview
Happy Cigar Mile Day!
This Aqueduct card could easily be held on a Saturday in Saratoga with four Graded Stakes headlined by the final Grade I of the year in New York – the Cigar Mile. In addition, there are four turf races carded – on December 4th! I'll tackle the Cigar Mile along with the Grade II Remsen for two year colts. The other two stakes at the Big A today are the Grade II Demoiselle for two year old fillies and the Grade III Go For Wand for fillies and mares ages three and up.
Race 8 – The Remsen – Grade II
One Mile and a Furlong on the Dirt for Two Year Olds
December 4th, 2021
The Remsen is part of the "Road to the Kentucky Derby" series and the winner today will be awarded 10 Derby points. This race is noteworthy as it is the first Derby prep that goes nine furlongs. The next Derby prep to go that far won't be until the Withers in February. This edition features later developing colts who made it to the track later in their two year old season.
The Runners
Mo Donegal: Uncle Mo sired colt broke his maiden last out for Pletcher (82 Beyer) going eight and half furlongs at Belmont in a visually impressive win. He was a half-step slow out of the gate but recovered and sat mid-pack until he was called upon as they turned for home and came with a rush to finish very strongly. Breeding is spot on, distance is no issue, he's tactical, and trained by Pletcher. Draws inside which will help save ground as he is not expected to be forwardly placed and there is plenty of early speed signed on. Trainer Stat: Pletcher is 7% (2/27) in two year dirt route Graded Stakes races over the past four years with a $2 ROI of $0.54. Underneath option given that trainer stat.
Who Hoo Thats Me: His four career starts are all against state breds. He broke his maiden two back in a state bred maiden claimer at Belmont in his third career start. He ran decently last out in the Sleepy Hollow (87 Beyer) where he was caught for second by Overstep who ran better down the stretch. That performance may have been impacted by the sloppy surface. Beyers have improved in all four starts and the last out 87 speed fig tops this field. Trainer Stat: Jorge Abreu is 0/41 in Graded Stakes over a five year period. Too much, too soon for this one.
Judge Davis: Shug puts the Blinkers go ON for this Distorted Humor colt who comes in off a third place finish in the Nashua (73 Beyer). Speed figs are on the light side. Will need a significant improvement to win here. Should be forwardly placed but will likely have company. Broke his maiden two back over a muddy track at Belmont defeating today's rival Fromanothamutha. Don't think so.
Fromanothamutha: This maiden has finished behind Judge Davis and Mo Donegal in his last two outings. Prefers to be up front – he'll have competition for that position. Early speed possibility, but I don't his chances to stay on for nine furlongs. He couldn't close deal going shorter on the front end and now faces winners for the first time. Rosario take off to ride Zandon. He might give you a thrill for a bit.
Midnight Chrome: Longest price on the Morning Line for a reason. This horse appears to be overmatched. Ships in from Parx where he has been training since a third place finish in a turf optional claimer at Laurel. Sole win was also on the turf at Monmouth. Does attract Saez to the stirrups. Would be a shock.
Eloquist: This Parx shipper comes in off a one mile maiden score six weeks ago. Earned a 75 Beyer that day and he certainly seemed to appreciate the two turns and added ground. He had a nice inside trip and sat off the pace until the quarter pole where he swept past the leaders to win comfortably. Based on that performance nine furlongs should suit him. Trainer Stat: Robert Reid is 38% in two year old dirt Graded Stakes over the past five years from a small sample (3/8) with a $2 ROI of $4.40. Distinct Possibilities.
Zandon: This Upstart colt won at first asking for Chad Brown at six furlongs (80 Beyer). He broke slow and had a bit of traffic trouble but overcame it to get the win. He is working well leading into this race including a bullet work on November 21st (1/25). The obvious distance and experience questions exist as he goes from six panels to nine furlongs and two turns. Breeding suggests the distance will not be an issue. Joel Rosario stays here. The Pick.
Mr Jefferson: The only two time winner in the field who ships in from Maryland on the back of a first level allowance score at Laurel (66 Beyer). That win came at a mile and a sixteenth and this runner showed a lot of class as he was last and was behind a wall of horses at the top of the stretch. He found a small seam on the rail and skipped through a tight spot to draw off in the final sixteenth. He is two for two on the dirt with his two defeats occurring on the turf. After that last performance – staying on dirt may be the way to go. Speed figs are lacking. Longshot to fill out Supers and Trifectas.
Picks
Race 10 The Cigar Mile – Grade I
One Mile on the Dirt, For Three Year Olds and Upward
December 4th, 2021
Tom Durkin famously described Cigar as "incomparable, invincible, unbeatable" as he crossed the wire in the 1995 Breeders' Cup Classic. However, up until the running of the 1994 NYRA Mile (now the Cigar Mile) Cigar's career had been uneventful with only three wins from thirteen starts while running almost exclusively on the turf. Bill Mott moved him to the dirt at the suggestion of Julie Krone and the rest is history. Cigar won the NYRA Mile in 1994 and that jumpstarted a sixteen consecutive race win streak (including ten Grade 1s) over a two year period. All hail the mighty Cigar!
The Runners
Following Sea: Comes back east for Pletcher after a good third place finish in the Breeders' Cup Sprint (97 Beyer). He stalked from a nice rail skimming trip but was blocked as Jackie's Warrior faded in front of him. That third place finish followed a win in the Vosburgh (100 Beyer) going six furlongs where he got to front and took them all the way. Not sure this one wants the flat mile. He couldn't get nine furlongs in the Haskell and he faces plenty of early pace today that will compromise him. He'll be sent from the one hole. Know him early. Passing.
Plainsman: Brad Cox brings this Kentucky based runner back to New York where his last start was in the slop in the Bold Ruler last month. He was a decent third in the Bold Ruler where he faced a bit of traffic trouble, but he was never catching the winner. Two back he won the Ack Ack (100 Beyer) at Churchill Downs by sitting off the pace making his move in the stretch in a nice stalk and pounce trip. Five for six in the exacta at today's mile distance. Trainer Stat: Brad Cox is 6/23 (26%) in dirt Graded Stakes on the NYRA circuit over the past two years but only has a $2 ROI of $1.10. Also, 75% of those starters hit the board. Should be able to sit a trip in the pocket while saving ground. Using.
Americanrevolution: Pletcher brings this three year old colt in off of a dominate win the Empire Classic against New York breds where he earned a 108 Beyer over a sloppy track. That represented his third New York State Bred stakes win this year. He ran an OK third in the Pennsylvania Derby (101 Beyer) against open company behind Hot Rod Charlie and Midnight Bourbon. Four for five this year with increasing Beyers in every start. Distance is not an issue as he gets the turnback from nine furlongs. Pace figs indicate he should sit off a potential hot pace and come running late from mid-pack. Dangerous – on all tickets.
Code of Honor: Had no excuse last out in the Fayette Stakes as he attempted to run down Independence Hall but was repelled at the eighth pole. Two back in the Woodward he ran an uninspired fourth after he had clear run at Art Collector but made no headway. His last two performances are of concern as he had the right setup but both times he failed to fire when asked. He's going to take a lot of money here and will be an underlay given recent form. He is two for his last eleven starts with both wins at the Grade III level. Minor award potential.
Independence Hall: Has two wins over the track at today's distance – winning the Nashua and the Jerome Stakes two years ago. His last out performance in the Fayette Stakes (105 Beyer) may have been his career best – he struck the lead early and dug in to hold off Code of Honor and then pulled away in the last sixteenth to romp in the slop. Working well in advance of this race. He prefers off going where he is three for three. Gets the turn back today, but this one has failed to threaten against Grade 1 runners. Not today.
Ginobili: This west coast shipper comes in after a second to Life is Good in the Breeders' Cup Dirt Mile. He ranged outside of the winner but fell short in the final eighth of a mile earning a 99 Beyer. Two back he won the Pat O'Brien defeating both CZ Rocket and Flagstaff by open lengths at seven furlongs (102 Beyer). He'll have company up front, and he will be asked the question in the final furlong. Trainer Stat: Richard Baltas is 8% (7/87) in dirt Graded Stakes over the past five years with a $2 ROI of $0.83. Likely underlay. Lean against.
Olympiad: Bill Mott enters this $700,000 Keeneland graduate off of a first level allowance win at Keeneland. In that race he earned a 98 Beyer by getting to the front and holding off a late charge. In his prior start he was second at the Spa (105 Beyer) to Baby Yoda who simply romped that day. Rosario picks up the mount. Makes a jump in class to the Grade I level and goes two turns for the first time, but Mott certain knows how to spot his horses. He'll only need a slight improvement to win here – but he is lightly raced and is eligible to improve. He's bred to go longer than his prior sprint efforts and the price is right with the ML at 10-1. The Pick.
Pipeline: This Chad Brown trained colt broke his maiden at Saratoga going seven furlongs in his fourth start (97 Beyer). He came back off that win to finish third by a neck at Keeneland in the overnight Perryville Stakes (90 Beyer). Three back he went nine furlongs at the Spa and almost wired the field but was caught at the wire. Water is very deep here against elders – but you'll get Chad Brown at a price. Not for me.
Picks