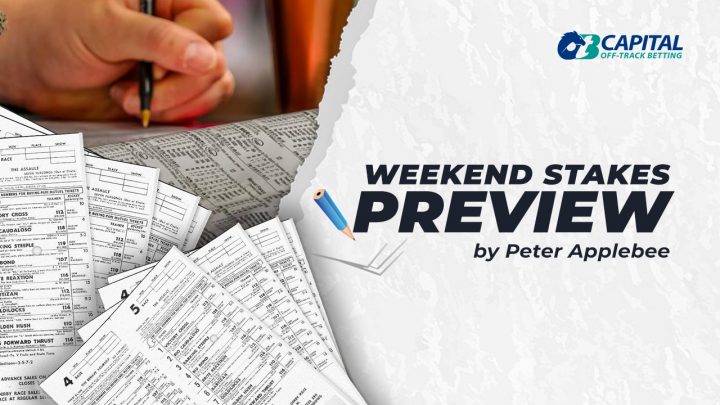 Breeders' Cup Future Stars Preview
Happy Future Stars Friday!
There are five Breeders' Cup races on the card today headlined by the $2 million Juvenile Fillies and the $2 million Juvenile. I like the "themed" approach to Friday but personally I would go back to the Friday Breeders' Cup day as an "Oaks Day" where they run all the filly and mare races. This has the benefit of giving our best fillies and mares top billing on Friday in the Distaff rather than having them buried inside the star studded Saturday card. But things evolve and it has become "Future Stars Friday" which is a perfectly fine alternative and better than just picking five races with no theme at all.
Race 7 – Breeders' Cup Juvenile Fillies – Grade I
One Mile and a Sixteenth on the Dirt for Two Year Old Fillies
November 5th, 2021
We have a compact field of six entered here, but we do have the winners of the major preps. The winners of the Spinaway, the Pocahontas, the Alcibiades, and the Frizette will all be in the starting gate. Echo Zulu is the star of the division and will be a strong favorite, but there are several others who are legit contenders that can take top honors.
The Runners
Desert Dawn: This Phil D'Amato trained filly ran evenly in her last effort in the Chandelier finishing a distant third. She has paired up 72 Beyers which is fine – but not if she wants to win today. She does have a win over the track. Looking elsewhere.
Hidden Connections: Super impressive winner of the Pocahontas at Churchill as she pressed the pace and drew off by almost ten lengths with a 87 Beyer. She has had several quicks works coming into this race and is likely to show improvement in just her third career start. She doesn't appear to be as quick as Echo Zulu is, so I think she will sit off of the early speed and make her move coming for home. Given that she has shown she can rate, the price difference between her and Echo Zulu, and the chance that Juju's Map and Echo Zulu hook up early – I like this one very much. The Pick.
Sequist: Broke her maiden at first asking and in her last two starts she ran behind Echo Zulu, Tarabi, and Juju's Map. She ran better in the Alcibiades where she came running late to get third behind Juju's Map. But the speed figs just aren't there, and she hasn't shown the brilliance needed to best this group. Could pick up a piece if there is a pace meltdown but I don't see her winning today. Small slice possibility.
Tarabi: Broke her maiden in her first start (79 Beyer) and then ran second to Echo Zulu in the Spinaway at 19-1. She wasn't making progress in the stretch against Echo Zulu, but she had to make a long sustained run to catch up on the backstretch after hitting the gate and stumbling in her first strides. With a cleaner trip I think she is right there. She's fresh coming in off a two month layoff and has fired a couple of bullet workouts at Keeneland leading into this race. Like Echo Zulu, she is being asked to go two turns for the first time. Dangerous. Using.
Juju's Map: This Brad Cox trainee is two for three with increasing speed figs in each of her starts. Last out she stalked the pace and won the Alcibiades Stakes at Keeneland easily by four plus lengths with an 84 Beyer. That fig puts her within striking distance of the favorites. While she's shown versatility in running styles I think she will be up front with Echo Zulu and they may hookup on the front end. Gets a piece.
Echo Zulu: Legit short favorite off of three open length wins including easy victories in the Spinaway and Frizette. Both of those Grade 1 wins resulted in 90 Beyers. She's a deserving short priced favorite but she has not yet gone two turns. I will invoke the old betting adage from the late, great Harvey Pack – don't take a favorite that is being asked to do something that they have never done before. It is also noteworthy that Ricardo Santana lost this mount to Joel Rosario. Santana is on a 0/93 streak entering this week and Asmussen switched riders in response. Santana did maintain his other three Breeders' Cup mounts for Asmussen. Too short a price to put on top against this field, but use her in multi-race plays and vertical exotics.
Picks
Race 9 – Breeders' Cup Juvenile – Grade I
One Mile and a Sixteenth on the Dirt for Two Year Olds
November 5th, 2021
The right ones are here to settle the two year old division. The Juvenile has the first three finishers from the American Pharoah Stakes, the first two finishers from the Champagne, and the winner of the Del Mar Futurity. Earlier divisional leaders Wit and Gunite have gone off the boil and are not even in the field today. This race should settle divisional honors for the two year colts.
The Runners
Jack Christopher: Legit favorite who is two for two with field topping Beyers in both races (92 and 102). Last time in the Champagne he relaxed early and sat off the pacesetter but once he was asked he blew by that leader and cruised home with a 102 Beyer. That 102 Beyer is the highest two year old Beyer fig in four years per Andy Beyer. That performance followed a first out win at Saratoga where he drew off by eight lengths. He should be sent early from this inside post. He'll be a very short price – but appropriately so. He's the goods. On all tickets.
Jasper Great: This Japanese bred colt is from the first crop of Arrogate. He blew away a maiden field over nine furlongs at Hanshin (over a right handed track i.e. running clockwise) last month. So, this is a rare turnback in the Juvenile. Japanese runners have not performed well in Breeders' Cups in the past and it's hard to get a solid read on a horse who only has one start in Japan. The breeding is there – but what do we know about a maiden field in Japan – very little. Unknown horses like this can surprise on occasion and when they do it is a big price. I'll pass.
Oviatt Class: Took three attempts to break his maiden but he did get a win over this track in August at a mile for Keith Desormeaux. Came back off that win with a solid third place in the American Pharoah by closing late and passing others – but he never threatened Corniche. He should be running late as this Bernardini colt will have no issue with the two turns or the distance. Trainer Stat: Keith Desormeaux is 1/27 (4%) with a $0.14 ROI in two year old dirt graded stakes races over the past five years – but 33% of those starters have hit the board. Small chance he could get a slice.
Pappacap: Won the Best Pal in August over the Del Mar strip for Mark Casse and ran a decent second to Corniche in the American Pharoah where he held off Oviatt Class for the place spot. But like Oviatt Class, his speed figs are just not in the same ballpark as the strongest entries today. He'll most likely provide some early pace, but he has not shown that he can keep up with Corniche for eight plus furlongs and they'll be strong runners coming late that he will also have to deal with. Not today.
Double Thunder: Won the Bashford Manor back in June to establish himself in the division but failed to fire next out in the Saratoga Special. His next two performances were better against weaker in winning the Sapling at Monmouth and a second in the Breeders' Futurity. While the speed figs have steadily improved they are still in the mid-70s and well below the best of this field. Blinkers go ON. He should be running late for Pletcher and Flavian Prat. Minor award possibility.
American Sanctuary: Last out in the Breeders' Futurity he had a good inside trip but didn't fire in the stretch although there was a bit of traffic trouble. The speed fig result from that race was about the same as his other starts and remains in the low 70s. He's going to need a big jump to best this field. With five starts under his belt it doesn't appear that there is a ton of upside. He finished behind Double Thunder in his last two outings. Only shows one work since the October 9th Breeders' Futurity fourth place finish. Too tough a field here.
Giant Game: This Dale Romans trained colt broke his maiden in his second start with a 74 Beyer going two turns at Keeneland. He pressed the pace and kicked clear at the eighth pole to win by three lengths. Will need significant improvement to compete here today. Romans can get a two year old ready but this runner would need a 20 plus Beyer fig jump to win this race. Hard to see that happening.
Barossa: Broke his maiden last out in his third career start over the Santa Anita dirt course. He has shown significant improvement in each of his three starts and showed good determination to wear down the leader in his maiden win. He can get the distance and we know how well Baffert does with two year olds. This one is eligible for additional move forward which makes him a contender. Having said that I think this is the "Other, Other Baffert" – but a dangerous one. Using underneath.
Pinehurst: Is this the "Other Baffert"? Yes, I think so. He is two for two with wins at five and seven furlongs. Last out in the Del Mar Futurity Mike Smith got this Twirling Candy colt to the front and never looked back making a very pole a winning one to draw off by four lengths. The speed figs are light and this one is going two turns for the first time. I prefer both of the other Baffert entrants to this runner. But he does have two wins over the track, albeit at sprint distances, so he shouldn't be discounted. Early pace that fades late.
Commandperformance: This Pletcher/Repole colt showed significant improvement in his second start where he finished a strong second to Jack Christopher in the Champagne a month ago. Goes two turns for the first time and is still a maiden. But the two speed figs he has earned (85 and 97) in his starts puts him right there. Can he turn the tables on Jack Christopher is the question? Yes, he most certainly can, and the extra sixteenth shouldn't hurt either. He'll be running late. The Pick.
Tough To Tame: Started his career on the poly track at Arlington and broke his maiden there. Came back next out to run win a first allowance condition race at Indiana Grand in August. That win resulted in a start in the Iroquois Stakes at Churchill. He went off at 37-1 that day, was rank early and Sophie Doyle had to fight him down the backstretch to get him to settle. Once he was asked however, he had plenty left in the tank and came running to almost catch the winner. That was the first two turn effort and it was well done, but this horse will need to learn to relax and settle better. If he took that from the Iroquois then he could be something. But again, these speed figs would need to improve by 25 points to win here. Possible big priced horse to fill out supers and trifectas.
Corniche: This Baffert trained runner is two for two with both wins by open lengths. Last out in the American Pharoah he easily handled the field by three lengths. He is fast from the gate, has a high cruising speed and get the distance. Beyer regressed from the first start (98) to the American Pharoah win (85), but he was in total control of that race and wasn't seriously challenged. Trainer Stat: Baffert wins at a 30% clip from 77 starters in two year old graded stakes. This is "The Baffert". Far outside post is challenging and there is a lot of speed here – so a meltdown in certainly a possibility. He's talented but I'll look elsewhere.
Picks