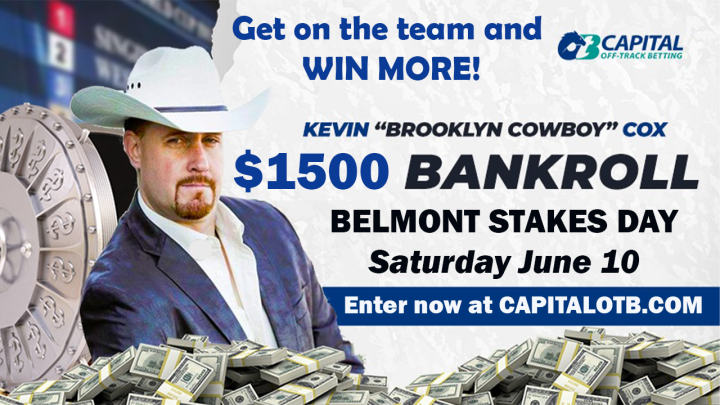 Belmont Stakes Day 2023 Bankroll / w 'Brooklyn Cowboy' Kevin Cox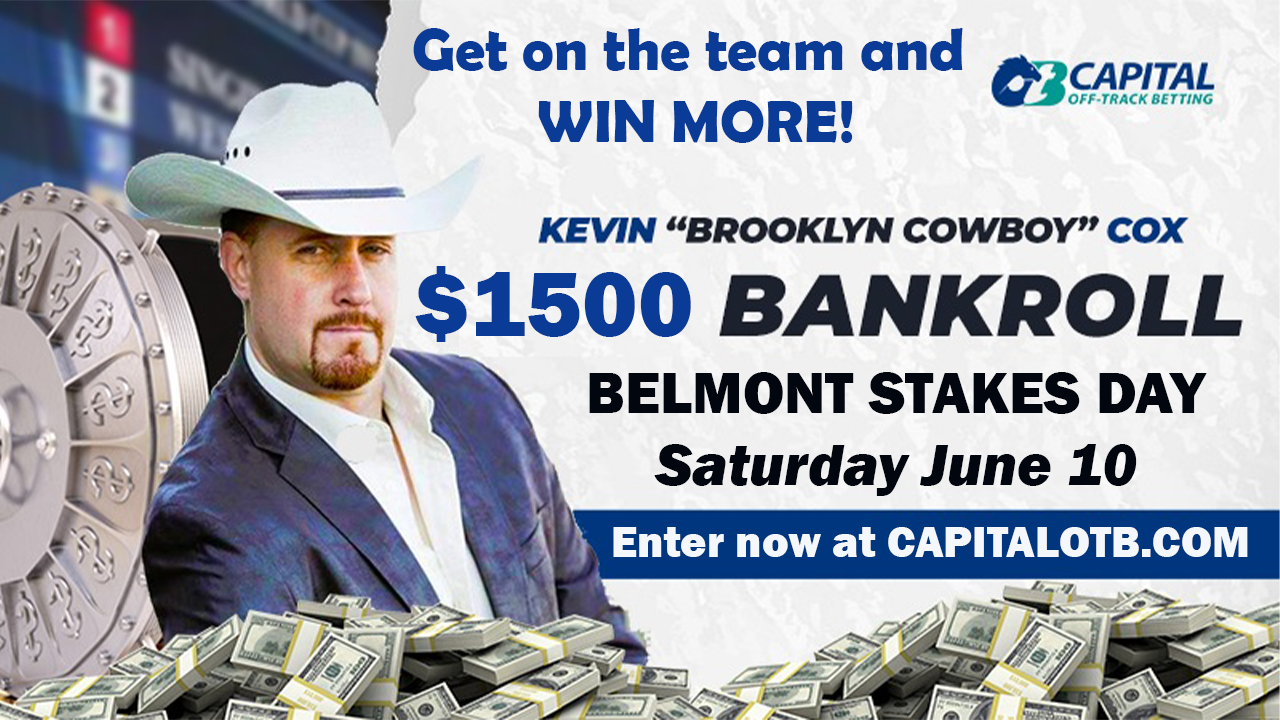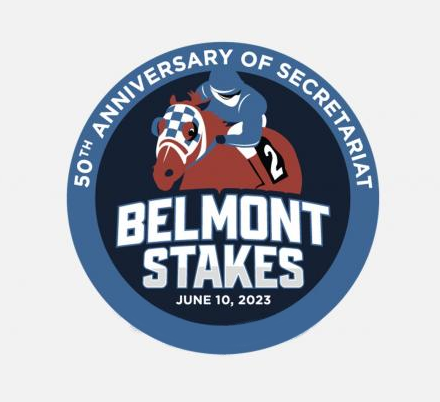 Coming up on Saturday June 10, 2023 Kevin Cox, the Brooklyn Cowboy, will have a $1500 Belmont Stakes Day Bankroll! The Cowboy will be aiming to win big on behalf of the team.
Team will be made up of: Top 5 wagering account holders (month of May totals), and 20 randomly selected from online entries = 25 team members.
Must Have An Active Account Wagering Account the Previous Month!
THE WAGERS ARE IN! See below…
GOOD LUCK!
Bankroll team chosen on Tuesday, June 6th – email will be sent to team

Team – Must wager through their Capital Bets account on Saturday, 6/10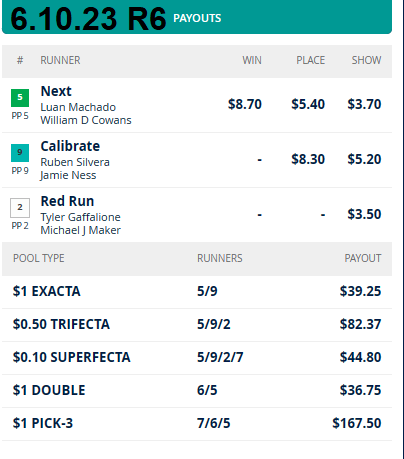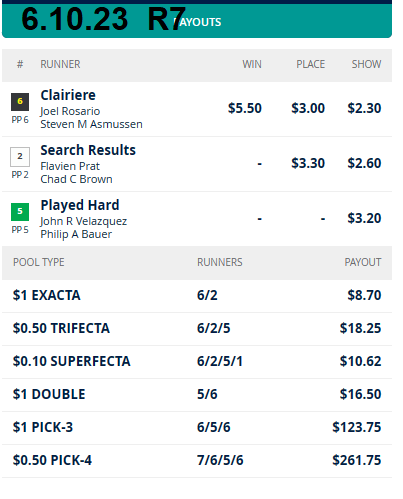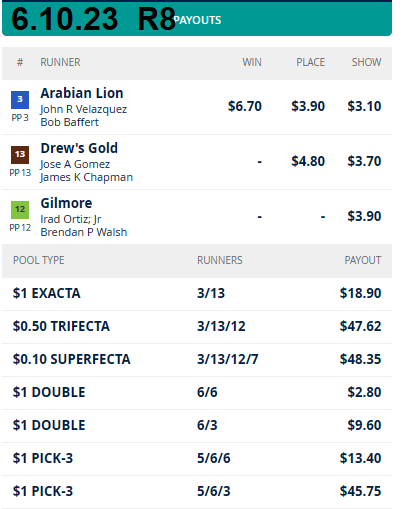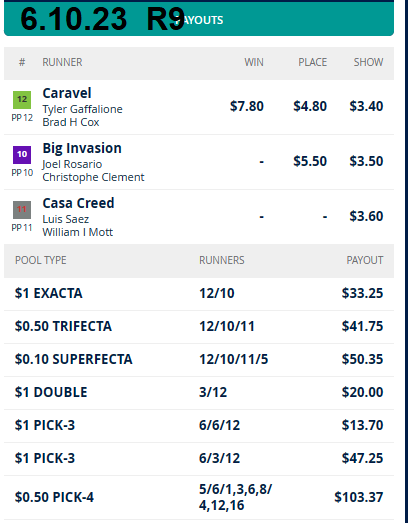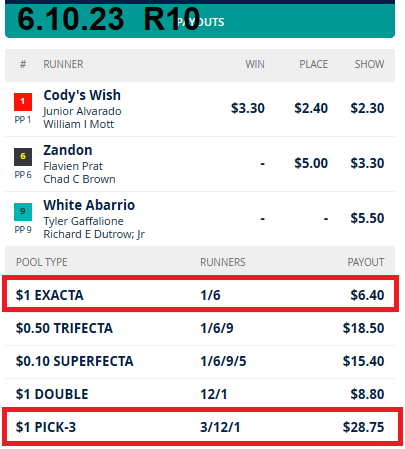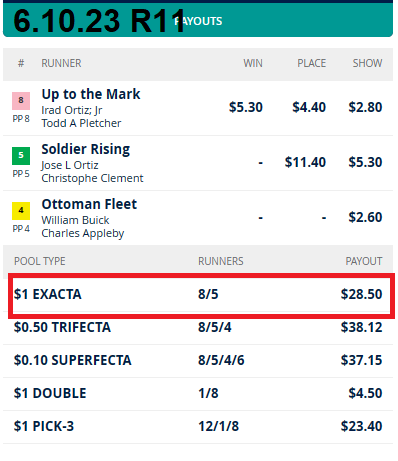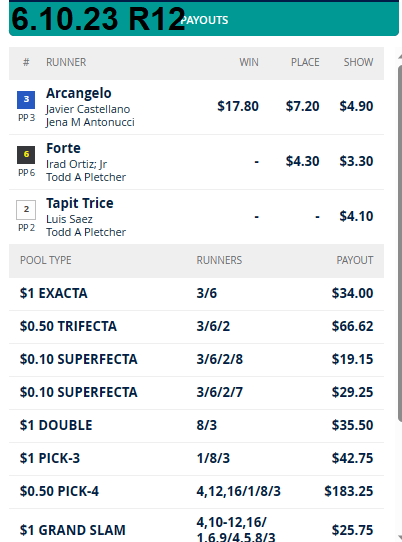 ========================================
The plays:
BELMONT 6.10.23
$1 Pick Three:  7 / all / all    — $66
$8 Exacta:        4,5 / 2,4,5,7 — $48
$36 Win:           2                  — $36 ( $150 Total )
$1 Pick Three: all / all / 3      — $66
$29 Win:          5                   — $29
$11 Exacta:     2 / all             — $55 ( $150 Total )
 $1 Pick Three:  3 / all / 1,3,5,6,7 — $70
.50 Cent Triple: 10 / all /all           — $45
 $9 Exacta:        2 / all                  — $90  ( $205 Total )
$2 Pick Three: 11 / 1,3,5,6,7 /  2,3,4,5,7,8 — $60
$7 Exacta:        9 / all                                  — $91
$44 Win:           8                                        — $44 ( $195 Total )
===
Race 10
$1 PK3: 1,3,5,6,7 / 2,3,4,5,7,8 / 1,4
$ 4 EX: 1,3,5,6 / 1,3,5,6,7
$9 EX: 1 / 3,5,6,7
$40 Win: 1
Race 11
$2 DD: 2,3,4,5,7,8 / 1,4,6,8
$4 EX: 2,3,5,7,8 / 2,3,4,5,7,8
$52 Win: 4
Race 12
$20 EX: 1,4,6 / 1,4,6,8
$88 Win: 8
$48 Win: 1
$4 Tri: 4,6,8 / 1 / all