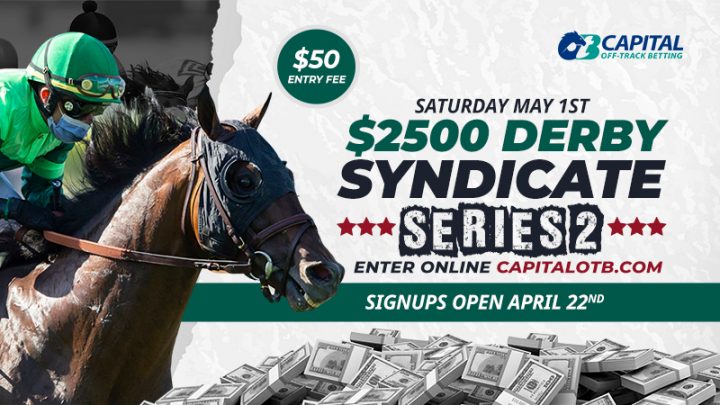 $2500 Derby Syndicate Series 2
EVENT DETAILS
Mark your calendar!
Structure
Saturday May 1st (Signup April 22 – April 26)
The first 30 Capital Bets patrons can participate. $50 entry fee. One per person.
Money will be withdrawn from patrons Capital Bets account (must have) by next business day. If funds are not available then you will forfeit participation in the bankroll.
Final day to signup is April 26th at 4pm. There must be 30 patrons signed up in order to conduct the Kentucky Derby Syndicate.
In addition, Capital OTB will deposit a $1000 bonus into the account when the Kentucky Derby Syndicate reaches 30 patrons ($1500).
Syndicate members will be sent an online selection form to fill out. Patrons will fill out form and submit selections. Based on the census, the top cumulative picks will be used for the wagering format. Any ties will go to the horse with the lowest # post position.
Selection forms will be sent Wednesday April 28th.
All selections forms must be submitted no later than 10am on Thursday April 29th.
If a syndicate member fails to submit a selection form then they are not eliminated, but will not have any say regarding horse selections.
Wagering Format:
Pick 4 Plays: $1500 Total

Races 2-5

.50c PK4 8x5x5x5 = $500 (sequence may vary)

Races 5-8

.50c PK4 8x5x5x5 = $500 (sequence may vary)

Races 9-12

.50c PK4 5x5x5x8 = $500 (sequence may vary)
Exacta Plays: $1000 Total

Races 8-12

$50 EX 1/2,3 = $100
$20 EX 2,3/1 = $40
$5 EXB 1,2,3,4 = $60
The syndicate wagers will be sent to each participants email & posted online at capitalotb.com (under promotions page).
100% of the finishing bankroll will be divided equally and paid out accordingly to each participating Kentucky Derby Syndicate member. The money will be deposited into each individual Capital Bets account by May 4th.
| Date | Start Amount | Winnings |
| --- | --- | --- |
| 09/17/2022 | $750 | $0.00 |
| 09/03/2022 | $750 | |
| 08/20/2022 | $750 | $0.00 |
| 06/11/2022 | $1,500 | $1,380.00 |
| 04/23/2022 | $750 | $0.00 |
| 04/02/2022 | $750 | $854.85 |
| 03/19/2022 | $750 | $500.70 |
| 03/05/2022 | $750 | $0.00 |
| 02/19/2022 | $750 | $932.20 |
| 02/05/2022 | $750 | $6,462.65 |
| 11/27/2021 | $750 | $800 |
| 11/06/2021 | $5000 | $2078.00 |
| 11/06/2021 | $2500 | $1038.00 |
| 10/23/2021 | $750 | $17,313.70 |
| 09/05/2021 | $1,500 | $360.00 |
| 08/28/2021 | $1,500 | $166.50 |
| 08/21/2021 | $1,500 | $80.22 |
| 08/14/2021 | $1,500 | $0.00 |
| 08/07/2021 | $1,500 | $0.00 |
| 07/31/2021 | $1,500 | $0.00 |
| 07/24/2021 | $1,500 | $0.00 |
| 07/17/2021 | $1,500 | $593.50 |
| 07/10/2021 | $750 | $0.00 |
| 07/03/2021 | $750 | $0.00 |
| 06/26/2021 | $750 | $0.00 |
| 06/12/2021 | $750 | $0.00 |
| 06/05/2021 | $5,000 | $2,374 |
| 05/15/2021 | $1,500 | $0.00 |
| 05/01/2021 | $5,000 | $13,801.60 |
| 05/01/2021 | $2,500 | $6,947.80 |
| 04/03/2021 | $750 | $79.95 |
| 03/27/2021 | $750 | $0.00 |
| 03/13/2021 | $750 | |
| 03/06/2021 | $750 | $794.00 |
| 02/27/2021 | $1,000 | $0.00 |
| 02/13/2021 | $1,000 | $27.40 |
| 01/30/2021 | $750 | $64.20 |
| 01/16/2021 | $750 | $755.80 |
| 11/01/2020 | $750 | $3,746.80 |
| 10/24/2020 | $750 | $0.00 |
| 10/17/2020 | $750 | $0.00 |
| 10/10/2020 | $750 | $0.00 |
| 10/03/2020 | $750 | $0.00 |
| 09/26/2020 | $750 | $5,065.00 |
| 09/19/2020 | $750 | $0.00 |
| 09/07/2020 | $750 | $0.00 |
| 09/05/2020 | $750 | $1,827.25 |
| 08/29/2020 | $750 | $0.00 |
| 08/22/2020 | $750 | $1,167.00 |
| 08/15/2020 | $750 | $0.00 |
| 08/08/2020 | $750 | $307.75 |
| 08/01/2020 | $750 | $4,556.00 |
| 07/25/2020 | $750 | $0.00 |