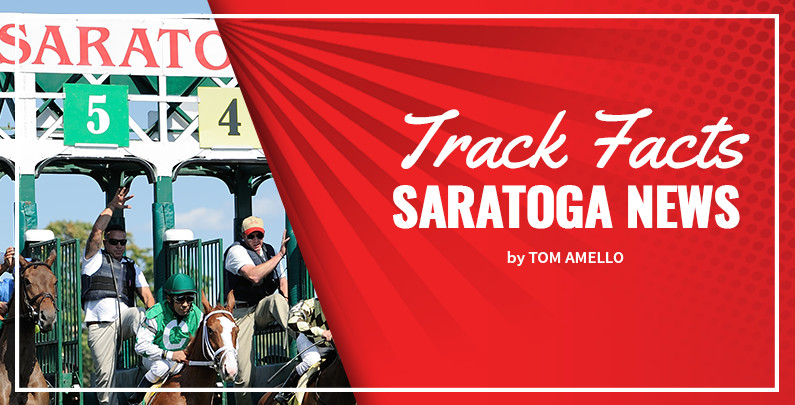 TrackFacts – July 26, 2019
[intense_lead]So at 70+ years of age, Capital OTB invites me to participate in their 2019 Summer Series of Podcasts posted to the new CapitalOTB.com website. [/intense_lead]
[intense_blockquote border_color="#231273″ author="Tom Amello"]Podcast! What's that? Oh, internet radio without radio. Whatta country, as Yakov Smirnoff would say. [/intense_blockquote]
[intense_dropcap]T[/intense_dropcap]he first podcast included a discussion of applying the odds board to your handicapping, featuring statistics to support strategies. The next two have been conversations with professionals in Thoroughbred racing.
Jim Mazur, of trainer statistic book fame, joined us to talk about the game in general and his statistical approach to pilfering the pari-mutuel pools. Our most recent edition featured my good friend and friend to Capital OTB, Michael Kipness, A.K.A. The Wizard. We start this 30-minunte session back in the late 70's and early 80's, the distant glory days at NYRA in New York. Michael recounts his interactions with race-trackers that shaped his life in the game, stories of camaraderie, competition sadness and joy among the denizens of NY racing.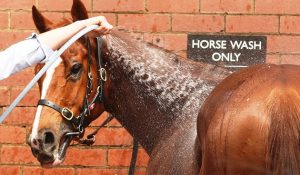 Context is everything for me. And in the context of horse deaths at Santa Anita, NYRA made the right decision to cancel racing last Saturday. It was right for all…horses, jockeys, backstretch workers (even though care of the equine athlete stops for nothing), and guests. Neither horse nor human ambulances required.
The general perception has been that, despite figures to the contrary, on-track attendance has been lighter than expected. Well, August begins next week and the "August Meet" will get its opportunity for 2019 to be just that…AUGUUUST.
One highlight from early this racing week is trainer Nick Zito getting "off the duck" with 30-1 shot Frammento dropping to the lowest class level of his career. Congratulations to Nick and any/all that could see through what have become Hall of Fame trainer Zito's abysmal record these last few years and use the horse. Hindsight being as sharp as it is…but ya get paid to see it before it happens…I did not. My comment about Nick's record is not to insult…the Hall of Famer has not forgotten how to train…he just is not getting the stock he did in the Birdstone days. Which brings us to the passing of May Lou Whitney. She will be missed in ways not yet appreciated. R.I.P.
The Curlin $100K
July 26, 2019
(5-2) Looking at Bikinis has done no wrong in two career starts. H crushed maidens ond debut, and his last looks like and education effort. That day he broke well, was allowed to settle and thendrop back. From there he middle moved on the loose leader and easily reeled him in. Pedigree suggests two turns and longer will suit.
(7-2) Intrepid Heart looks better on paper than his actual performance. Other than a maiden win at Oaklawn and an Optional Claiming win over a field that produced no next out winners, he has not been a factor in those graded stakes.
(9-2) Rowayton is a Hollendorfer runner switched to assistant trainer Don Chatios, Jr. He has speed to lead or stalk. Last out in the G3 Dwyer, Rowayton was off poorly then steadied in traffic. Regardless, Code of Honor blew by and left this colt in his dust.
(5-1) Highest Honors is the obligatory "other" from Chad Brown. It would be no surprise to see one outrun his odds. The works are sharp and the son of Tapit should relish 9 furlongs
(6-1) Endorsed was on the Triple Crown trail before injury sent him to the sidelines. There are few better than trainer Kieran McLaughlin at getting sprinter/miler to get 9 furlongs at Saratoga.
The A. G. Vanderbilt – G1 $350k

July 27, 2019
(1-1) Mitole is a pre-eminent power sprinter as defined by author Jim Quinn: he is capable of clocking sub 1:09 time at 6f and successfully carrying his speed to 7f and beyond. This colt is always sharp from the gate and is capable breaking from the rail. He has tracked in the early stages when breaking outside rivals but looks a dead send with speedy (2) Strike Power to his outside. He is the most likely winner and vulnerable only to a crowded start or traffic should he not break on top.
(3-1) Imperial Hint returns from a layoff since racing unsuccessfully in Dubai last March. In a career of 21 races, he has been defeated three times when returning from short or extended layoffs, including his last two. His prior form was excellent; he won this race with consummate ease in 2018. The four bullet works suggest fitness and readiness but this is a tougher group than last year.
(9-2) Firenze Fire was no match for (1) Mitole in the G1 Met Handicap going a flat mile. He, too, has qualities of a power sprinter. His return efforts after failing in the G1 BCup Mile and prior to the Met have been versus lesser. His stalking ability is a big plus behind the projected fast early pace, but he will need an A+ race to roll by (1) and (3).
(6-1) Strike Power has gate speed to be an early factor, is a power sprinter able to carry speed in 1:08 and change, and keep on to win beyond. The fact he has never won at today's distance is a negative; today he gets a chance to prove whether he can or not.
(12-1) Diamond Oops just does not class up to this group.
(15-1) Mr. Crow is a lightly raced 4-year old lacking the early lick to stay with (1) and (2). He has not shown the ability to stalk up close and pass quality horses in the lane.
(15-1) Do Share spent the winter of 2017 on the Aqueduct inner track, the one that no longer exits. He broke his maiden for $50k and has run in $50k Starter Allowances. 'Nuf said here.
The Bowling Green – G2 $250k
July 27, 2019
(7-2) Channel Maker has been a consistent G1 competitor for trainer Bill Mott, who had this runner ready to win this race last year on the day before his own birthday. Channel Maker will carry top weight for his win in the G1 Man O War. Eleven of his last 12 efforts have been in G1 company.
(9-2) Arklow enters in sharp form that included a narrow neck loss to rival (5) Channel Maker in the G1 Man O War. This Brad Cox trainee has tactical speed, but he has labored to break through at the G1 stakes level. That last was a "winning effort" but not a win. He has won beyond today's 11 furlong distance over G3 runners.
(6-1) Sadler's Joy is the quintessential deep closer that keeps you leaning during the entire stretch run. On his best he is capable of launching a big late run to get to the wire like a runner sliding into 2nd base on an attempt to steal. Trainer Tom Albertrani brings him back after resting from the Breeeders Cup last November for a total of 266 days. Albertraini has successfully brought runners back at this distance and 1 mile & 3/16s to win from 335 and 319 days respectively. The works are steady and suggest a ready horse proven capable of big efforts off the bench. Start your leaning.
(8-1) Focus Group owns a maiden win and an optional claiming/allowance win over this course and distance for trainer Chad Brown. His affinity for the course and distance is questionable to overcome what has been his inability to handle G1 company.
(12-1) Channel Cat was 3/4s short of winning the G1 United Nations as the favorite at Monmouth Park. Pletcher has kept him fit with a series of modestly paced work at Monmouth. He too has raced well over this course and distance and will go to post at uncharacteristically long odds for a Pletcher runner.
(10-1) Zulu Alpha brings tactical speed to remain in contact with the front pack. I did not know how proficient Maker has been in graded marathon turf routes these last five years: 65-14-14-10 at 12 furlongs (21%) and 24-3-3-2 at 11 furlongs (12%). Most of the wins are off the NYRA circuit, but his runners have hit the board at Saratoga.
The Jim Dandy – G2 $600k
July 27, 2019
(7-5) Tacitus looms large, having done little wrong since winning the G2 Wood Memorial. That was an easy victory aided by a suicidal pace. He endured traffic in the Derby while continuing on gamely. He was expected to gallop on as he did to place second in the G1 Belmont. Tacitus will be positioned 4th or 5th after the start, may or may not save ground, and will have dead aim on pace setters (2) Tax and (4) Global Campaign into the far turn cutting back to 9 furlongs.
(2-1) Global Campaign won the G3 Peter Pan with ease and runner up Sir Winston returned to upset the field in the G1 Belmont Stakes. Trainer Stanley Hough is out of retirement and back doing excellent work, this for Sagamore Farm. This colt's last was effort was his best but without pressure. Rested since and working steadily, further improvement gives him a puncher's chance.
(5-2) War of Will should enjoy a traffic-free trip in this shortest field of his career. His efforts at the Fair Grounds were validated by his G1 Preakness win, and the regression in the G1 Belmont Stakes was not surprising. He danced all the Triple Crown dances. Trainer Mark Casse has him working every six days since July 1 and stepped it up over the main track on July 13. With his tactical speed he will get first run leaving the backstretch.
(8-1) Tax sat behind dueling long shots in the G2 Wood Memorial, cruised by those fading rivals, kept on gamely but had no resistance for today's rival Tacitus. Tax, like Tacitus, had some traffic trouble in the Derby after breaking near the rear then raced evenly without threatening in the G1 Belmont. He has tactical speed, might be cycling around to a top effort but has appeared a cut below the best of his peers.
(15-1) Laughing Fox is a deep closer racing over a track that will likely favor speed.
(15-1) Mihos needed his last effort in the G3 Dwyer when returning from a February layoff. He was back behind a very soft pace, was asked leaving the backstretch but had nothing to offer as Code of Honor stormed by. Few are better than Jimmy Jerkens at pointing for a spot and prepping into it. Losing Jose Ortiz to rival (5) Tacitus is understandable. But, the switch to Junior Alvarado, who wins 33% riding routes for Jerkens, is not a negative. Expect a much improved effort today.
1) Intrepid heart overmatched G1 Belmont, poor start 2-back as fav
2) looking at Bikinis: likely fav tries new distance & 2-turns, top last fig
3) Rowayyton: traffic last when no match for Code of Honor, ?-mark
4) Grumps Lil Tots: overmatche34d in the G2 Wood, Vplod last out
5) Cairo Cat: G3 winner at 2, returns, beat good one in Opry, layoff a concern??
7) Direct Order: Servis, overmat hed last,
8) Endorsed: McLaughlin stretch out stats, bred for 9f
9) Mo Gotcha: stretch out, tries 2-turns, slow