TrackFacts – July, 23 2020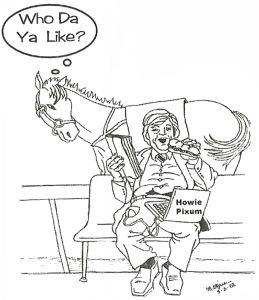 The above caricature of a race tracker has been a representation of my alter ego for many years. A former student drew it for me some twenty-five years or so ago. I love everything about the jacketed DRF-holding, sandwich-eating, computer-checking figure you might have encountered on any bench or picnic table at Saratoga Race Course. He is, of course, Howie Pixum…and everybody, even horses in the paddock, wants to know Howie Pixum.
Enough has been said and written about this uniquely and historical race meeting I will not belabor the point. As we head into it, however, I remain convinced that analysis of a race, any race, must begin with the morning line favorites. Of course, many handicappers start their process in advance of morning line. Others totally dismiss the line, either making their own or preferring to avoid letting the line influence their notion of contention. But…
The morning line begins what evolves into the "live odds" identification of the type of race the betting public faces. Just think of the number of races in any season where a Chad Brown turf runner, regardless of class or distance, was the predicted line favorite in a race at short odds. The line indicated the race might be a one-horse race or, if the 2nd line favorite was also short odds, a two-horse race. The idea of race type should inform one's approach to the race.
"Howda ya pick'em?" and "Who da ya like?" These are the quintessential personal and "mutual" aspects of most discussions of Thoroughbreds about to race. Once we "Pixum", it's off to the pari-mutuel window or on-line device to wager our individual opinions into the betting pools…either with or against the betting crowd.
Luck always. Be well. Stay safe and most informed about our game with CapitalOTB.com.
Race 9 Quick Call – G3 $100k
July 24, 2020
(1-1) Jack and Noah is a one-dimensional front runner in sharp form for his 3rd race after a layoff He missed by a head 2-back over the Churchill Downs course at today's distance at 10-1. Last out he raced relatively unpressured on the lead wiring a similar group at 2-1. Line odds of even money seem short as he is expected to face more pace pressure from a few in here. Scratches will be the key in this heat.
(2-1) Turned Aside needed his last off the long layoff since November. He chased (2) Jack and Noah last out, closing ground in the late stages. This runner has tactical speed to press/chase from outside. Jockey Lezcano will read the break, determine which rivals are sent to press the pace, and determine his strategy. 6-2-2-1 record sprinting over turf suggest he fits well here.
(6-1) Old Chestnut also exits the same race as the top two. His two wins came when on the lead going 5 furlongs at Woodbine. Since those efforts, Old Chestnut has become habitually slow from the gate, racing less well from off the pace. Last out he did not change leads while finishing behind (2) Jack and Noah for the second time in his career. It is a possibility that, should Old Chestnut revert to his old self and break alertly, jockey Alvarado might opt to send, complicating the pace scenario. It is more likely he will close into an honest, contested pace.
(8-1) Fore Left (my cry from the tee most golf days) carries top weight for his G3 win at a route overseas in The Arab Emirates. He showed tactical speed in his lone turf route, a G3 event as well. He cuts back to this turf sprint for his second since returning to the states. Trainer Doug O'Neil has been successful with distance and surface changes but less so in Graded stakes. Fore Left, however, being a Graded stakes placed sprinter at 6 furlongs on dirt, is not impossible at line odds of 8-1 should the turf sprint specialists fail to fire.
Race3 Ballston Spa G2 $200k
July 24, 2020
(2-5) Sister Charlie returns from a 286-day vacation for top trainer Chad Brown. Brown wins 34% of turf routes with runners returning from 250-300-day layoffs. Additionally, he is 10-5-1-0 when entering in graded stakes. Sistercharlie has returned from 252 and 280-day rests to score wins for Brown. Yow! In a field this short, 2-5 are probably near realistic odds.
(2-1) Starship Jubilee brings a 34-17-5-3 turf record for trainer Roger Attard. But all those victories have come over her home course at Woodbine and Gulfstream Park. She is clearly a horse-for-a different course than Saratoga, where she is 1-0-0-1 in this same race last year. She has tactical speed to press or stalk likely pace setter (3) North Broadway, also from the Chad Brown barn. She should have first run but is she good enough away from home to hold Spa loving (5) Sistercharlie?
(5-1) Call Me Love's trainer, Christophe Clement, entered the Thursday card at 13-5-2-2 with his starters this meet. In her first start for Clemente, Call Me Love made her USA debut off a long layoff chasing the very good Rushing Fall in a much-needed effort. Last out she was mildly compromised stalking a moderate pace going longer. Racing 3rd-time after a layoff, cutting back in distance, and getting a rider switch to Joel Rosario, expect Call Me Love to rate some and close powerfully under Rosario, his strength.
(30-1) North Broadway is the main speed to set the table for uncoupled mate (5) Sistercharlie. Speed is always dangerous; as unlikely as she might be to win at 30-1 line odds, the longer she lasts the more dangerous she is to grab a piece. It's not like we've never seen two Chad Brown entrants finish 1-2.
Race 10 AG Vanderbilt G1 $250k
July 24, 2020
(4-5) Volatile ran a hole in the wind in an overnight stake at Churchill Downs on June 6, reminding folks of trainer Steve Asmussen's Champion Sprinter Mitole. Most interesting about Volatile's effort is that the runup to the timer that day at Churchill Downs was 180'. That is a meaningful running start before the clock starts ticking. Note that the runup at Saratoga is significantly less…between 32'—54 '. The colt has worked well since, including a sharp 1:00 breeze over the main. If able to repeat something near that effort, Volatile might be difficult to catch over a main track that has been less than kind to off pace runners since opening day. Recent rain and moisture in the track should also aid Volatile.
(2-1) Whitmore is a 7-year old gladiator who was given time to recover following two wins at Oaklawn Park, including a G3 at today's distance. Whitmore is a front-half of the herd sustained stalker with good finishing kick. Trainer Ron Moquett has good stats with last out winners returning off layoffs.
(4-1) Firenze Fire was the easiest winner of a soft renewal of the G2 True North at 6 ½ furlongs last out. This is one of many suspended trainer John Servis' runners switched to other trainers. Trainer Breen wins 23% with last out winners in Graded stakes. Firenze Fire, like (2) Whitmore, is a sustained sprinter comfortably capable of attending or sitting somewhat off the pace and running on powerfully. As a 5-year old, Firenze Fire might have a few more top efforts in him than 7-year old Whitmore.
(6-1) Mind Control is 2-2 sprinting today's 6-furlong distance capable of carrying his speed to 7 & 8-furlongs. He has been on the lead at the eighth pole three times when winning at 7-furlongs. Some might posit that a good sign for today. But the pace dynamics are quite different from 7f to 6f. In tis short field, If (1) Lexitonian opts to challenge (4) Volatile for the lead, Mind Control will get his best chance to run'em down.
(20) Lexitonian has shown speed in the past and looms a compromising pace factor if jockey Tyler Gaffalione opts to send from his inside post.