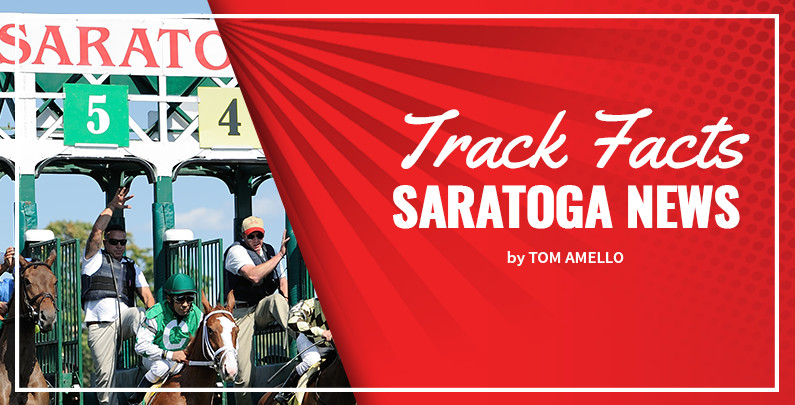 TrackFacts – July 12 2019
The Thoroughbred racing industry put its troubles and travails aside yesterday to celebrate "another opening" of another NYRA show at historic Saratoga Race Course. And from all accounts it was everything a Saratoga opening is about. Lines formed in the wee morning hours, local TV did perfunctory live interviews of well-prepared patrons sipping coffee, resting in lawn chairs, re-connecting with other "openers", each waiting patiently for NYRA Peace Officers to signal the sprint to the picnic tables. "We're Baaack."
The racing was good. The few stretch battles to the wire momentarily energized the crowd only to be followed by the muted silence of non-winners lost in the shouts and high-fives of winners. Ya gotta love the race track.
Announced paid attendance, including every season pass holder, was 22,951. That figure was certainly greater than any Thursday attendance in recorded history. Today is a second opening for those unable to sneak away from work in midweek. Rain that moved in around the 5th race yesterday blew through the area and might leave today drier than forecasters expected. But, when Kovachik, Capprizzo and Lapoint (meteriologists, not a law firm) utter the word "rain", on-track attendance shrinks and players gravitate to local OTB's or their own "Living Room Downs".
NYRA's grounds crew sealed the suddenly muddy main track before the 8th race and the turf courses were labeled yielding. Whether predicted or sudden, rain and change of surfaces are howitzers aimed at one's handicapping. Late scratches and altered track conditions require a total re-focus and willingness to let loose every opinion you originally held. The context of the race is no longer the same. One must handicap the race anew.
We have shared what follows on many occasions. The ideas hold up:
What a solid, "most likely to win" Favorite looks like in the past performances:
• __ Trainer ( top trainer proven capable of winning with favorites)
• __ Jockey ( top jock with this trainer who wins a high percentage with favorites)
• __ Track (horse proven over this track or owns a "good race" over the track)
• __ Distance (horse proven at today's distance)
• __ Surface (horse proven over today's surface & condition)
• __ Class (horse proven today's class level)
• __ Pace (horse proven to withstand the pace demands of the race)
• __ Speed (horse proven faster on reliable speed figures)
• __ Form (recent/previous efforts look "good'nuf" to win without top effort)
• __ Bet (the money shows)
When and Why Favorites lose (reasons often out of a bettor's control):
• Even healthy, sound horses cycle in and out of form and throw in "off" races
• Failure to meet two or more of the above criteria
• Persistent gate problems shown as slow breaks from the gate in past performances
• Trouble at or immediately after the start
• Changing in track conditions
• Early or Late scratches that change the race/pace dynamics
• Significant Pace pressure
• Traffic troubles, blatantly obvious or subtle
• Forced wide by rivals or taken wide by the jockey in an overconfident ride
• Often a rival "looks as good" as the favorite on paper, races today at better odds, projects to and gets a better trip
What a False/Vulnerable Favorite might look like in the past performances:
• Stakes runner returning from a layoff; reputation better than form & meeting sharp rivals
• Returns from a layoff but did not win debut race & never won off previous layoffs
• Rarely runs good races back-to-back-to-back
• Horse for a "different" course with multiple wins elsewhere
• Unproven at today's class, distance or surface
• Race record shows significantly more 2nds & 3rds than wins
• Last effort was aided by pace scenario, track bias, or perfect setup
• Negative running style; negative post
• Low percentage trainer with equally low percentage winning with favorite
Stakes Preview
July 13, 2019
The Sanford – G3 $150k
3) 8-5 Cucina debuted in a strong field at Gulfstream Park. The winner returned to finish 3rd in a stake and the place horse won a maiden special weight heat next out. Last out this son of Northern Afleet was roughed up at the start as the odd-on favorite, recovered to stalk inside before angling out to go after the leaders and getting up in the shadow of the wire. This colt has performed well over dry/fast and slop. Trainer Mark Casse ran 2nd in this stakes in 20108 with Strike Silver.
2) 5-2 Raging Whiskey is in the care of trainer Doug O'Neil, who won the Schuylerville yesterday with Comical. In 2015 O'Neil shipped in Ralis from California to take the G1 Hopeful. Raging Whiskey's debut race was extremely competitive, producing 3 next out winners that included his decisive 2nd-out win. O'neil wins 19% with juveniles and 27 % with juvenile colts.
5) 5-2 By Your Side was professional winning his debut when forced to race "in the vice" between rivals for an extended period. The pressure from both sides while on the move challenges horses, and juveniles which keep on in that situation to win exhibit courage and determination that bodes well going forward. By Your Side enters with experience beyond 5 furlongs. Trainer Eddie Kenneally is aces with juveniles. He won this race in 2016 with shipper Bitumewn.
4) 9-2 Tomato Bill is a $500k purchase exiting a dominating win over a soft field. Untested on debut begs the question of how he will handle pressure from more talented rivals. He has speed. Since shipping to Saratoga trainer Clemente has sent him 15 furlongs in 14 days. He should be dead fit.
1) 6-1 Memorable offered nothing in the Tremont following a debut win over a weak field.
July 13, 2019
The Diana – G1 $500k
The Diana brings together six horses, four of which are trained by Chad Brown. Someone quipped that if the non-Browns scratch out, Brown would be able to finish first and last in the same race! What to do?
4) 8-5 Sistercharlie returns from a 252 day vacation earned after a 5-4-1-0 2018 and $2 million in earnings. Nice. She is fast, but a deep closer who keeps her backers on a Zenyatta-like edge…will she get there? She won this race last year defeating two Brown-trained mates in A Raving Beauty and New Money Honey. She is fast. Her wins are by a neck, a ½, a nose. Her losses are by the same measure. Winning earns weight. She yields 6-8 pounds to all but Rushing Falls.
2) 9-5 Rushing Fall has the exact opposite running style to mate Sistercharlie. She has dominated on the front end, defying rivals to come catch her. She is not, however, one dimensional. She is proven capable of rating off rivals and cruising on by. In my opinion, she is not the lone speed but will race as if she is whether on the lead or behind rival (3) Mitchell Road. Rushing Fall is the one to catch in the lane. Same weight situation here. She too gives 6-8 pounds.
6) 5-2 Homerique is the third Brown runner. This filly lacks the speed and early position of Rushing Fall but has tactical speed and European closing kick to get first run over mate Sistercharlie. She will need to improve to rundown Rushing Falls and hold off Sistercharlie.
3) 8-1 Mitchell Road only knows one way: get to the lead. She is a G3 winner at 8.5 furlongs meeting three multiple G1 and G2 turf winners at or beyond today's distance. If she is allowed to lope along up front with Rushing Falls in close attendance, there is a slim chance for a two-speed finish at the wire. If not, she will melt from the class exuded by the others. Friend Kerry Thomas calls that Herd Dynamics.
5) 12-1 Secret Message is a G3 winner and is G2 placed at today's distance. She too is a rear half runner. Last out she reeled in an odds-on favorite behind what was a moderate to slow race dynamic. That might be the case today but these are classier rivals.
1) 15-1 Thais is the least accomplished Brown runner in the field. Why the blinkers? Does Brown want her to vie with Rushing Falls?