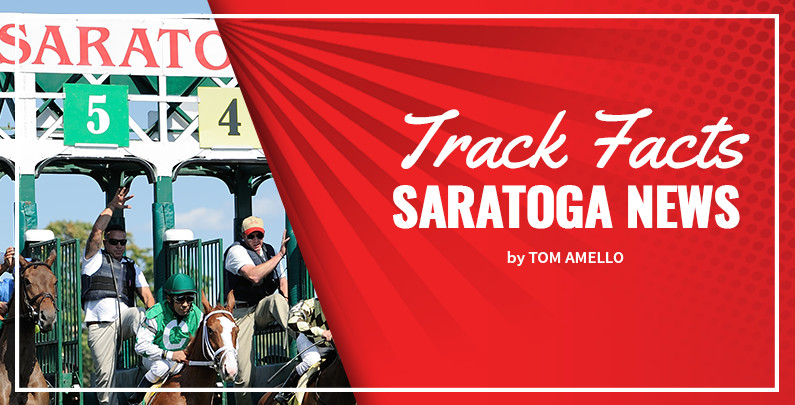 TrackFacts – August 23, 2019
Trainer intent and the wrong horse:
[intense_lead]I stood next to two punters poring over pps while trying to decipher a race and discussing a horse shipped into NY by a sharp trainer.[/intense_lead]
[intense_blockquote border_color="#231273″ author="Punter"] Da guy din't spend da bucks ta ship for nuttin, da hoss has back numbahs, 15-1 on da line, dis smells like a putovah.[/intense_blockquote]
This was a sharp trainer who regularly shipped up from Maryland. No "D.Wayne-off-the-plane" type outfit, this trainer owned a small 2-stall van and drove it himself. He knew, from years of driving between tracks, the value of a "balanced" van. He never vanned just one horse over a long distance.
The punters had the right idea, but the wrong horse! They were about to bet the "BALLAST", the horse along for the ride. Naturally, the other horse ran big later that afternoon.
August 24, 2019
As you know, my usual routine in this Stakes Preview section is to review each field, starting with the favorite. From there, I work my way, in ascending order, to a point where I think I have covered the contenders and potential up setters. For today's preview I thought I would instead work through each race and present my order of preference for each race, along with truncated comments.
RACE 5
The FOREGO
Promises Fulfilled: horse for the course & distance, can rate some
Mitole: power sprinter was forced to gun from post 1 last out, easier trip today will vie w/(1) through softer pace than last
All Strike: 25May race was "key" producing two next out winners
RACE 6
The BallERINA /
Come Dancing: returns, steady series of strong works, tactical speed to lead or stalk, 5Apr18 effort dusts these, Martin barn winning
Separation of Powers: returns, worked 19f / 20days, dead fit & ready
Mia Mischief: 2 6fs & stretch to 7f = G1 Humana win, repeats pattern
Special Relativity: win this distance over the track, improving
Minit to Stardom: upset winner of last, exotics only or if a scratch
RACE 7
The H.A JERKENS
Shancelot: crushed rivals in G2 Amsterdam prep for this, broke maiden this distance, freakishly fast horse to beat
Borracho: effort in the G1 Woody Stephens is better than it looks when altering course in deep stretch while rival (5) had clear sailing
Mind Control: no chance 2back when forced to take up in mid stretch, grinder needs a clean trip & pace meltdown to win
Nitrous: deep closer had it her way in 2back, need similar set up
RACE 8
The Ballston Spa /
Mascha: easy prep for this, Brown is 6-5-1-0 w/last out winners prepping for turf stakes at this distance, one to beat
Secret Message: like the cut back & class drop to G2, quickens well, working well at Fair Hill Training Center for Motion (14-4-0-0) turf 2019
Starship Jubilee: 12 x turf winner has tactical speed to lead or press early, trainer Attard does not ship many runners to NYRA
5 & 7 are less likely to win than earn shares in the exotics
RACE 9
The Personal Ensign
Elate: returned running for Hall of Fame trainer Bill Mott, proven over this surface, 5-2-2-0 record in G1 & G2 efforts at 9f
Wow Cat: been keeping company with the top fillies, 5-1-3-1 record at 9f is a significant advantage should top choice falter
Midnight Bisou: quality filly must prove she can win at 9f
5 & 7 are less likely to win than earn shares in the exotics
RACE 10
The Sword Dancer /
Ya Primo: excellent effort last out when against both a speed favoring, rock hard turf course & slow race dynamics, better set up
Channel Maker: unlucky in last behind loose leader, gets better trip
Annals of Time: improving filly gets tested for class, sharp works
Pillar Mountain: sharp, likes marathons, steps way up in class
Sadler's Joy: always figures, rarely gets to the wire first, exotics
RACE 11
The TRAVERS /
Mucho Gusto: "stranger" to this group, brings speed & good post from which to save ground, might try to bottom out field & wire'em
Code of Honor: training well into the race after good prep winning G3 Dwyer, talent is there as is upside, might get perfect set up
Tacitus: no surprise if he wins or not, talented but has found ways to non-win, blinkers on today, a move that did not produce results for Mott on either Good Samaritan or Hofburg.
1 & 4 are both deep closers up against a normal Saratoga main track but (1) Owendale will save ground & (4) laughing Fox should get a better set up than the slow pace of the Jim Dandy