TrackFacts – August, 08 2020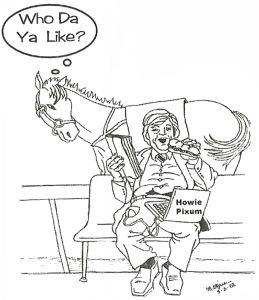 The above caricature of a race tracker has been a representation of my alter ego for many years. A former student drew it for me some twenty-five years or so ago. I love everything about the jacketed DRF-holding, sandwich-eating, computer-checking figure you might have encountered on any bench or picnic table at Saratoga Race Course. He is, of course, Howie Pixum…and everybody, even horses in the paddock, wants to know Howie Pixum.
Enough has been said and written about this uniquely and historical race meeting I will not belabor the point. As we head into it, however, I remain convinced that analysis of a race, any race, must begin with the morning line favorites. Of course, many handicappers start their process in advance of morning line. Others totally dismiss the line, either making their own or preferring to avoid letting the line influence their notion of contention. But…
The morning line begins what evolves into the "live odds" identification of the type of race the betting public faces. Just think of the number of races in any season where a Chad Brown turf runner, regardless of class or distance, was the predicted line favorite in a race at short odds. The line indicated the race might be a one-horse race or, if the 2nd line favorite was also short odds, a two-horse race. The idea of race type should inform one's approach to the race.
"Howda ya pick'em?" and "Who da ya like?" These are the quintessential personal and "mutual" aspects of most discussions of Thoroughbreds about to race. Once we "Pixum", it's off to the pari-mutuel window or on-line device to wager our individual opinions into the betting pools…either with or against the betting crowd.
Luck always. Be well. Stay safe and most informed about our game with CapitalOTB.com.
Race 7 Ballerina G1 $300k
August 8, 2020
(9-5) Bellafina is a top-quality California sprinter. And therein lies the rub. She is yet to win a dirt sprint outside of California. She was a beaten favorite in this race in 2019. She appears to be a vulnerable favorite again.
(5-2) Serengeti Empress ran her eyeballs out in a good placing in this heat last year. Her form this year is cause for pause. Tom Amoss put her out for rest following an abysmal defeat at two-turns in the G1 Apple Blossom at Oaklawn Park. She returned from that vacation with a 4th place finish going 9-furlongs, far too long for this speedy filly. She should benefit from the cut back to 7-furlongs. Trainer Amoss wins 24% overall with cuts to this distance but is 14-3-2-3 when doing so in non-graded or graded stake.
(3-1) Come Dancing is the horse for the course and distance racing 2nd after an extended vacation for the cagey veteran Carlos Martin. Come Dancing is proven capable of winning off works following long or short rest. She has tactical speed to sit a good stalking trip in the clear outside horses. Her best efforts are competitive, and it appears Martin has pointed her to this spot.
(5-1) Letruska ran a 6-furlong split in 1:08.80 and kept on to carry her speed over 8-furlongs. Power sprinters do that, and the cutback to 7 panels will suit her fine. If other speed horses fail to make the top and she does, Letruska will take the field a long way.
Race 8 Troy G3 $200k
(8-5) Imprimis is a turf sprint specialist capable of winning the short 5-furlong dashes and two wins at today's distance including a G2 win in the Shakertown. This gelding is excellent from the gate, with speed to secure good position either stalking inside or moving off the rail to press from the 2 or 3 paths. Trainer Orseno spots this runner well and he hires Jose Ortiz, who was aboard for an overnight stake win at this distance at Monmouth Park.
(5-2) Shekky Shebaz looks similar to the line favorite, equally adept at 5f dashes and a two-time winner at today's distance. Shipping north from his Monmouth base, Shekky Shebaz reunites with Irad Ortiz, Jr., aboard for two wins over this course in 2019. He too is a good gate horse but has more early lick that his rival. Switched to the hot Clement barn, expect this lightly raced 4-year old with upside left to fire on all cylinders.
(3-1) Pure Sensation, a 9-year old gladiator also trained by Clement, was entered earlier in the meet in a similar spot but scratched. Another sharp breaker with speed to lead or stalk, Pure Sensation's best races have come at shorter dashes and longer turf sprints. He does not own a win at today's distance and meets others proven at this trip.
(9-2) Chewing Gum looks to be the lone closer in a race with many front runners. He is unproven at this trip but will get a good set up for his late run. Bill Mott's barn has raced far better than his current 8%-win rate (36-3-8-6).
(12-1) American Soldier owns the best race record at today's distance (5-3-1-0). He has not faced competition like this, and trainer Wayne Potts rarely ships into the NYRA circuit. Nowadays trainers prefer to not waste efforts where runners cannot compete. He could be the main speed to take this group a long way.
Race 9 Waya G3 $150k
(8-5) Mrs. Sippy fired when switched from Euro-trainer David Simcock to Graham Motion, winning her states debut with a strong late run and missing by less than a length in the G1 Flower Bow. Motion put her out after a disappointing effort in the BCF&MTurf. Motion is an accomplished horseman who does not enter unless he believes his charges to be fit and ready. He has regularly had horses win and hit the board off similar layoffs. Anything near her previous Euro efforts at this distance will make her tough to beat. The line maker says the public will back Motion's judgement.
(2-1) Chad Brown sends a sharp My Sister Nat to the starter. She raced well in her last given the long layoff and slow pace set by a gate-to-wire winner. She is a consistent runner but Brown's barn has not had the look of years past. Short odds trying this new distance might be a risky venture.
(4-1) Olympic Games is sharp, on the improve, has considerable upside potential as a 4-year old, hails from the en fuego Christophe Clement barn, and Irad Ortiz, Jr. opts for the re-ride. She appears light on speed figures but could be sitting on a forward move at fair odds.
(5-1) Fools Gold also races for Chad Brown but her return from a long layoff was awful, losing to stable mate (4) My Sister Nat with no visible excuse except, perhaps, the layoff. She was in great form in winning last year's Waya, but the concern now lies in the fact she has fired off workouts in the past. Perhaps reuniting with winning jockey Javier Castellano will bring this turf marathoner back to life and a more competitive effort
Race 10 Test G1 $300k
(3-5) Gamine ships in for Bob Baffert undefeated at 6 ½ furlongs, 8 ½ furlongs around two-turns, and 8-furlongs around a one-turn mile at Belmont Park. She crushed rivals on debut, held by a not-so-long neck 2-back, then crushed'em again last out in the G1 Acorn at Belmont Park. This filly has improved her speed figures in her last two by 11 and 12 Beyer Speed Points respectively. Her last two figures are faster than any figure earned by any rival in here, what Andy Beyer calls the "Double-Fig" horse. This means that others in the field must run career efforts and/or Gamine must regress for her to be defeated. Sometime double-digit figure jumps take a toll, indicating a possible negative reaction to the effort. But Baffert has given her 7-weeks to rest and recover and several works indicating she will be fit and ready. Jockey John Velazquez will send from the bell and attempt to run rivals off their feet. I don't see him rating, a tactic which might keep some in the race longer. She has had the lead after 6-furlongs in times which are faster than all but rank outsider (4) Wicked Whisper and main rival (6) Venetian Harbor.
(8-5) Venetian Harbor is the only runner in this field accomplished enough and fast enough to challenge (5) Gamine. She will, however, need to deliver a top effort and earn a new top speed figure to win. She raced well in defeat off a layoff since May 20 when last seen finishing second in the G1 Ashland behind Speech. Gamine defeated Speech by a short neck back in May in an Optional Claiming event at Oaklawn Park. Venetian Harbor will be more fit for that effort. Trainer Robert Baltas wins 15% from all starters when cutting back from a dirt route to a sprint and is 5-1-0-0 when doing so in stakes. If (5) Gamine is not fit and ready to deliver a near A-race, Venetian Harbor is capable of the upset.
(12-1) Up in Smoke will sit a good inside trip saving ground and energy. Trainer George Weaver is, in my view, looking for a placing, black type and a check.
Race 11 Travers G1 $1 Million
(1-1) Tis the Law has done nothing wrong since breaking his maiden in his Saratoga debut at "somebody knows" short odds of 7-2. Local connections Sackatoga Stable "knew" they had a good one, and the rest of us learned later. Trainer Barclay Tagg has managed him perfectly, opting to skip the Breeders Cup Juvenile after a narrow loss over slop in the G2 Kentucky Jockey Club at Churchill Downs. Tiz the Law is undefeated since, taking the G3 Holy Bull, G1 Florida Derby, and the "asterisk" 9-furlong version of the G1 Belmont Stakes. He brings tactical speed and a strong finishing kick to todays 10-furlong distance, which has allowed him to dominate recent rivals. His most recent three speed figures are faster than any figure earned by today's rivals. His consistency might lead to a possible "knock" on his performances: yes, Tiz the Law is fast, faster than others…but is it possible he has peaked? Is it possible, at this new distance, to anticipate a modest regression which might make him somewhat vulnerable? The morning line maker thinks not, making him 3-5 odds on the line to take home the hardware.
(5-2) Uncle Chuck is this year's late developing equine athlete from Hall of Fame Trainer Bob Baffert. He has shipped 7 three-year olds from his California base to contest graded stakes at Saratoga, compiling an impressive 7-3-3-1 record. It is no secret that Baffert shippers run their race shipping in…often career top efforts. Uncle Chuck, on paper, looks very much like Baffert's Arrogate, shipped in to take the Travers. But, unlike Arrogate, Uncle Chuck will not have a stable mate running early interference for him as American Anthem did that year. He will take on Tiz the Law by himself. Most Baffert runners have speed and can carry that speed over a distance of ground. Expect Uncle Chuck to be on the lead, control the pace and be on the lead leaving the far turn. From there he will fold, run away from, or battle with Tiz the Law to the wire.
(6-1) Country Grammer enjoyed a perfect trip in winning the G3 Peter Pan, a 9-furlong prep for the Travers. This Chad Brown charge has shown front-half of mid-pack tactical speed in both two-turn routes. Last time Country Grammer sat a perfect inside trip under top jockey Irad Ortiz, Jr., slipping through along the inside to take the lead and hold on over today's rival (7) Caracaro. He will need another perfect trip and jump in speed figures to contend at the wire this afternoon.
(6-1) Max Player beat a soft bunch in the G3 Withers, a 9-furlong affair from which only last place finisher Vanzzy returned to win, and that was a synthetic turf route. Third of ten in the G1 Belmont behind heavily favored Tiz the Law, Max Player will be placed rearward early and will need a strong pace if he is to threaten at all. On most big race days, the Saratoga main track favors speed; the newly installed track may or may not have the same characteristics. Wee will see how Max Player classes up.
(10-1) Caracaro stalked widest throughout in that G3 Peter Pan won by rail-riding (2) Country Grammer. This son of Uncle Mo will again be forwardly placed but should secure inside position entering the backstretch. A ground saving trip is the best hope for this colt to turn the tables on that rival and fire a big shot to grab a slice at odds 10 -1 or more.