TrackFacts – August, 01 2020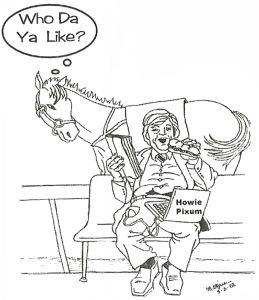 The above caricature of a race tracker has been a representation of my alter ego for many years. A former student drew it for me some twenty-five years or so ago. I love everything about the jacketed DRF-holding, sandwich-eating, computer-checking figure you might have encountered on any bench or picnic table at Saratoga Race Course. He is, of course, Howie Pixum…and everybody, even horses in the paddock, wants to know Howie Pixum.
Enough has been said and written about this uniquely and historical race meeting I will not belabor the point. As we head into it, however, I remain convinced that analysis of a race, any race, must begin with the morning line favorites. Of course, many handicappers start their process in advance of morning line. Others totally dismiss the line, either making their own or preferring to avoid letting the line influence their notion of contention. But…
The morning line begins what evolves into the "live odds" identification of the type of race the betting public faces. Just think of the number of races in any season where a Chad Brown turf runner, regardless of class or distance, was the predicted line favorite in a race at short odds. The line indicated the race might be a one-horse race or, if the 2nd line favorite was also short odds, a two-horse race. The idea of race type should inform one's approach to the race.
"Howda ya pick'em?" and "Who da ya like?" These are the quintessential personal and "mutual" aspects of most discussions of Thoroughbreds about to race. Once we "Pixum", it's off to the pari-mutuel window or on-line device to wager our individual opinions into the betting pools…either with or against the betting crowd.
Luck always. Be well. Stay safe and most informed about our game with CapitalOTB.com.
Race 5 Personal Ensign G1 $500k
August 1, 2020
A short field of five rivals will mee the starter. This is a two-horse race:
(2-5) Midnight Bisou 21-13-5-3 earning over $7 million is clearly the horse to beat. Back-to-back second place finishes in the 2019 Breeders Cup Distaff and the G1 Saudi Cup might suggest to some that this 5-year old mare has lost a step…don't believe it. She is proven capable of winning from on, just off or from behind the pace; she is consistently faster than the competition she meets this afternoon.
(5-2) Point of Honor is lightly raced, with considerable upside. She has kept nothing but G1 company, acquitting herself well. Her running style is that of a mid-pack sustained stalker and expect a trip similar to her defeat at the hands of the very good Guarana in the 2019 G1 CCA Oaks over tis main track. Point of Honor will have to run out of her skin and hope…hope Midnight Bisou throws some sort of a clunker.
(5-1) Vexatious is the likely pace setter with but a single competitive speed figure. There is a slim chance she might be able to split the top two…slim.
Race 9 Whitney G1 $750K
August 1, 2020
Another short field of five but this one has somewhat evenly matched runners.
(6-5) 7-year old Tom's d'Etat appears to hold both a class and tactical advantage over this group. The presence of the one-dimensional front-runner (4) Mr. Buff assures some degree of pace. (2) Improbable brings speed as well. Tom's d'Etat, however, will comfortably stalk behind one or both and loom boldly leaving the backstretch. He is a two-turn 9-furlong specialist in top form. Additionally, he owns faster figures than all his rivals on Thorograph Sheets.
(5-2) Bob Baffert ships Improbable to Saratoga following a G1 win over a soft group in the Gold Cup at Santa Anita. That race was at 10-furlongs; the pace dynamics will be different cutting back to today's distance. Improbable will either chase or vie with (4) Mr. Buff. Bafferts's usual Saratoga strategy is to send and hope to take the field gate-to-wire. That is unlikely to be successful here. Additionally, Improbable is 2-0-1-0 at today's distance while meeting proven distance lovers in today's heat.
(5-2) Code of Honor will race as the lone closer in this short field. His 12-6-2-2 career record attests to his consistency; his two wins over this Saratoga main track bode well. But horses with his running style need a hot pace, a class edge or both to be at their best. If (2) & (4) go at it early, Code of Honor's chances to run them all down in the lane increase. There is a chance, however, the pace will not be hotly contested, with pacesetters galloping kindly on the lead. Such a scenario will compromise any chance Code of Honor might have to reel in the leaders.
(9-2) By My Standards might have the best chance to upset this short field. He is lightly raced, proven at today's distance (4-3-1-0), has tactical speed and will save ground for breaking from the rail. He has strong finishing kick as well. While 7-year old (5) Tom's d'Etat is a known quantity, By My Standards is still developing and improving. The rider switch to Jose Ortiz is also a positive. A good inside trip over a track that is usually kind to the inside on big race days might carry this colt to an upset.
Race 10 The H. Allen Jerkens g1 $300K
August 1, 2020
(9-5) No Parole is what handicapping friend Charlie Judge calls an "E-Banger"…a one-dimensional runner, which wins only on the lead in gate-to-wire fashion. A Louisiana Bred, No Parole's five career wins are on the lead, winning at 6-furlongs, 8-furlongs, and last out at today's 7-furlongs in the G1 Woody Stephens at Belmont Park. In that race, No Parole sent incremental fractions of 22.31 / 22.70 / 23.61 / finishing the final eight in 12.79. As fast as these fractions appear, the flow of the race favored No Parole and disadvantaged chasers and closers. No Parole has worked well three times since that race, looms the main speed again, and will be tough if able to repeat that effort. He does concede weight to sharp rivals for that win.
(9-2) Echo Town exits the G1 Woody Stephens. Under jockey Ricardo Santana Echo Town enjoyed a perfect inside trip behind the advantaged No Parole to pass the chasers and finish a non-threatening second. He has shown tactical speed in the past. It will be interesting to see if Santana has instructions to be more aggressive early or will settle for a similar off pace trip to-day.
(5-1) Tap It to Win cuts back in distance after going 2-turns in his last two efforts. He owns 6-furlong sprint wins over maiden special weight and low level optional claiming rivals. Trainer Mark Casse's stats on cutbacks into graded stake sprints are a low 1-7. He meets proven sprinters today.
(6-1) Three Techniques races for football's Bill Parcells and his Augusta Dawn Farm. Saratoga wins, especially stakes wins, are high priorities for the Coach. Trainer Jeremiah Englehart will have this runner cranked for a top effort off the 140-day layoff. Three Techniques is a rear-half sustained stalker with good finishing power. He showed tactical speed and speed in two route efforts at Oaklawn Park. This horse fires when fresh, and those last two efforts, the layoff and cut back in distance set him up well for this sprint.
(8-1) Eight Rings is the other stakes runner shipped east from Bob Baffert. He arrives off 98-days rest following a less-than-stellar effort April 25. Eight Rings will need a top effort and Joel Rosario's skills to dust this mostly in-form group.
(8-1) Mischevious Alex also exits the G1 Woody Stephens. This colt chased the pace while widest of all in that short field while No Parole galloped through favorable fractions. He gets a "power jockey" switch reuniting with winning jockey Irad Ortiz, Jr., in the irons for the win in the G3 Swale at Gulfstream Park. Look for Irad to be more aggressive than previous jock Kendrick Carmouche and sit a good stalking trip. If No Parole fails to deliver, Mischievous Alex will have first run, inherit the lead and fight to hold off the cavalry.
Race 11 The Bowling Green G2 $250k
August 1, 2020
(2-1) Sadler's Joy career record of 30-7-4-10 says it all. This deep closer is capable of winning any race where he is clearly faster than rivals, or any race where the pace is honest, contested or hot which favors his running style…or breaking hearts with close but not there placing or showing. Always a threat and clearly the one to deny in the lane.
(5-2) Cross Border is a solid and consistent runner, less raced than several rivals, proven capable at similar distances. He has speed to be positioned to track and contest the early fractions. He is a G2 winner at 12-furlongs. Jockey Jose Ortiz knows him well and will give him his best chance at winning.
(7-2) A victory from Channel Maker today will be trainer Bill Mott's July 29th belated birthday present. This horse is a solid and consistent performer with tactical speed to sit a good trip among the front group. He is proven over this course and a G1 winner at this distance. Last year he was a half-length short in this same race. Rested in March, Channel Maker's two previous starts indicate he has been pointed for this race.
(9-2) Dot Matrix looks very much like rival (5) Channel Maker but lacks a win at this distance. His overall turf record has been stellar but versus lesser. He reunites with jockey Joel Rosario, a positive, but looks to need a top effort to contend in the run to the wire.
(12-1) Highland Sky is an unlikely winner but certainly a runner which, at line odds of 12-1 and likely to float higher, might be racing for a stakes placing and a check.