Track Facts – August 30, 2019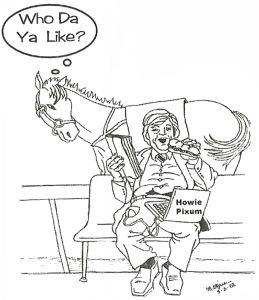 [intense_lead]The caricature of a race tracker (Right Image) has been a representation of my alter ego for many years. A former student drew it for me some twenty-five years or so ago. I love everything about the jacketed DRF-holding, sandwich-eating, computer-checking figure you might have encountered on any bench or picnic table at Saratoga Race Course. He is, of course, Howie Pixum…and everybody, even the horses in the paddock, wants to know Howie Pixum.[/intense_lead]
[intense_dropcap]I [/intense_dropcap]I has been another hectic but enjoyable year producing these blogs. I am convinced that analysis of a race, any race, must begin with the morning line favorite. Of course many handicappers start their process in advance of morning line. Others totally dismiss the line, either making their own or preferring to avoid letting the line influence their notion of contention.
The morning line begins what evolves into the "live odds" identification of the type of race the betting public faces. Just think of the number of races this season where a Chad Brown turf runner, regardless of class or distance, was the predicted line favorite in a race at short odds. The line indicated the race might be a one-horse race or, if the 2nd line favorite was also short odds, a two-horse race. The idea of race type should inform one's approach to the race.
Author Steve Fierro in his publication "The Four Quarters of Horse Investing" ignores the morning line but demands players create their own line which in turn defines races by the number of contenders. Once a player determines the contentiousness of a race, Fierro offers templates of minimum odds at which to make your plays. An experienced player will benefit most from understanding Fierro's ideas; in my mind all players benefit from understanding and applying what a morning line "says" about each particular race: One-Horse, Two-Horse, Balanced Single Favoreite/Second Choice/Third Choic, and Chaos/No Clear Favorite.
"Howda ya pick'em?" and "Who da ya like?" These are the quintessential personal and "mutual" aspects of most discussions of Thoroughbreds about to race. Once we "Pixum", it's off to the pari-mutuel window or on-line device to wager our individual opinions into the betting pools…either with or against the betting crowd.
Luck always. Be well. Stay most informed about our game with CapitalOTB.com.
August 31, 2019 Stakes Preview
Race 3 the Prioress – G2 $250k
(1-2) Break Even arrives undefeated in six career starts at three distances, over dirt, turf and sloppy conditions. To say she is versatile is understatement. Trainer Brad Cox had managed her schedule giving adequate time between starts. She has speed to take these gate-to-wire and rating ability should a rival challenge for the lead early. While the "Grave Digger" is always on duty at Saratoga, Break Even looks as formidable a favorite as we have seen this meet. And there, perhaps, is the Kiss of death.
(4-1) Royal Charlotte came into the G1 Test undefeated and her effort that day proved once again that six furlong specialists struggle when asked to go the extra panel against rivals who have been beyond that distance. At near 3-1, she broke ok but the field just ran away from her. The cutback to her best distance will help but the challenge is great.
(3-1) Risky Mandate crushed a suspect field of maidens on debut at Churchill Downs, a field that is yet to produce a maiden winner. Trainer Tom Amoss took the next logical step, entering in an NWx1Allowance at Saratoga. Despite breaking poorly, she cruised up even with the leaders and drew clear. That was a 7 furlong sprint where the pace was honest and played to her style. She gets tested for class facing (3) Break Even and (5) Royal Charlotte.
Race 6 the Saranac – G3 $200k
(2-1) Good Governance is another well-bred Chad Brown 3-yo. This colt won on debut despite breaking from post 10 and despite being carried out 6-wide on the far turn. He is in this race by the nose. Brown is 3-1-1-0 with maiden breakers stepping up in to non-graded stakes and 7-0-1-1 when doing the same into graded stakes. The run was impressive and earned a solid speed figure. He can win and might win.
(5-2) Seismic Wave has been trying turf marathons with little success. His best races have come at 8 and 9 furlongs. He has the habit of breaking slowly and running from the rear. That does not bode well given the race dynamics.
(7-2) Tracksmith broke his maiden on debut and then was beaten a nose in a Kentucky Downs overnight stake. He found himself overmatched in the G3 Bourbon against Current and Henley's Joy before catching slop he did not like in the G2 Kentucky Jockey Club. Tracksmith has reeled off a pair of wins, stalking in mid pack. Today he steps up in class in sharp form with tactical speed to get first run on leader (3) Rinaldi.
(9-2) Global Access has had success over synthetic and turf surfaces. He earned his fastest figure at Woodbine in the G3 Marne. He can be forwardly placed among the front half behind a soft pace and will have to do that give the race dynamics.
Race 10 The Glens Falls – G2 $250k
(2-1) Santa Monica is the Chad Brown favorite off her record at the distance. Last out noting went right, including being fanned widest exiting the far turn and falling short of the place to a perfect trip long shot. On her best she dusts these; how many bests does this 6-yo have left?
(5-2) Fools Gold is the Chad Brown which defeated (4) last out with a perfect stalking but not chasing trip behind the pace setter. Everything went her way and she held on for a narrow 3/4 win. This filly needs an identical situation to repeat.
(4-1) Mrs. Sippy is the Graham Motion-trained runner new to his barn from overseas. She has raced from the rear England. She will get lasix today and that might move her up. Of interest is the fact that her last two losses came around Left-Hand turf courses.
(5-1) Get Explicit received a perfect ride along the inside under top jock Riccardo Santana, Jr. He kept her on the hedge, made a strong move to gain contact with the front pack and then quickened nicely. Be interesting to see how much ground Santana can save from post 9.
(8-1) Empress of the Nile is the "other" trained by Graham Motion. She enters in good form and looks prepared for the class rise. Today she projects to get the inside trip that rival (9) had in the G3 Waya.
(12-1) Night of England is impeccably bred for turf marathons. The dam sire was a four-time Group 1 Champion. Trainer Chad Brown has had enormous success with foreign shipper for owner Martin Schwartz. The USA debut race looked like a workout and a prep. I doubt we will see odds of 12-1.
Race 11 The Woodward – G1 $750k
Morning line odds maker David Aragona has this field evenly matched with the four contenders between 5-2 and 4-1. From an odds perspective that's a chaos situation. Live betting will provide clues to public perception and value.
(5-2) Yoshida closed powerfully down the center of the track to take the 2018 edition of this race. He enters off five non-winning efforts at five different venues over both dirt and turf. His last in the G1 Whitney was a strong but non-threatening close on the very good McKinzie. One would expect an improved performance racing 3rd time after a layoff and an in-the-money finish last out, but Mott's stats in this situation are a concern: 12-1-1-2.
(7-2) Vino Rosso exploded to earn his best speed figure in winning the G1 Gold Cup going 10 furlongs at Santa Anita in March. He appeared "short" back at Saratoga, a track over which he lacks a win, in a competitive edition of the G1 Whitney earlier in the meet. Trainer Todd Pletcher will remove blinkers, a 10-1-5-1 move in graded stakes a Saratoga. It is of interest that Pletcher is 13-5-1-0 with this move at Gulfstream Park. If stats are predictors, expect an improved run from Vino Rosso.
(7-2) Preservationist caught a perfect storm of circumstances winning the G2 Suburban going 10 furlongs at Belmont Park. He did not make a good appearance on the track prior to the G1 Whitney and ran to his looks. Trainer Jimmy Jerkens has worked him 13 furlongs over 13 days, including a 6 furlong breeze and 3 furlong blowout. Preservationist can be expected to improve but demand odds greater than the morning line. The late H. Alan Jerkens was an automatic win play for me at 6-1. Son Jimmy is the same but don't think Preservationist will be that long.
(4-1) Tom's d'Etat brings tactical speed to a race lacking in early front speed. Additionally, he owns three wins over the track and three wins at today's distance, factors that separate him from rival (5) Preservationist. This horse will get first run on the speed rail horse (1) Mr. Buff, kick on and hope to hold off the late runners.