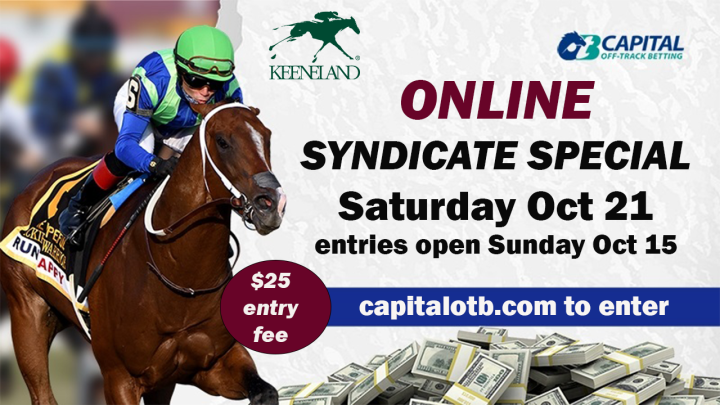 Keeneland Online Syndicate Saturday 10.21.23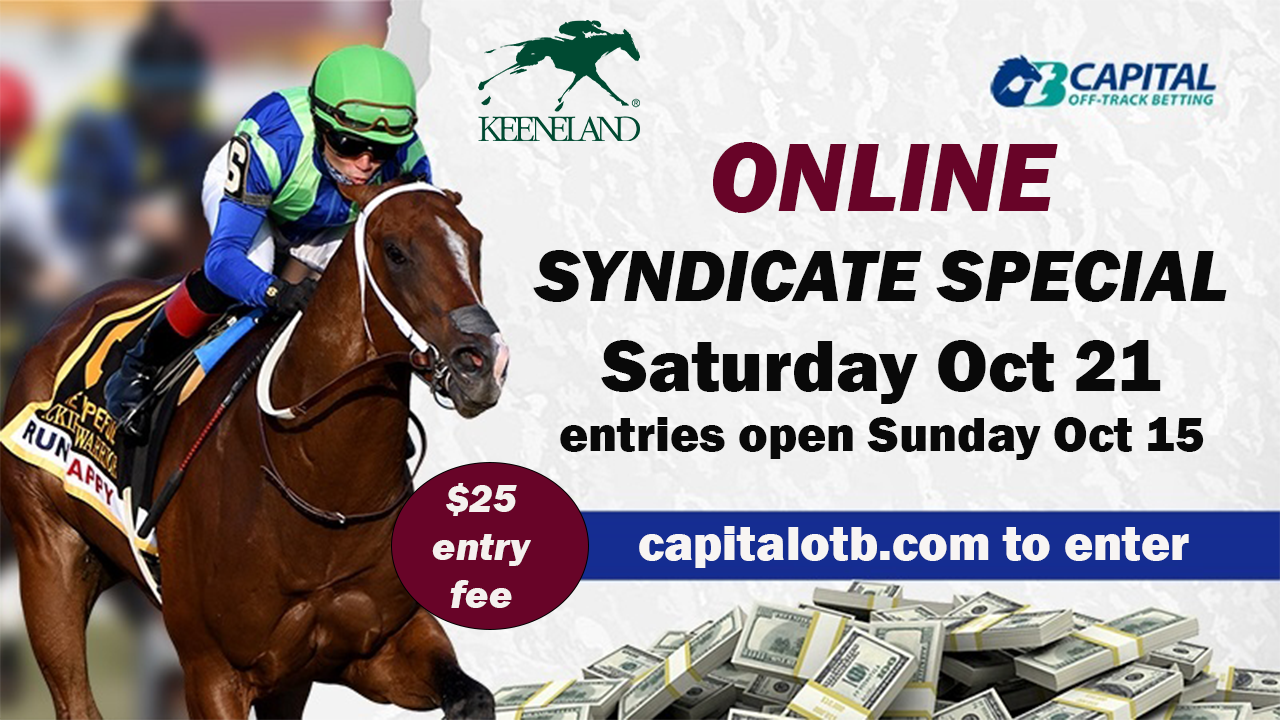 EVENT DETAILS
Mark your calendar!
.
Entries are closed. The team will be notified.
HOW TO ENTER
Complete the entry form below (when entries open)
Must have a Capital Bets account
Consent to a $25 entry fee
Once funds are approved you will receive a confirmation email
Once Team is approved you will receive a selection form via email
Races 6-10
$.50 Late PK5
6) 1,2,5
7) 2,5,6,8,9
8) 3,7,8,9,10
9) 4,6,7,8
10) 1,5,7,8,11
Rules/Details:
Complete the signup form below and consent Capital OTB to withdraw funds from your Capital Bets account. The entry fee to participate in the syndicate is twenty-five dollars ($25).  All monies withdrawn will be placed into a Capital OTB marketing account on the day of the promotion and used to wager.  In addition, Capital OTB will deposit a bonus $250 dollars into the account (if $500 or more in syndicate monies are accumulated).
All the dollars will be wagered on the running of the Late Pick 5 at Keeneland on Saturday 10.21.23.
SYNDICATE STRUCTURE
Players participating must have a Capital Bets account.
This will be a group Pick 5 play (format being .50 Pick 5 – 5x3x5x5x4 = $750) *Capital OTB will designate which races have the 3 horse and 4 horse legs.
If there are not twenty (20) sign ups by the deadline, Capital OTB will refund entry money to the previous signed up players.
Marketing will put together the consensus ticket from selections with the highest voted horses (tie goes to lowest number).
Thursday afternoon, after Syndicate team is confirmed, the selection form will be emailed directly to participants for the voting process of the Late Pick 5.
All selections must be submitted by 10AM Saturday 10.21.23
The Late Pick 5 plays will be made on Saturday morning after scratches are posted. Once Late Pick 5 wager is placed, the confirmed copy of the ticket will be emailed and posted.
Any winnings will be funded on the day after the Late Pick 5 play.
If a Syndicate team member does not submit a selection form, they are not eliminated from the team, but do not have a vote on the runners selected for the late Pick 5 wager.
**Note: There must be account wagering (Capital Bets) activity from the previous month to participate.