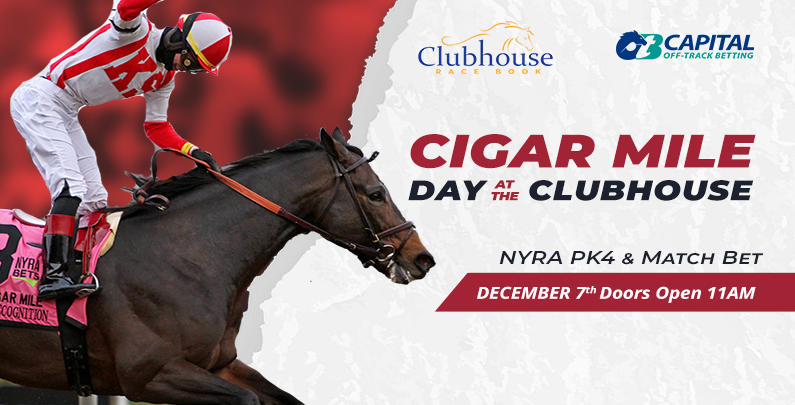 Cigar Mile Day 2019

Visit us on December 7th for the 30th running of the Cigar Mile at the Clubhouse Race Book. Play the early Pick 4 @ Aqueduct and have a chance for a FREE late Pick 4 play @ Aqueduct!
Random non-winning ticket drawing where a Free Bet is a Match on the dollar amount of the non-winning ticket (must be present)
711 Central Ave, Albany NY 12206
Cigar Mile Handicap
30 Running on Saturday, December 07, 2019
The CIGAR MILE was run as the NYRA MILE prior to 1997. It was renamed that year in honor of the two-time Horse of the Year who won the 1994 edition. Cigar equaled Citation's modern-day North American record of 16 consecutive victories with his win in the Citation Challenge at Arlington International in 1996. Among his victories during that streak were the 1995 Woodward, the 1995 Jockey Club Gold Cub, the 1995 Breeders' Cup Classic, and the 1996 Woodward, all at Belmont Park; as well as the aforementioned 1994 NYRA Mile at Aqueduct. The NYRA Mile was created by former NYRA President Jerry McKeon. The one-mile distance was chosen to attract both sprinters and distance horses. Not run in 1993.