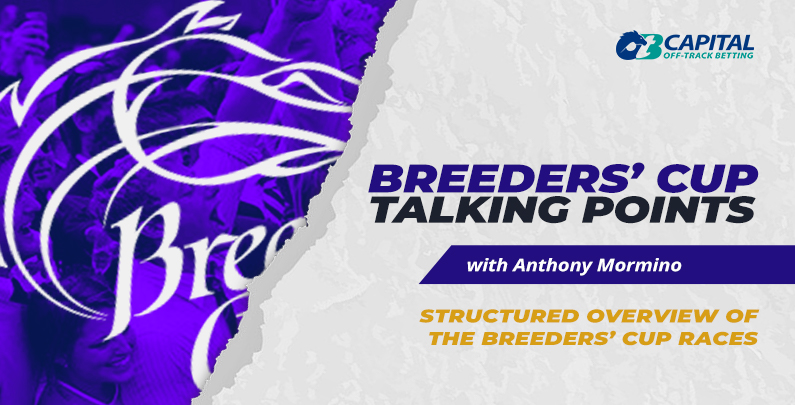 Breeders' Cup Saturday November 7th
Filly and Mare Sprint
Purse $1,000,000 | Distance 7 Furlongs | Grade 1 | Age 3+
The late, great Dick Enberg would sum up the Saturday opener perfectly "Oh my!." Ten fillies and one mare (Come Dancing) will shoot it out @ high noon or thereabouts, post time 12:02pm.  Speed will be served early and often.
3 year-old Gamine (Baffert) (Winner of the Grade 1Test) has been outstanding going one turn, 4 year-old Serengeti Empress (Amoss) (Winner of Grade 1 Ballerina) has won when being in front early, Venetian Harbor (Baltas) will need new running shoes, her pace setting in the Raven Run won't get it done in the Breeders' Cup FM Sprint.
Bellafina has been retired and will not race.
Come Dancing (Martin) is 18 months removed from a performance which would be competitive.
Speech, (McCarthy) has been routing in stakes races but broke maiden sprinting—I know this is no MSW.
Sconsin (Foley), 3 year-old who comes off the pace, won the Eight Belles @ 7F Sept. 4th, to quote Arte Johnson "very interesting."
Frank's Rockette (Mott), 3 year old is 5 for 6 this year, winning the Prioress at Saratoga, along with the Galant Bloom (G2) at Belmont on October 3rd. Will likely be stalking the pace.
When the Breeders' Cup was conceived this race wasn't on the menu but this battle was exactly what the Breeders' Cup is about.
Turf Sprint
Purse $1,000,000 | Distance 5 1/2 Furlongs | Grade 1 | Age 3+
Got Stormy, (Casse) last year's favorite in the Mile, now comes off the Oct. 9th Keeneland (G3) win. Is this the year and is this the race?
Imprimis, (Orseno) trainer Joe Orseno coming on the 20th anniversary of his double in the Breeders Cup ( Macho Uno and Perfect Sting), has had two starts this year and crossed the finish line first both times— although was disqualified in the Troy @ Spa.
Oleksandra (Drysdale) punched her ticket with "Win and You're in" Jaipur (Belmont G1) last out June 20th . Neil Drysdale is an outstanding trainer who knows how to train in a big spot.
Big Runner, (Garcia) is from the Golden State and is a 5.5f turf sprinting machine. Won the G2 on Sept. 25th in last @ SA.
The lone Euro is Glass Slippers (Ryan) and is Group 1 winner on soft and Group winner on firm turf (versatile).
The field has six wins over the Keeneland turf course –three belong to Leinster, (Rusty Arnold) has campaigned lightly for this spot.
If, Into Mystic (Walsh) gets in—major player!
Dirt Mile
Purse $1,000,000 | Distance 1 Mile | Grade 1 | Age 3+
Nearly two dozen horses have been pre-entered for this "soft" Grade 1.
C Z Rocket (Miller) (P O'Brien) and Vekoma (Weaver) (Met) both won "Win and You're In" races and they are probably out—most likely running in the Sprint.
Complexity (Brown) will have to show that he can win at two-turns.
Knicks Go ( Brad Cox) has found renewed life and remember $142 winners at Keeneland in 2018 in the Breeders Futurity.
Freeze (Dale Romans) exits win in the G2 Fayette at Keeneland.
Owendale (Cox) is quite interesting,
Rushie (McCarthey) is an offspring of Liam's Map ( '15 Dirt Mile winner @ Keeneland, still wish he ran in Classic),
War of Will (Casse) might be sitting on a big return to the dirt, after three races on the Turf.
Filly & Mare Turf
Purse $2,000,000 | Distance 1 3/16 Miles | Grade 1 | Age 3+
The first of the "Ryder Cup" BC Races:  the Euros v the USA
Group 1 winners Audarya, Peaceful, Tarnawa, and Group winners Cayenne Pepper, Terebellum, Half Light, Mehdaayih represents the overseas contingent.
Civil Union (Shug) is a recent winner of the Flower Bowl (G1).
Harvey's Lil Goil (Mott) rare QE !! winner trying BC.
Sistercharlie (Brown) can she reach back and find her old form?
Rushing Fall (Brown)— coming off a win in the G1 Diana. For me, this is her HOF moment!
Starship Jubilee (Attard) beat the boys @ Woodbine in this year's Woodbine Mile (G1)
I Can't Wait for this race.
Sprint
Purse $2,000,000 | Distance 6 Furlongs | Grade 1 | Age 3+
C Z Rocket (Miller) has won five races this year and is 2/2 @ Keeneland. Fillies have won this race before but boy does Frank's Rockette (Mott) look tough.
Firenze Fire (Breen) has won more than half his races @ six furlongs, including most recent G2 Vosburgh.
Steve Asmussen has 3yos Yaupon (5th Start), Nashville (3rd start) and Echo Town 3rd in Phoenix.
Whitmore (Moquett) has traveled well in his career, just doesn't seem to be at best now
Mile
Purse $2,000,000 | Distance 1 Mile | Grade 1 | Age 3+
When the list of multiple winners consists of:  Miesque, Lure, Da Hoss, Goldikova and Wise Dan—can Uni (Brown) add her name?
The Euros don't seem to be as strong as they seem in FM Turf and the Turf.
Circus Maximus, (O'Brien) who dons the same silks as Miesque, was 4th last year, and has season bow win in G1 Queen Anne Stakes.
Paulo Lobo, (2002 Farda Amiga Alabama winner and 3yo champ) has Ivar, Brazilian bred and Argentina raced and winner of Shadwell Turf Mile (G1).
Raging Bull (Brown) won the Shoemaker Mile (Win and You're in) comes in off runner-up in the Shadwell Turf Mile to IVAR.
Distaff
Purse $2,000,000 | Distance 1 1/8 Mile | Grade 1 | Age 3+
I will root strongly for Monomoy Girl (Cox) but I will look elsewhere to wager.
My first look brings in my so called west coast bias, 3 year old Harvest Moon, (Callaghan) if she can improve from the G2 Zenyatta, she should be very tough versus many which I have my doubts:  Dunbar Road, Ce Ce, Ollie's Candy and Point of Honor.
Bill Mott easily won the Beldame with Horologist and will be major player here.
Valiance (Pletcher) is a daughter of Tapit, could figure.
Swiss Skydiver should run here!
Turf
Purse $4,000,000 | Distance 1 1/2 Mile | Grade 1 | Age 3+
The second "Ryder Cup"  (Golf reference),  Breeders Cup race
The Euros remind me of 2001, when they swept the super.
We know Arklow, Channel Maker and United carrying the red, white and blue.
The Euros bring Group 1 winners Donjah, Lord North, Magical, Tranawa.
If you remember early in the movie "Armageddon"—Mean Mary, you don't want any part of this!
Keep an eye out for our Breeders Cup Classic Blog and three PODCASTS that will go over the entire Breeders Cup cards:  Friday, Saturday, and a separate one for Breeders Cup Classic!