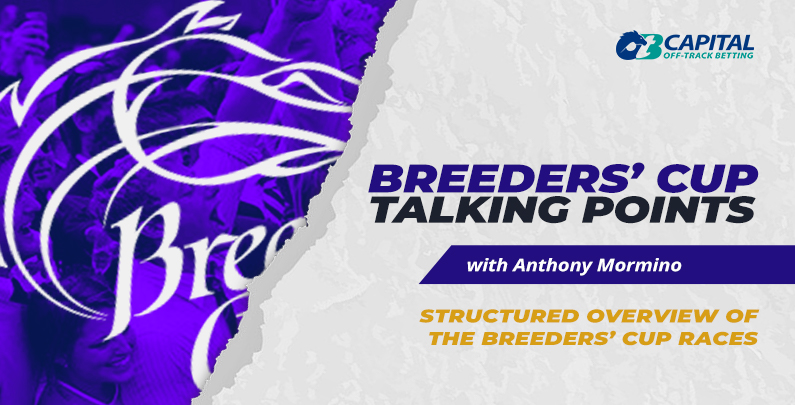 Breeders' Cup 2020 Saturday with Anthony Mormino
The post positions have been drawn and I think a major decision had been made—-Maximum Security MUST go from the outside!
And by go, I mean as if he were Skip Away @ Gulfsteam Park in the late 90s.  I'd even suggest 1:09 and change for the 6f, or at least 1:10.  With that type of early fractions it would put the test to Global Campaign, Improbable and Authentic.  A test which I don't see any of them passing.
In other words, one Baffert runner (Maximum Security) would cook two Baffert runners (Improbable and Authentic).  And you have to believe Baffert is looking for a big weekend with the tough last six months his barn has experienced!
The race could get very serious around the 5/16ths pole with the chasers slowing and Tiz the Law and Tom's d'Etat taking over.  The Belmont winner should get a very attractive race scenario and he's coming off a 63 day rest—in the past Tiz the Law has run his best with more time between starts.
Tom's d'Etat has had two bad steps in his last 5 races—the first two in his most recent start the Whitney.  And I must say with an unbelievable 6:1 ML, he looks like a tremendous play.  If he runs as well as he did in the Foster, look out.
No Euros this year, only two three year olds—but they are the Derby and Belmont winners.
Global Campaign and Higher Power do possess Grade 1 wins @ 10f but one (Higher Power) was 15 months ago and the other (Global Campaign) was under very favorable pace conditions—neither pose a very serious win threat.
Tacitus is 1/10 since the Wood '19 and might be a huge price for a small piece!  He won the Grade 2 Suburban in outstanding fashion and Bill Mott has stated he won't be on the lead (JCGC).
The outsider I'm looking at is By My Standards—four consecutive triple Beyer speed figures all in stakes company, including runner-up in the Foster.
But at the end of the day, 10 horse field $6 million race, it comes down to two runners Tiz the Law and Tom's d'Etat and @ the price Tom's d'Etat looks like a play.
And with that you have the HOY defeating 3yo champ!