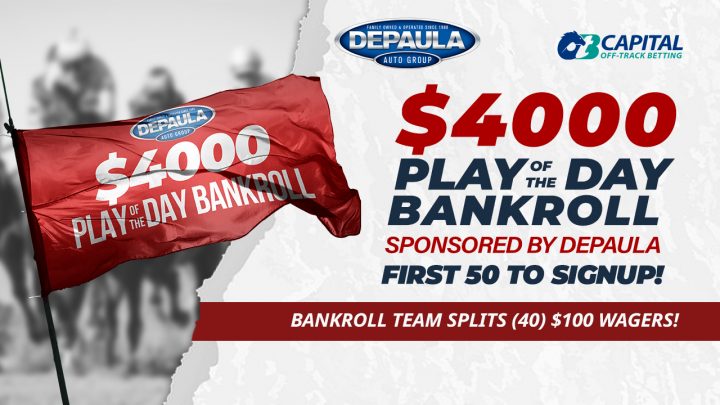 $4000 DePaula Play of the Day Bankroll
Exclusive Bankroll
$4,000 DePaula "Play of the Day" Bankroll (Entire Saratoga racing meet) – Each Saratoga racing day we will have a special $100 Play of the Day wager sponsored by DePaula. All accumulative winnings will be divided amongst the Bankroll Team at the end of the meet. Signups available to the first 50! Must wager 20 of 40 day Saratoga racing meet through your account.
HOW TO ENTER ONLINE BANKROLL
Fill out the entry form below
Bankroll Players will be announced
Come back to see if you made the team!
RULES ONCE CHOSEN
Must place a wager 20 of the 40 Saratoga Race Days
Any amount,any type, every day
BANKROLL TEAM
527000824 527001015 527003745 527003747 527004601 527005056 527005141 527006890 527009243 527010682 527012848 527013844 527013962 527018715 527021113 527025096 527026628 527027323 527032917 527033208 527033224 527036469 527041215 527041953 527042324 527043312 527043851 527045342 527048194 527048983 527053592 527054064 527056266 527057746 527057808 527057991 527060666 527060921 527062049 527064248 527080026 527080657 527082532 527088466 527091104 527091277 527095113 527095128 527095611 527098133
DePaula Play of the Day Archive
| Date | Track/Race | Race | Bet Type | Amount | Runners | Total | Payout | Profit/Loss |
| --- | --- | --- | --- | --- | --- | --- | --- | --- |
| 8/27/2022 | Saratoga | 12 | Place | $30.00 | 2 | $30.00 | $70.50 | $40.50 |
| 8/27/2022 | Saratoga | 12 | Show | $10.00 | 2 | $10.00 | $15.50 | $5.50 |
| 8/27/2022 | Saratoga | 12 | Win | $60.00 | 2 | $60.00 | $282.00 | $222.00 |
| 8/26/2022 | Saratoga | 10 | Place | $30.00 | 1 | $30.00 | $30.00 | - |
| 8/26/2022 | Saratoga | 10 | Show | $10.00 | 1 | $10.00 | $10.00 | - |
| 8/26/2022 | Saratoga | 10 | Win | $60.00 | 1 | $60.00 | $60.00 | - |
| 8/25/2022 | Saratoga | 5 | Show | $10.00 | 1 | $10.00 | - | ($10.00) |
| 8/25/2022 | Saratoga | 5 | Place | $30.00 | 1 | $30.00 | - | ($30.00) |
| 8/25/2022 | Saratoga | 5 | Win | $60.00 | 1 | $60.00 | - | ($60.00) |
| 8/24/2022 | Saratoga | 7 | Show | $10.00 | 5 | $10.00 | - | ($10.00) |
| 8/24/2022 | Saratoga | 7 | Place | $30.00 | 5 | $30.00 | - | ($30.00) |
| 8/24/2022 | Saratoga | 7 | Win | $60.00 | 5 | $60.00 | - | ($60.00) |
| 8/21/2022 | Saratoga | 9 | Place | $30.00 | 8 | $30.00 | $64.50 | $34.50 |
| 8/21/2022 | Saratoga | 9 | Show | $10.00 | 8 | $10.00 | $16.00 | $6.00 |
| 8/21/2022 | Saratoga | 9 | Win | $60.00 | 8 | $60.00 | - | ($60.00) |
| 8/20/2022 | Saratoga | 11 | Show | $10.00 | 12 | $10.00 | $25.50 | $15.50 |
| 8/20/2022 | Saratoga | 11 | Place | $30.00 | 12 | $30.00 | - | ($30.00) |
| 8/20/2022 | Saratoga | 11 | Win | $60.00 | 12 | $60.00 | - | ($60.00) |
| 8/19/2022 | Saratoga | 4 | Show | $10.00 | 1 | $10.00 | $10.50 | $0.50 |
| 8/19/2022 | Saratoga | 4 | Win | $60.00 | 1 | $60.00 | $78.00 | $18.00 |
| 8/19/2022 | Saratoga | 4 | Place | $30.00 | 1 | $30.00 | $36.00 | $6.00 |
| 8/18/2022 | Saratoga | 9 | Show | $10.00 | 5 | $10.00 | - | ($10.00) |
| 8/18/2022 | Saratoga | 9 | Place | $30.00 | 5 | $30.00 | - | ($30.00) |
| 8/18/2022 | Saratoga | 9 | Win | $60.00 | 5 | $60.00 | - | ($60.00) |
| 8/17/2022 | Saratoga | 10 | Show | $10.00 | 4 | $10.00 | - | ($10.00) |
| 8/17/2022 | Saratoga | 10 | Place | $30.00 | 4 | $30.00 | - | ($30.00) |
| 8/17/2022 | Saratoga | 10 | Win | $60.00 | 4 | $60.00 | - | ($60.00) |
| 8/14/2022 | Saratoga | 7 | Show | $10.00 | 4 | $10.00 | - | ($10.00) |
| 8/14/2022 | Saratoga | 7 | Place | $30.00 | 4 | $30.00 | - | ($30.00) |
| 8/14/2022 | Saratoga | 7 | Win | $60.00 | 4 | $60.00 | - | ($60.00) |
| 8/13/2022 | Saratoga | 11 | Win | $60.00 | 9 | $60.00 | $426.00 | $366.00 |
| 8/13/2022 | Saratoga | 11 | Place | $30.00 | 9 | $30.00 | $109.50 | $79.50 |
| 8/13/2022 | Saratoga | 11 | Show | $10.00 | 9 | $10.00 | $24.00 | $14.00 |
| 8/12/2022 | Saratoga | 1 | Place | $30.00 | 5 | $30.00 | $49.50 | $19.50 |
| 8/12/2022 | Saratoga | 1 | Show | $10.00 | 5 | $10.00 | $13.50 | $3.50 |
| 8/12/2022 | Saratoga | 1 | Win | $60.00 | 5 | $60.00 | - | ($60.00) |
| 8/11/2022 | Saratoga | 10 | Show | $10.00 | 7 | $10.00 | - | ($10.00) |
| 8/11/2022 | Saratoga | 10 | Place | $30.00 | 7 | $30.00 | - | ($30.00) |
| 8/11/2022 | Saratoga | 10 | Win | $60.00 | 7 | $60.00 | - | ($60.00) |
| 8/10/2022 | Saratoga | 9 | Win | $60.00 | 10 | $60.00 | $60.00 | - |
| 8/10/2022 | Saratoga | 9 | Show | $10.00 | 10 | $10.00 | $10.00 | - |
| 8/10/2022 | Saratoga | 9 | Place | $30.00 | 10 | $30.00 | $30.00 | - |
| 8/10/2022 | Saratoga | 9 | Show | $10.00 | 7 | $10.00 | - | ($10.00) |
| 8/10/2022 | Saratoga | 9 | Place | $30.00 | 7 | $30.00 | - | ($30.00) |
| 8/10/2022 | Saratoga | 9 | Win | $60.00 | 7 | $60.00 | - | ($60.00) |
| 8/7/2022 | Saratoga | 10 | Show | $10.00 | 11 | $10.00 | - | ($10.00) |
| 8/7/2022 | Saratoga | 10 | Place | $30.00 | 11 | $30.00 | - | ($30.00) |
| 8/7/2022 | Saratoga | 10 | Win | $60.00 | 11 | $60.00 | - | ($60.00) |
| 8/6/2022 | Saratoga | 3 | Show | $10.00 | 2 | $10.00 | - | ($10.00) |
| 8/6/2022 | Saratoga | 3 | Place | $30.00 | 2 | $30.00 | - | ($30.00) |
| 8/6/2022 | Saratoga | 3 | Win | $60.00 | 2 | $60.00 | - | ($60.00) |
| 8/5/2022 | Saratoga | 10 | Show | $10.00 | 4 | $10.00 | - | ($10.00) |
| 8/5/2022 | Saratoga | 10 | Place | $30.00 | 4 | $30.00 | - | ($30.00) |
| 8/5/2022 | Saratoga | 10 | Win | $60.00 | 4 | $60.00 | - | ($60.00) |
| 8/4/2022 | Saratoga | 9 | Show | $10.00 | 6 | $10.00 | - | ($10.00) |
| 8/4/2022 | Saratoga | 9 | Place | $30.00 | 6 | $30.00 | - | ($30.00) |
| 8/4/2022 | Saratoga | 9 | Win | $60.00 | 6 | $60.00 | - | ($60.00) |
| 8/3/2022 | Saratoga | 5 | Show | $10.00 | 4 | $10.00 | - | ($10.00) |
| 8/3/2022 | Saratoga | 5 | Place | $30.00 | 4 | $30.00 | - | ($30.00) |
| 8/3/2022 | Saratoga | 5 | Win | $60.00 | 4 | $60.00 | - | ($60.00) |
| 7/31/2022 | Saratoga | 9 | Show | $10.00 | 4 | $10.00 | - | ($10.00) |
| 7/31/2022 | Saratoga | 9 | Place | $30.00 | 4 | $30.00 | - | ($30.00) |
| 7/31/2022 | Saratoga | 9 | Win | $60.00 | 4 | $60.00 | - | ($60.00) |
| 7/30/2022 | Saratoga | 1 | Place | $30.00 | 3 | $30.00 | $55.50 | $25.50 |
| 7/30/2022 | Saratoga | 1 | Show | $10.00 | 3 | $10.00 | $12.00 | $2.00 |
| 7/30/2022 | Saratoga | 1 | Win | $60.00 | 3 | $60.00 | - | ($60.00) |
| 7/29/2022 | Saratoga | 3 | Show | $10.00 | 7 | $10.00 | $10.50 | $0.50 |
| 7/29/2022 | Saratoga | 3 | Place | $30.00 | 7 | $30.00 | - | ($30.00) |
| 7/29/2022 | Saratoga | 3 | Win | $60.00 | 7 | $60.00 | - | ($60.00) |
| 7/28/2022 | Saratoga | 7 | Show | $10.00 | 6 | $10.00 | $19.50 | $9.50 |
| 7/28/2022 | Saratoga | 7 | Place | $30.00 | 6 | $30.00 | $85.50 | $55.50 |
| 7/28/2022 | Saratoga | 7 | Win | $60.00 | 6 | $60.00 | - | ($60.00) |
| 7/27/2022 | Saratoga | 9 | Show | $10.00 | 7 | $10.00 | $16.00 | $6.00 |
| 7/27/2022 | Saratoga | 9 | Place | $30.00 | 7 | $30.00 | $66.00 | $36.00 |
| 7/27/2022 | Saratoga | 9 | Win | $60.00 | 7 | $60.00 | - | ($60.00) |
| 7/24/2022 | Saratoga | 9 | Place | $30.00 | 8 | $30.00 | $72.00 | $42.00 |
| 7/24/2022 | Saratoga | 9 | Show | $10.00 | 8 | $10.00 | $16.00 | $6.00 |
| 7/24/2022 | Saratoga | 9 | Win | $60.00 | 8 | $60.00 | - | ($60.00) |
| 7/23/2022 | Saratoga | 4 | Show | $10.00 | 1 | $10.00 | $17.50 | $7.50 |
| 7/23/2022 | Saratoga | 4 | Place | $30.00 | 1 | $30.00 | - | ($30.00) |
| 7/23/2022 | Saratoga | 4 | Win | $60.00 | 1 | $60.00 | - | ($60.00) |
| 7/22/2022 | Saratoga | 6 | Show | $10.00 | 4 | $10.00 | - | ($10.00) |
| 7/22/2022 | Saratoga | 6 | Place | $30.00 | 4 | $30.00 | - | ($30.00) |
| 7/22/2022 | Saratoga | 6 | Win | $60.00 | 4 | $60.00 | - | ($60.00) |
| 7/21/2022 | Saratoga | 3 | Show | $10.00 | 3 | $10.00 | $13.00 | $3.00 |
| 7/21/2022 | Saratoga | 3 | Place | $30.00 | 3 | $30.00 | - | ($30.00) |
| 7/21/2022 | Saratoga | 3 | Win | $60.00 | 3 | $60.00 | - | ($60.00) |
| 7/20/2022 | Saratoga | 8 | Show | $10.00 | 4 | $10.00 | - | ($10.00) |
| 7/20/2022 | Saratoga | 8 | Place | $30.00 | 4 | $30.00 | - | ($30.00) |
| 7/20/2022 | Saratoga | 8 | Win | $60.00 | 4 | $60.00 | - | ($60.00) |
| 7/17/2022 | Saratoga | 7 | Show | $10.00 | 3 | $10.00 | - | ($10.00) |
| 7/17/2022 | Saratoga | 7 | Place | $30.00 | 3 | $30.00 | - | ($30.00) |
| 7/17/2022 | Saratoga | 7 | Win | $60.00 | 3 | $60.00 | - | ($60.00) |
| 7/16/2022 | Saratoga | 1 | Show | $10.00 | 5 | $10.00 | $13.50 | $3.50 |
| 7/16/2022 | Saratoga | 1 | Place | $30.00 | 5 | $30.00 | - | ($30.00) |
| 7/16/2022 | Saratoga | 1 | Win | $60.00 | 5 | $60.00 | - | ($60.00) |
| 7/15/2022 | Saratoga | 3 | Show | $10.00 | 1 | $10.00 | $15.50 | $5.50 |
| 7/15/2022 | Saratoga | 3 | Place | $30.00 | 1 | $30.00 | $61.50 | $31.50 |
| 7/15/2022 | Saratoga | 3 | Win | $60.00 | 1 | $60.00 | - | ($60.00) |
| 7/14/2022 | Saratoga | 4 | Show | $10.00 | 4 | $10.00 | - | ($10.00) |
| 7/14/2022 | Saratoga | 4 | Place | $30.00 | 4 | $30.00 | - | ($30.00) |
| 7/14/2022 | Saratoga | 4 | Win | $60.00 | 4 | $60.00 | - | ($60.00) |